Get creative with eyelash extensions from home
Get creative with your eyelash extensions by using these easy but impactful tricks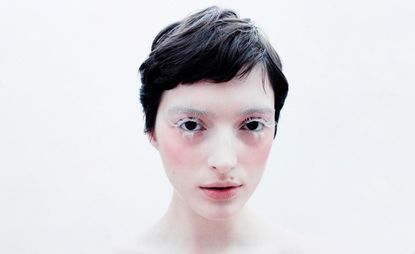 (Image credit: Chieska Fortune Smith)
Want to transform your face with minimal make-up application? Then the key is to practise good skincare, groom your eyebrows, and use eyelash extensions. Why? If skin is your foundation, then eyebrows and eyelashes are the framework that defines the shape of your face.

While bleached eyebrows are currently enjoying a renaissance (see above), there are few examples of how to get creative with your eyelashes beyond a temporary lift or natural-looking extensions.
To remedy this, we have compiled some innovative ways to get more playful with your lashes, from non-permanent bleaching to glittery falsies.
Wear white eyelash extensions
Blanched features are a fast way to create a striking, otherworldly apperance. For our March 2020 beauty story, we paired Lashify's Silver Gossamer lash extensions, with ultra-clean skin, faux-bleached brows, and a subtle hint of Chanel blush to create a look of ethereal minimalism.
Lashify's popular control kit comes with a bonding glue wand that won't damage lashes, and a patented tweezer that is shaped and gripped to make eyelash application as easy as possible. Once applied, lashes can last between three to five days.
lashify.com (opens in new tab)
Make your own eyelashes
Make-up and mixed-media artist Holly Silius was inspired to start her own eyelash brand, Shimmer Twins, in 2011 after attending an 'eyelash party' in her east London neighbourhood.

The peacock-feather eyelashes she created for that event spanned a range of glitzy designs bedazzled with glitter and stars, while her editorial work has featured even more outlandish experimentations with everything from dried spaghetti to multicoloured bird feathers.
Although Shimmer Twins no longer exists, Silius has her own tips for those looking to create wild lashes from home. 'Get your favourite pair of false eyelashes and some tweezers. Then get some crystals, glitter, or anything else, and, using Duo or any eyelash glue, dab them on to the top and bottom of the lashes,' she says.
'Just make sure you start off small. Don't start off too thick and heavy with too many things.' When it comes to inspiration, Silius recommends an expansive outlook. 'Take inspiration from pasta, sweet wrappers, your dog, flowers, architecture… anything.'
hollysilius.com (opens in new tab)
Try a coloured mascara
Coloured mascara is an easy alternative for those who want to experiment with their lashes but would rather not fuss with the application of false ones.
Navy blue and eggplant purple are always reliable choices for a more understated eyelash colour. Or, if you're looking to give your eyes some extra vibrancy, choose a colour that best complements your eye shade.

Brown eyes tend to work best with blues, green are emphasised by purples, blue eyes pop with an orange or bronze, and hazel are best paired with greens.
dior.com (opens in new tab)
Use a growth serum
To keep things super simple, just use an eyelash growth serum. We recommend Shiseido's Full Lash Serum, which can also be used on brows.
shiseido.co.uk (opens in new tab)
Mary Cleary is the Beauty & Grooming Editor of Wallpaper*. Having been with the brand since 2017, she became an editor in February 2020 with the launch of the brand's new beauty & grooming channel. Her work seeks to offer a new perspective on beauty, focusing on the pioneering personalities, product designs, and transformative trends within the industry.
With contributions from