At home with Inge Grognard
Inge Grognard, make-up artist of choice for Martin Margiela, Dries Van Noten, and Balenciaga's Demna Gvasalia, gives us a peek into her creative process and personal life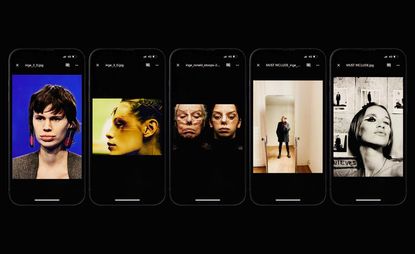 (Image credit: Courtesy Inge Grognard)
The 'artist' in make-up artist should be emphasised when speaking about Inge Grognard. She launched her career in the mid-1980s, working with the Antwerp Six – Dries Van Noten, Ann Demeulemeester, and most iconically Martin Margiela, whose school project was her first make-up job and with whom she continued to work until he left the eponymous brand in 2009.
Since then, Grognard has worked with Balenciaga, Haider Ackermann, Hood by Air, Vetements and more of the most experimental fashion brands of our time.
Like Margiela and Gvasalia, Grognard's genius lies in her ability to manipulate our sense of disgust into titillation. In her hands, that which could be read as ugly or disgusting – faces stretched back with duct tape, hyper-bloodshot eyes, alien-like cheekbones, and bulbous lips that look like the results of botched plastic surgery – becomes compelling, even glamourous.
Here, for Wallpaper's 'At home with' interview series, Grognard speaks to us about her creative process, what inspires her, her own beauty routine and more.
At home with Inge Grognard
Wallpaper*: Where are you speaking from? What can you see?
Inge Grognard: At home, in Antwerp, [listening to the song] 'Come Undone' from Trentemøller. To the left, I see my garden and roses on my outside table.
W*: Why did you become a make-up artist?
IG: My heavy interest in fashion.
W*: How do you define beauty?
IG: A voice, a smell, a look (eyes).
W*: What are your ideal conditions for creating?
IG: Sometimes impulsive at the moment, or brainstorming with my partner at home.
W*: If you could go back in time and speak to your younger self, what advice would you give her?
IG: Accept challenges and don't be afraid to fail.
W*: How do you get yourself out of a creative slump?
IG: Watching horror and suspense a whole night long on Netflix.
W*: Can you talk us through your creative process?
IG: It all starts in my head, with a mood, a word, it's all created in my head. I see the images I want, then I pull out the stuff needed to create in real life. I test a lot of things on myself and once it is there, I ask my partner Ronald Stoops to give his advice.
W*: What is your favourite beauty trend right now?
IG: I never think in trends.
W*: What is your go-to beauty routine?
IG: A bath when it's cold, and during summer a shower. A scrub once a week and a calming mask. An anti-ageing cream, an eye cream and sun protection.
W*: What are you reading, and what do you think of it?
IG: A Little Life by Hanya Yanagihara. Heavy but soooo good.
W*: What do you turn to for comfort?
IG: Home for the space, my cats and my partner.
W*: What's the last thing you bought?
IG: A jacket from Balenciaga.
W*: What makes you nervous?
IG: No control.
W*: Can you tell us more about your upcoming projects?
IG: Beauty Papers and Purple [magazines], Balenciaga, men's shows and couture.
Mary Cleary is the Beauty & Grooming Editor of Wallpaper*. Having been with the brand since 2017, she became an editor in February 2020 with the launch of the brand's new beauty & grooming channel. Her work seeks to offer a new perspective on beauty, focusing on the pioneering personalities, product designs, and transformative trends within the industry.