At home with Cyndia Harvey
Following the launch of her haircare line for texture-rich hair, T.H.O.M, visionary hairstylist Cyndia Harvey talks about beauty, creative process, managing 'low periods' in the past, and her exciting present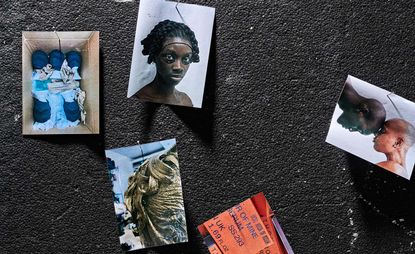 (Image credit: TBC)
'Hairdressing has always been a way for me to get lost,' says Cyndia Harvey. Indeed, flipping through her kaleidoscopic portfolio of hair creations can easily feel like slipping into a reverie. It is work that has earned her a reputation as one of the industry's most innovative talents, with collaborations that span cultural icons such as FKA Twigs, Michaela Coel, and Frank Ocean, as well as brands including Simone Rocha and Bottega Veneta.
Now, Harvey has launched her own haircare line, T.H.O.M, alongside artist and friend Remi Ajani. Designed specifically for texture-rich hair, T.H.O.M takes its name from Harvey's 2017 short film This Hair of Mine, which celebrated the beauty of afro hair through modern interpretations of traditional afro hairstyles. The line debuted in May 2022 with a plant-based Scalp Serum designed to revive and detoxify the hair and promises more product launches in the coming months.
At home with Cyndia Harvey
Just as her brand launched, Harvey spoke with us from her London home, for a thoughtful conversation on embracing creative slumps, learning from failure, and much more.
Wallpaper*: Where are you at the moment? What can you see?
Cyndia Harvey: I am at home, currently prepping all the product to be mailed out to our T.H.O.M community in time for the launch. Our launch event was last night and I am surrounded by boxes, combs and bottles of our most exquisite Scalp Serum.
W*: Why did you become a hairstylist?
CH: My interest was first garnered in my mother's salon; I then decided to pursue it professionally as a route of escapism from a really difficult period in my life. Hairdressing has always been a way for me to get lost. I love the tactility of being a hairstylist. I've always loved the process of making, using my hands to physically problem-solve.
W*: How do you define beauty?
CH: I define beauty as a radical sense of self.
W*: What project are you most proud of?
CH: This Hair of Mine, the film, in its first iteration, and This Hair of Mine in its current evolution, as a haircare brand for the texture-rich hair consumer. The original film was an ode to who I am, and the people/culture that have influenced my being, my work, everything I stand for. The brand takes this same sentiment, elevating our community and putting it into products: intelligent solutions delivered as luxurious beauty rituals for the texture-rich hair consumer. T.H.O.M is an ode to anyone who has had to work harder and in turn has come to expect better.
W*: Can you talk us through your creative process?
CH: The technicality of my work is of course important but the element I value most is the way the viewer feels, the visceral connection. The latter is where I always begin. Building out a story, then integrating the technical aspect into that world. It was the same process when creating T.H.O.M. Every element of the brand began with a story. A visual explosion of everything that has influenced us from culture to art to the future. Our logo was inspired by an old African writing system, our colour palette was inspired by [educator and activist] Angela Davis and specifically her interview recorded whilst wrongfully incarcerated [in 1970-72].
Our formulas are future-facing, fusing plant intelligence with high science. The first ritual is a scalp serum, because, as well as being the first essential step towards the healthiest hair, having your scalp groomed and taken care of sitting between your mother's legs is one the earliest memories of haircare for many people in our community. Scalp Serum is that ritual bottled and delivered as a more effective solution designed to give exceptional results.
W*: What are your ideal conditions for creating?
CH: I like space and time, I sometimes need to disconnect from what I am creating in order to see it. My studio is next to my home, a tranquil space that makes me feel as though I'm miles away from the bustling streets of London. A lot of what I do is really intuitive, having a moment of disassociation from the logical fosters my intuition and allows me to connect with the creative process and bigger ideas.
W*: How do you get yourself out of a creative slump?
CH: I have learnt not to give myself a hard time for having a creative slump, so now I embrace them. Those breaks are needed. Some of my best work and creative ideas have come out of quiet moments, perhaps boredom, not thinking or forcing myself to create. I never feel pressure to create something, I enjoy the slow process, particularly a personal project. I have allowed myself to trust the process.
W*: What is your favourite beauty trend right now?
CH: Radical self-expression. And this doesn't necessarily mean that you are wearing a full face of glitter. It's in the unassuming expressions too.
W*: What is the last thing that made you smile?
CH: Our launch event for T.H.O.M at Isabel's Mayfair, a room full of joy and radical beings.
W*: What do you turn to for comfort?
CH: I've faced many challenging and low periods over the years and whenever these moments come up, it's almost as if I go on autopilot and begin to obsessively nurture and care for myself. I embark on impulsive and radical acts of self-care. Whether that's [practising] vipassana, climbing to Everest base camp, or simply just having mini silent retreats in the comfort of my own home.
W*: What work of art changed your life?
CH: I wouldn't say that there is a definitive piece of work that changed my life. But I am deeply inspired by the works of Louise Bourgeois, Zanele Muholi and Remi Ajani.
W*: What are you obsessed with right now?
CH: I'm obsessed with getting to 150kg on a hip thrust.
W*: Do you keep a notebook or diary? Can you share something from it?
CH: I use the five-minute journal. The last thing written is 'thank you Cyndia for making the time to write this'. I'm still growing and cultivating a consistent practice.
W*: What makes you nervous?
CH: I used to get really nervous and full of anxiety when asking for the help of others. I've had to be quite individualistic and self-reliant from a young age. Having experienced some significant disappointment from a young age, subconsciously I developed some kind of trauma response simply asking for help. That's changing now.
W*: What's been your biggest failure and what did it teach you?
CH: I'm constantly failing every day, big and small. Key lessons I have learned are being a better communicator, being a better leader and exercising my empathic muscle.
INFORMATION
Receive our daily digest of inspiration, escapism and design stories from around the world direct to your inbox
Writer and Wallpaper* Contributing Editor
Mary Cleary is a writer based in London and New York. Previously beauty & grooming editor at Wallpaper*, she is now a contributing editor, alongside writing for various publications on all aspects of culture.