At home with Margaret Howell
At home with British clothing designer Margaret Howell, who talks relaxation, treasured objects and her creative process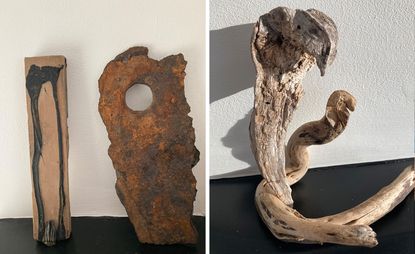 (Image credit: Photography by Margaret Howell on iPhone)
Here, as seen in the March 2023 Style Issue of Wallpaper* and accompanied by her own iPhone photographs, we talk domestic bliss with British clothing designer Margaret Howell, who splits her time between south-east London and a holiday home on the Suffolk coast.
At home with Margaret Howell
Wallpaper*: Can you tell us a little about your home?
Margaret Howell: I live in south-east London, but my neighbourhood is very leafy and green. There are ponds, Georgian terraces, graceful church spires, and a few hints of modernist architecture. I also really appreciate the independent butchers, fishmongers and bakeries that are all within walking distance.
W*: Where and when do you find that you are most productive?
MH: It can be anytime, anywhere. I get a lot of my written work done on my train journeys between Suffolk and London.
W*: Where is your favourite place at home?
MH: Relaxing in my little bathtub with a view of the setting sun on a summer's evening, listening to In Tune Mixtape on BBC Radio 3.
W*: What do you collect?
MH: I'm not the kind of collector who goes out looking for a particular type of thing. But every so often I find something that attracts me, usually on the beach, that could be the start of a collection. There was a time when I used to collect pebbles with patterns that resembled engraved numbers and letters.
W*: What excites you about clothing?
MH: Achieving the spirit and character of an idea. Getting the right fabric for the right concept, and perfecting the proportions, fit and detail.
W*: What are the ideal conditions for creating?
MH: When I started my career in the early 1970s, I would put some music on, sit down with pencil and paper, and think: 'What would I like to wear?' and then start drawing.
W*: Do you have any rituals?
MH: I like to start the day with some form of outdoor exercise; walking, swimming or cycling. It gives me my fix for the day.
W*: What are you working on at the moment?
MH: A/W 2023.
W*: Is there a particular part of the process of creating a collection you especially enjoy?
MH: As a design director, I enjoy editing at all stages of creation, keeping an eye on proportion and detail. But a collection, whether for a show or photography, requires a different kind of editing. I also enjoy working with a stylist on our collection release when we can be experimental and can exaggerate our clothes in a freer way.
W*: Where do you go for inspiration?
MH: At one level, when I'm walking in the countryside. But very often I find inspiration from social documentary photographs of people in real situations, past or present. Occasionally I notice someone on the street whose style I respond to – it could simply be a group of workmen in their overalls.
W*: Do you have a favourite item of clothing?
MH: A pair of Levi's 'Big E' jeans that belonged to my father in the 1960s. I love the wide, straight-leg style and the toughness of the denim, as well as the sentimental value.
W*: How do you switch off?
MH: Cooking supper with a glass of wine.
W*: Outside of your home, what is your favourite place in the world?
MH: Lying on an empty beach after a sea swim, being warmed by the sun.
W*: Can you tell us a memorable view?
MH: On the train from Suffolk back to London, the sight of the Stour Estuary and mudflats. An expansive view that never fails to disappoint, whether at high or low tide.
W*: What are you currently reading?
MH: I was given Alan Bennett's Pandemic Diaries at Christmas. I love the way he combines humour and poignancy.
W*: What is your favourite indulgence?
MH: A Japanese massage.
W*: What would you serve if Wallpaper* came for dinner?
MH: Something homemade. Like a steak and kidney pie, or a casserole.
W*: Is there an item at home that you particularly treasure?
MH: I have a small, framed photograph of an image I took to use up the last shot on a roll of black-and-white film. It later turned out to have enormous personal significance.
W*: If you weren't a clothing designer, what would you be?
MH: I don't know, but I can't imagine a job where I wasn't being creative in some way. Perhaps a gardener, but I think I would have trouble remembering the Latin names!
W*: What one piece of advice would you give for the next generation?
MH: Buy only what you really need.
W*: What's next on your to-do list?
MH: Sorting out my photographs. I have taken pictures for well over 60 years, and on several occasions I have tried but been unsuccessful in cataloguing them.
A version of this story appears in the March 2023 Style Issue of Wallpaper*, available now in print, on the Wallpaper* app on Apple iOS, and to subscribers of Apple News +. Subscribe to Wallpaper* today (opens in new tab)
margarethowell.co.uk (opens in new tab)
Jack Moss is the Fashion Features Editor at Wallpaper*. Having previously held roles at 10, 10 Men and AnOther magazines, he joined the team in 2022. His work has a particular focus on the moments where fashion and style intersect with other creative disciplines – among them art and design – as well as championing a new generation of international talent and profiling the industry's leading figures and brands.
With contributions from