At home with Proenza Schouler founders Jack McCollough and Lazaro Hernandez
Proenza Schouler's Jack McCollough and Lazaro Hernandez, part of the Wallpaper* USA 300, talk creative process, current inspirations, and escaping to The Berkshires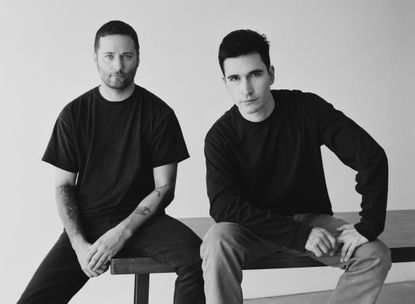 (Image credit: Photography by Bruno Staub)
Jack McCollough and Lazaro Hernandez founded New York-based label Proenza Schouler – a combination of their mothers' maiden names – in 2002, having met at Manhattan's Parsons School of Design in 1998.
In the two decades since, the label has become of the city's defining creative forces, its sleek collections combining unexpected cuts and silhouettes with references to the world of art and culture. As such, they have found a dedicated (and high-profile) legion of followers – whether actress Chloë Sevigny, musician Arca, or model Paloma Elsesser– and been the soothsayers of so-called 'downtown cool'.
As McCollough and Hernandez are named part of the Wallpaper* USA 300, the designers talk creative process, current inspirations, and escaping the city to their home in the Berkshires,
At home with Proenza Schouler
Wallpaper*: Where are you at the moment? What can you see?
Jack McCollough and Lazaro Hernandez: Sitting in our studio in Manhattan catching up on emails, which seems to be an impossibility. We don't share a desk but each have our own, facing each other. It's pretty full on the two of us together all the time. We're listening to Colleen's'Captain of None' right now. Perfect work music. Outside our window is SoHo, one of the busiest areas in New York. Lots of sirens and traffic at the moment since it's late on a Friday afternoon.
W*: Where do you live? Describe your street, neighbourhood.
JM and LH: We live together in Fort Greene, Brooklyn, across the street from the park. It's heaven. Feels so good leaving Manhattan behind at the end of the day to the relative quiet of Brooklyn. We've been here for about ten years. On the weekend we [go to our] farm in the Berkshires in Massachusetts. It's an old 1700s colonial house on a bunch of land with no one around. It's a quiet retreat from it all and in a way, it has been the thing that has kept us sane over the years. We also built a little drawing studio out there and so we sometimes go out there to work on the collection.
W*: What's the last thing you bought?
JM and LH: Last weekend we stayed in the city to buy summer clothes. Needed that. Strangely, because we are around clothes all day, it's the last thing we want to be around during our days off, but we just really needed some new clothes, so we bit the bullet. C'H'C'M' is a great little menswear store on Bond Street that we love
W*: What's the last phone call you made?
JM and LH: Somehow, we rarely talk on the phone anymore. When the phone rings it's usually our moms who still refuse to text us.
W*: Where and when do you find you are most productive?
JM and LH: We are definitely the most productive in the country, where we are away from the studio and in our own space. We tend to find that our best thinking happens when alone in the country. It's also where we come and draw our shows. We find the city is a great place to get stuff done, but the thinking through things part happens away from it.
W*: What's top of your to-do list?
JM and LH: 'Get back to emails and interviews.'
W*: Favourite place, anywhere in the world? And why?
JM and LH: Kauai. We keep going back there year after year. It's our dream to one day end up there, build some kind of studio and basically leave everything behind.
W*: If Wallpaper came for dinner, what would you cook us?
JM and LH: Jack would probably be the chef. We have a pretty great vegetable garden and so it would probably be a dish that uses whatever is in season.
W* What's the one thing (in your creative field or otherwise) you wish you had designed or invented?
JM and LH: Not an original answer but… the blue jean. The perfect American garment.
W* Any regrets?
JM and LH: Many, but life is about learning from them and moving on.
W*: Favourite indulgence and why? When did you last indulge in this?
JM and LH: Going out with friends and leaving everything work-related behind. Last night.
W*: What's inspiring you right now?
JM and LH: The Dia Beacon and everything inside that building is something we go back to season after season. The sensibility, the materiality, the history and permanence of it are all things that resonate with us greatly. The artists included in there continue to lead the way for us.
W*: How do you switch off? Do you switch off?
JM and LH: Late-night movies or shows, usually in bed, which is terrible but seals the deal in terms of putting us to sleep. Pretty basic but it works.
W*: What one piece of advice would you give to the next generation?
JM and LH: We're not ones for grand advice of this kind but we can tell you what works for us: love what you do, never be satisfied with what you've done and continue to push forward. Stay curious and work hard. Believe in your original ideas and don't be afraid to take risks. You miss 100 per cent of the shots you don't take.
W*: Who is your dream collaborator?
JM and LH: Donald Judd.
W*: If you weren't fashion designers, what might you have been?
LH: Probably something related to the art world, although not an artist.
JM: I would have probably gone to culinary school and opened up a restaurant or two.
For more on creative America, see August 2023 Wallpaper*, available in print, on the Wallpaper* app on Apple iOS, and to subscribers of Apple News +. Subscribe to Wallpaper* today
Receive our daily digest of inspiration, escapism and design stories from around the world direct to your inbox
Tilly is a British writer, editor and digital consultant based in New York, covering luxury fashion, jewellery, design, culture, art, travel, wellness and more. An alumna of Central Saint Martins, she is Contributing Editor for Wallpaper* and has interviewed a cross section of design legends including Sir David Adjaye, Samuel Ross, Pamela Shamshiri and Piet Oudolf for the magazine.