At home with Christopher John Rogers
As Christopher John Rogers reveals his first furniture collaboration with Orior at New York Fashion Week, the celebrated American fashion designer takes Wallpaper* to his Brooklyn home to talk inspiration, indulgences and letting go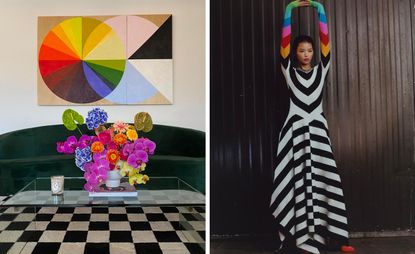 (Image credit: César Buitrago)
The hallmark of Christopher John Rogers? Pure joy. The Brooklyn-based designer – who originally hails from Louisiana and studied at Savannah College of Art and Design – is re-energising American fashion with his unabashed use of colour and dramatic silhouettes, which draw from the past but feel entirely of the present (not to mention his own electric personality).
Unafraid of standing out, Rogers is making a new rulebook, too; one that includes eschewing the traditional fashion calendar. In June 2022, he unveiled his Resort 2023 collection with an 'off-schedule' show in Brooklyn that showed an evolving degree of craftsmanship in his designs, comprising bias-cut printed silk and delicately beaded dresses, alongside sharp technical knitwear and his now-signature corseted gowns.
Rogers first emerged on the New York fashion circuit in 2019; in the years since, he has garnered a wide spectrum of fans, seeing his clothing worn everywhere from downtown clubs to Hollywood red carpets and even government headquarters (US vice president Kamala Harris chose to wear a violet ensemble by Rogers for her inauguration).
He was also the recipient of the 2019 Fashion Fund Prize from the Council of Fashion Designers of America (CFDA) and American Vogue (perhaps the most prestigious award for a young designer in the US), later winning American Womenswear Designer of the Year at the CFDA awards in 2021. He was also a finalist for the 2021 LVMH Prize and a judge for the Wallpaper* Design Awards that same year.
Living in New York, Rogers takes inspiration from all around him, seeing beauty and potential in the everyday – an approach he has brought to his first-ever furniture collection with design house Orior. An extension of his clothing, the various pieces are defined by a distinct use of colour and print – 'I've always longed to develop work in a space outside of fashion,' he says. The collection launched this week as part of New York Fashion Week S/S 2023, supporting the non-profit Colour of Change.
At home with Christopher John Rogers
As part of our At Home With series, we meet the designer at home in Brooklyn, where he talks inspiration, indulgences, and letting go.
Wallpaper*: Where are you at the moment? What can you see?
Christopher John Rogers: I'm currently working from my desk, which I think I got from allmodern.com. We haven't fully designed our office yet as we've been so busy doing other things, but I thought this desk was clean and sharp while still being declarative. I'm currently looking at white foam core boards in front of my office windows as we're working on the new collection and listening to Doja Cat in the background playing from speakers over yonder.
W*: Where do you live? Tell us about your street, and neighbourhood.
CJR: I live in Bushwick, actually! I'm between two above-ground trains, so it's pretty industrial where I live, but still kind of neighbourhood-y. It's cute when it gets warmer out and you can see people sitting on the sidewalk in lawn chairs, or on their stoops, or fire hydrants spraying water with kids playing around.
W*: What's the last thing you bought?
CJR: A mesh tank top from Zankov.
W*: What's the last phone call you made?
CJR: To my bank to cancel an international wire transfer. Oops!
W*: The last object you lost? Will you replace it?
CJR: I lost my ID last week, but I found it yesterday!
W*: Where and when do you find you are most productive?
CJR: I find that I'm most productive in my office very early in the morning or at the weekend when no one else is there. I'm slowly transforming into more of a morning person.
W*: What is your style of working? Are you a planner; intuitive; a team player; a solo creative?
CJR: I'm definitely more intuitive, but I like to plan things out as well in order to keep myself on track. I can have procrastinating tendencies, so I need to have my calendar very well organised and certain boundaries set in order for me to be my most creative and productive. I used to be much less collaborative in my working style but have learned to be more open in my practice, as I have many different things to do now in my day-to-day and I can't do everything myself. I don't think anyone can!
W*: Favourite place, anywhere in the world?
CJR: Probably anywhere that my mom is. And my bed.
W*: If Wallpaper* came for dinner, what would you cook us?
CJR: Hmm, probably an easy to prepare but fabulous pasta situation.
W*: How did the collaboration with Orior come about, and what appealed to you about working with them? Do you have a favourite piece from the collaboration?
CJR: Well, I went to university with a few of the folks that work at Orior, so we already have a familiarity with each other that made the idea of collaborating all the more appealing. I admire the attention to craft and quality that permeates the Orior brand, along with a modern sense of humour in the pieces. I've always longed to develop work in a space outside of fashion, and this seemed like a perfect fit. I think my favourite piece would have to be the gradient dot printed 'Lia' chair.
W*: What's the one thing you wish you had designed or invented?
CJR: Zippers. I'd be loaded.
W*: Any regrets?
CJR: I don't think so! It's a bit cliché to say, but I wouldn't be here if I hadn't made the decisions that I did.
W*: Ten years from now you'll be…
CJR: Even happier and fulfilled in my purpose than I am at this moment.
W*: Favourite indulgence and why? When did you last indulge in this?
CJR: Double Stuff Oreos – I just finished a pack this weekend.
W*: What's inspiring you right now?
CJR: Relaxation.
W*: How do you switch off? Do you switch off?
CJR: Historically, I haven't been very good at it – I just took my first vacation in over three years at Palm Heights in Grand Cayman last week, and it was amazing. I'm always inspired by something around me so I don't feel like I'm ever off, but I'm looking forward to spending more time relaxing, hopefully.
W*: Favourite material to work with and why?
CJR: Cotton poplin or twill. It's humble and easy to wear but can carry tailoring and structure quite nicely.
W*: What one piece of advice would you give to the next generation?
CJR: I feel like I say this too much, but don't look to the left or right of you and just do what comes naturally to you and your eye. Trust your gut and do what you feel is right for you.
W*: What's been your biggest failure and what did it teach you?
CJR: Trying to please everyone, or people whom I had no business trying to please. It taught me the power of leaning into your natural inclinations.
W*: Who is your dream collaborator?
CJR: Sam Gilliam or Róisín Murphy.
W*: If you weren't a fashion designer, what would you have been?
CJR: Maybe a painter, or a therapist.
W*: What's top of your to-do list?
CJR: Letting go even more.
INFORMATION
christopherjohnrogers.com
oriorfurniture.com
Tilly is a British writer, editor and digital consultant based in New York, covering luxury fashion, jewellery, design, culture, art, travel, wellness and more. An alumna of Central Saint Martins, she is Contributing Editor for Wallpaper* and has interviewed a cross section of design legends including Sir David Adjaye, Samuel Ross, Pamela Shamshiri and Piet Oudolf for the magazine.