Urban Fictions by Richard Rowland, Shanghai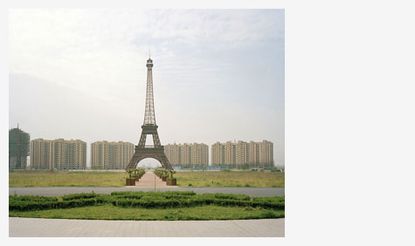 (Image credit: TBC)
Wallpaper* Newsletter
Receive our daily digest of inspiration, escapism and design stories from around the world direct to your inbox
Thank you for signing up to Wallpaper. You will receive a verification email shortly.
There was a problem. Please refresh the page and try again.
One of the more curious architectural projects underway in Shanghai is called 'Nine Towns, One City' – a scheme to create nine satellite towns for wealthy middle class Shanghainese, with the architecture and planning based on different European models.
Including English, French, Dutch, Swedish, Italian and German pastiches, the architecture is more than a little disorientating. The effect of walking through these familiar districts, many still under construction and eerily unpopulated, is like strolling onto a film set. But unlike their balsa wood counterparts these satellites towns are very real indeed – bricks and mortar, running water, trees and grass surreally manicured and just waiting for inhabitants.
The English photographer Richard Rowland spent six weeks photographing them.
See a selection of Richard Rowland's photographs from his time in Shanghai
The project was funded by the Arts Council England and he's working on a book with FAR Architecture Center Shanghai, a Dutch organisation based in Shanghai. In 2010 the photographs will be exhibited at the Light House Media Centre in Wolverhampton. In the meantime he provided us with a selection of his photographs and explained his personal take on the phenomenon.
When did you first come across the European-themed towns?
I first saw one of the developments, known as Thamestown, on Paul Merton's series on China. I'd been aware of China's willingness to adopt and adapt other country's architectural styles, but through my research I came across a whole series of western-style towns, mainly European, that have been appearing in and around Shanghai over the past decade.
What was the experience of photographing them like?
Extremely varied in that they are all at different stages. Some are largely complete, although in Shanghai it seems the building never quite ceases, whilst others are more of a patchwork of developments and have further stages planned. As a westerner, I could not help but experience a sense of the uncanny whilst travelling through these faux towns, where street scenes, embedded in my memory either through personal experience or, say, television were re-presented in front of me. I'm interested in what Umberto Eco describes as 'the flattening of the real against fake' in these reproductions and how the photograph adds to this illusion.
Why do you think the trend began?
Many are part of a grand scheme known as 'Nine Towns, One City', to create nine such satellite towns to house the emerging wealthy middle classes (up to half a million people), but others such as 'Little Paris' have developed independently of this scheme. I think you have to bear in mind that most Chinese have never left their country and certainly not to somewhere as exotic as Europe. For many, this is a way of 'experiencing' something of Europe, bound up in notions of western desire and dreams of a utopian ideal. These ideals are being propelled by a period of unsurpassed prosperity that welcomes both success and excess.
Are there lots of architect firms that build them or does one firm specialise in one style?
Certainly with the 'Nine Towns' projects, firms from each nation pitched for the schemes. Interestingly, Albert Speer Jnr, namesake and son of Hitler's architectural visionary, heads the German town of Anting. It's hard not to see the irony in this!
Who lives in them?
Mainly the emerging wealthy business classes. However, the term 'live' hardly feels appropriate here. Although most have been purchased, often even before construction begins, the majority remain empty and the towns as a whole are mainly peopled by those involved in construction, sales and maintenance, alongside the inevitable teems of uniformed guards. This further creates a sense of the unreal – empty, reconstructed spaces, not unlike a film-set that create something of the hyperrealist reproduction.
How does the local culture differ in each of them?
I don't think the culture does really. Each development is designed to largely accommodate the new business classes. I think these places say more about the uniformity in culture within these towns than revealing any particular disparity.
What does it say about Shanghainese attitudes to their own cultural heritage that they've built towns based around historic European styles of architecture?
China, and particularly Shanghai, has a history of architectural pastiche and wholesale adoption of western styles, due largely to its colonial past, and in certain ways I see these projects as merely an extension of this. Without the same concerns for a design lineage or historical authenticity that is certainly true of the UK, these new towns seem caught between futuristic design and European nostalgia.
How long did you spend in Shanghai photographing the towns?
I made two trips totalling six weeks.
What if anything do you feel you've learnt from the project?
I've come away with at least as many questions as answers, but, for me, this is what I look for in an art piece. The project is not photojournalistic or strictly documentary in nature and I'm more interested in the ambiguity here, rather than creating a defining story that has all the answers. I'm looking for what the work reveals about China at this point in history under this set of conditions.
Receive our daily digest of inspiration, escapism and design stories from around the world direct to your inbox