Brushed-up bronze: Design MVW present 'XiangSheng' at Galerie BSL, Paris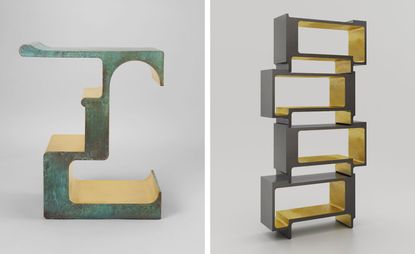 (Image credit: MVW )
Following their Wallpaper* Design Award win in 2014 – for their smart and sharp wood work for Giorgetti – Shanghai-based studio Design MVW are now having an affair with bronze. Hosting their new collection 'XiangSheng' is Paris' Galerie BSL, in their inaugural showing outside Shanghai.

Founded by Chinese designer Xu Ming and French architect Virginie Moriette, the duo merge their cultural backgrounds to form abstractly crafted forms. Taking their next sculptural step with the bold alloy material, the pair bring a beautiful eloquence to the metal, retaining its boisterous masculinity while carving it into artistic architectural pieces.

Comprised of tables, a sideboard and shelving, Design MVW presents the rough material in delicately oxidised finishes and a mix of clear-cut ends, large luscious arches and abnormal silhouettes, so their 360-degree perspectives are constantly changing.

Playing with the material's hue are their 'Console' and 'II Cabinet'; the sleek, brushed shimmering bronze contrasting with the tarnished teal exterior of the console and the dark brown finish to the cabinet, itself appearing almost wooden.

The whimsical serrated edges in the Jenga-style 'II Shelving Unit' shows that rigid geometry is not the designers' aim. Similarly, each of the five sides to the 'Side table #3' are different and the massive structure of the 'II Cabinet' sits on two short, animalistic legs.

With all of these perspectives 'XiangSheng' is revealed as a dynamic collection that, funnily enough, started as a visit to a factory and stumbling upon some waste metal sheets. Impressively, Design MWV managed to repurpose the scrap to a level so abstractly animated that it is now set to travel to PAD Paris and Design Shanghai (both are held in March).
INFORMATION
Design MVW's 'XiangSheng' is on view until 16 April. For more information, visit Galerie BSL's website
ADDRESS
Galerie BSL
10, rue Bonaparte
75006 Paris