The 10th Shanghai Biennale ponders a post-industrial China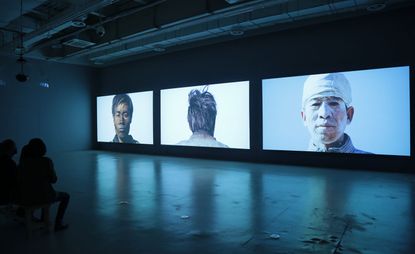 (Image credit: TBC)
All eyes were on Shanghai this weekend as the 10th Shanghai Biennale opened at the Power Station of Art - a converted 40,000 sq m Blade Runner-esque industrial complex that serves as China's first state-run contemporary art museum. Thanks to the curatorial vision of the young, forward-thinking Anselm Franke, who is based in Berlin, the exhibition was notable for standing out in a city awash with world-class art (notably Sean Scully's current retrospective at the Himalayas Art Museum (opens in new tab) and the inaugural 'COSMOS' exhibition (opens in new tab) at the Minsheng Art Museum, both drawing large crowds).

'Few cities in the world represent the image of a society-in-the-making as dynamically as Shanghai,' says Franke, explaining this year's theme. 'It characterises China's rapid modernisation and yet also embodies a promise for the post-industrial future where China will no longer be the world factory but rather a "social factory".'

Highlights among the 100 works by more than 70 local and international artists include Ming Wong's musings on the future depicted through China's wildly popular sci-fi television programmes and traditional Chinese opera; Hou Chun-Ming's exploration of the role of fathers in Asia; and Californian artist Edgar Arceneaux's immersive installation reflecting on post-industrial Detroit.

The diverse exhibition includes performances and films such as Wang Ziyue's haunting record of a group living in China's urban buildings awaiting demolition. Hu Liu also reflects on modern China with a work inspired by her 2002 recreation of the Long March Space where she exchanged red carnations with local peasants for artefacts, while Ran Huang's monumental stone engraved by British artisans questions creativity within art.

The Chinese principle of 'seek truth from facts' famously invoked by Mao Zedong (opens in new tab) in 1938 is another key theme, reflected here in Austrian composer Peter Ablinger's robotic piano installation playing a tune following the words. In the same lobby space, Liu Chuang's 'Segmented Landscape' geometric window grilles comment on notions of inside and outside.

Trevor Yeung's 'Maracujá Road' work is, however, the standout piece with a thought provoking representation of unsatisfied impulses in human relationships. The work is composed of a bamboo frame suspended out of reach of 80 highly invasive passion fruit plants: a striking metaphor of modern life.
ADDRESS
Power Station of Art (opens in new tab)
200 Huayuangang Road
Shanghai
China
VIEW GOOGLE MAPS (opens in new tab)