What is contemporary?: Gucci ponders big questions at Shanghai's Minsheng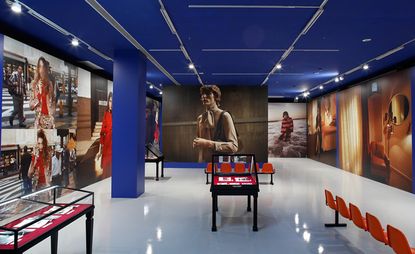 (Image credit: Courtesy Xie Yingjie)
When approaching the Chinese market, luxury houses tend to look to the past, emphasising the brand's heritage and authenticity by delving into the archives.

Alessandro Michele's tenure as creative director has seen a reinvention of the Gucci (opens in new tab) vision which has been universally acclaimed. His first exhibition, at the Minsheng Art Museum in Shanghai (opens in new tab), shuns all the usual exhibition tropes.

Italian philosopher Giorgio Agamben's What is the Contemporary? is a book that has deeply influenced Michele and his collections for Gucci. He and co-curator Katie Grand use Agamben's ideas to explore the notion of 'contemporary', and the complicated and contradictory concept of time within the fashion industry.

'After the first women's fashion show we wanted to do something in Asia and I talked with Katie [Grand] about bringing together artists to open up the conversation on the contemporary,' explains Michele. 'Philosophy can give you the opportunity to reflect and be curious.'

Seven Chinese and international artists use installations, photography, paintings and sound design to explore this concept, alongside the quotidian normality of fashion. Gucci's involvement is deft, and the artists are at the forefront: radically different to previous exhibitions brought to mainland China.

Multimedia artist Cao Fei comments on China's rapid urban expansion, showing video footage featuring the area surrounding her studio being destroyed alongside an army of robot vacuum cleaners repeatedly sweeping a Gucci carpet.

Nigel Shafran's images document the creative processes that lie behind the nine month lead-in to Michele's current collection. 'How,' he asks, 'can a designer pre-figure the contemporary?'

Unskilled Worker, an artist Michele discovered on Instagram, has created a series of naive portraits depicting subjects wearing Gucci. 'It's a work in progress between real life and social media,' Michele reveals. 'It's a fresco of my life with the company.'

'What we were trying to do was provoke a question,' adds Grand. 'It felt like the right time to do a different kind of exhibition.'

Trying to predict the elusive pulse of the contemporary is a gamble. Staging a Gucci exhibition with no actual fashion content is even more so. Let's hope Michele's bold move fuses the creative, the contemporary and the commercial.
INFORMATION
'No Longer/Not Yet' is on view until 16 December
ADDRESS
Minsheng Art Museum
Building F, Red Town
570 West Huaihai Road, Shanghai
VIEW GOOGLE MAPS (opens in new tab)