Transitional space: Elmgreen & Dragset create airport for Seoul's Plateau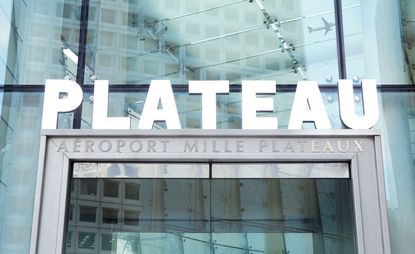 (Image credit: TBC)
Wallpaper* Newsletter
Receive our daily digest of inspiration, escapism and design stories from around the world direct to your inbox
Thank you for signing up to Wallpaper. You will receive a verification email shortly.
There was a problem. Please refresh the page and try again.
The Plateau, Samsung Museum of Art in central Seoul has been transformed into an airport by Elmgreen & Dragset, the Danish-Norwegian artist duo renowned for their trademark philosophical take on modern societal controls.

The exhibition – titled Aéroport Mille Plateaux – is notable for its meticulously recreated 1960s modernist interiors, sporting mind-teasing twists like a broken staircase leading to an unreachable Gate 23 and an abandoned baby. A selection of the works from the pair's previous exhibitions is also included.

With a title derived from the French philosopher Gilles Deleuze and psychoanalyst Felix Guattari's A Thousand Plateaus: Capitalism and Schizophrenia, visitors pass though the usual security checks – here unmanned – with a replica boarding pass (the admission ticket), while the museum shop has been transformed into a duty free vendor featuring quirky items such as Mille Plateaux eau de parfum. Wallpaper* caught up with the maverick couple to ask about their take on art and that abandoned baby.

Wallpaper*: Tell us about the inspiration behind the concept of the exhibition.
Elmgreen & Dragset: When we first visited the venue in Seoul, we both thought that the architecture reminded us somehow of a micro-scaled airport. The curved, giant glass panes, the steel columns, the entrance and the stone flooring. We started to think about the definition of transitional spaces and the similarities between airports and other public institutions, like museums.
What are you trying to achieve with the show?
There is no specific storyline or intended message at play, but there is a general feeling of abandonment and loneliness that usurps the experience. Wherever you might feel like interacting, you find some sort of denial – a closed door or a malfunction. Still, everything looks deceptively normal. To us, this is pretty much an image of the world at large.

Why the baby left in front of a cash machine?
There are changes occurring in the demographics of most of the developed world today, particularly in regions like Korea and Japan. People consider a professional career more important than having children, and the result is a dramatic decrease in birth rates. The title of this work is Modern Moses (laughs). A forgotten baby.

Would you ever make an artwork simply for its intrinsic beauty?
Intrinsic beauty bores us. That doesn't mean that a work of art has to be 'ugly' if it implies a social message. It is important for us that the aesthetics and the message in a work come together in a way where they feed off each other, or contradict each other in a thrilling way. But art doesn't have to fulfil any special purpose, we think.
ADDRESS
Plateau, Samsung Museum of Art
55 Sejong-daero
Jung-gu
Seoul, Korea 100-716
Receive our daily digest of inspiration, escapism and design stories from around the world direct to your inbox