Through the lens of photographer Milo Lethorn
Here, Milo Lethorn discusses the eroding perceptions of photographic 'truth', the marketisation of higher education, and pushing the boundaries of genre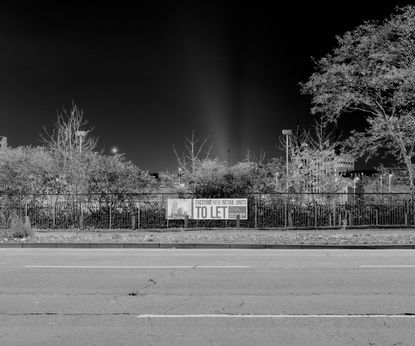 (Image credit: Milo Lethorn)
It was the analytical perspectives of Milo Lethorn's series Manifesto for a Studentopia that inspired us to match him with an innovation-driven story for our August 2021 issue. The London-based photographer spent the day with Wallpaper's contributing editor Nick Compton and engineers at a technology park in Nuneaton to revisit the electric-powered aluminium Re:Move project trike born out of the Wallpaper* Re-Made project: a collaboration between Konstantin Grcic, Polestar, Hydro, Corum and Cake.

Lethorn's Manifesto for a Studentopia is soon to be on show at Belfast Exposed. Here, the emerging talent lets us in on the inner workings of his process.
Wallpaper*: Describe your style and process
Milo Lethorn: Up to this point, I've been attempting to use elements of photography's cultural underwriting to work through mostly sociological themes via urban settings in accessible and imaginative long-form projects. This brings about a continuous process of critical research, reflexive thinking and revisitation between waves of actual image-making.
Without trying to overcook the sites or objects I am picturing, there are intentional references bound in the 'documentary' aesthetic I currently use that are probably most responsible for how things end up looking image-to-image.
W*: How did you bring your approach to shooting the Re:Move project?
ML: As much as I had some researched ideas in mind going in, I didn't want to ignore what I would learn about the trike and the team behind it whilst on location. I was keen on not making something resembling a glossy car advert, so outside of some necessary detail close-ups, I involved the engineers, workshop and nearby warehouse environment as much as possible.
Seeing the team working on the vehicle as a focal point within the large, industrial workshop, I was reminded of a collection of photographs I'd seen picturing engineers fixing early computer systems in the 1950s. Black and white, very formal compositions with frequent pops of well-positioned flash within each tableau. With the race among automotive companies to be at the forefront of sustainable electric technology today, I felt it might be a fun look to parallel.
'Through the lens' is our monthly series that throws the spotlight on photographers who are Wallpaper* contributors
W*: What is the most interesting thing happening within photography now?
ML: For the last few years, the most interesting thing to me has been the public's blossoming distrust/mistrust relationship with the still image. I think it puts image-making in a much more complex and compelling position as a discipline, despite what some claim regarding the eroding perception of photographic 'truth' as a negative thing. From the recently revaluated limits of what documentary photography can be, to the advanced use of emerging 'artificial' imaging systems, I believe the creative possibilities in light of this cultural overhaul are still underestimated.
W*: What's on your radar?
ML: I'm a big fan of works that smuggle and transmit messages outside the expectations of their genre. With that in mind, I was recently surprised by my first proper listen to some of Sam Fender's songs. To be honest, I'd wrongly assumed that he was another safe singer-songwriter-radio-sweetheart, and whilst his music is catchy, the confrontational, self-aware lyrics signal a different ambition. I'm looking forward to seeing what he puts on the upcoming second album.
During lockdown I was turned onto Nearest Truth, a series of recorded conversations orbiting contemporary photography and facilitated by Brad Feuerhelm. With an extensive back catalogue, these episodes take a step away from the idea of a topical weekly podcast and act almost as capsules of respective guest artists, publishers, curators and writers' activities in a specific moment.
W*: What's next for you this year?
ML: It's been pushed back a fair bit due to Covid restrictions but I'm fast approaching my first solo exhibition, which I'm very excited about! Hosted by Belfast Exposed, it will be the first full showcase of Manifesto for a Studentopia, a kind of half-documentary half-dystopian project I began as a university student in response to the lucrative marketisation of higher education, seemingly innocuous satellite industries and their subsequent regional effects.
Ironically, after putting postgraduate education off for a while now to properly consider different programmes and to let the pandemic dust settle a bit, my next year might well involve an MA application and return to university!
In the meantime, I've been revisiting the production of a dummy photobook for Manifesto for a Studentopia whilst keeping my options open for more commissions and saving up to get started on the next body of work. I can't give much away about the project right now, but it's almost certainly going to be my most ambitious stuff yet.
INFORMATION
milolethorn.com (opens in new tab)
Sophie is currently Photography Editor at Wallpaper*. Sophie joined the team following the completion of her photography degree in 2018, and works with Photography Director Holly Hay, where she shoots, commissions, produces, and writes on photography. Alongside this, she continues her art practice as a photographer, for which she was recently nominated for the Foam Paul Huf Award. And in recognition of her work to date, Sophie was nominated by the British Journal of Photography for the Futures photography platform in 2021.