Genesis' Luc Donckerwolke brings new shapes to luxury mobility
Luc Donckerwolke, Genesis' chief brand officer and chief creative officer, on its Europe-only G70 Shooting Brake, the new Genesis EV60 electric vehicle, and the shape of cars to come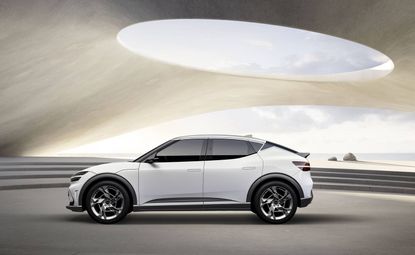 (Image credit: TBC)
Luc Donckerwolke is now chief brand officer (CBO) and chief creative officer (CCO) for Genesis, new titles on top of his current position as CCO for the Hyundai Motor Group. The Belgian automotive designer has been at Hyundai since 2016, following the German designer Peter Schreyer to the post of global chief designer. Like Schreyer, Donckerwolke cut his teeth at the Volkswagen Group, overseeing key cars like the Lamborghini Murciélago and the Bentley Continental GT and helming the design team at Seat.
After a short break away from the company he is back in a new role at Genesis that fills out his portfolio at the Korean industrial giant, working alongside SangYup Lee, head of global Genesis design. In addition to his work for the fast-moving Genesis brand, Donckerwolke will also help develop Hyundai's Ioniq electric sub-brand.
We spoke to him about the new role, Genesis' Europe-only G70 Shooting Brake model, and the new Genesis EV60 electric vehicle, as well as the big changes that are coming to the industry.
Wallpaper*: What it is like to create a luxury brand where you essentially start with a blank sheet of paper?
Luc Donckerwolke: It's something that never normally happens these days. There's a lot of serious work behind it, which has led to this great moment of not only creating this brand but also taking it global. I have been at the right place at the right moment working for companies that needed a rebirth and where design was contributing to the relaunch. However, Genesis wasn't even on the horizon when I joined Hyundai. A couple of months after I signed, they told me they were launching the company and asked if I would be OK to take over the design.
W*: Where had you worked before?
LD: Working for Bentley, Lamborghini and Audi was great preparation. But this is about creating a brand with different values. Working in Korea was my first experience in Asia, and it was so welcoming, with such a great attitude towards the customer. To translate this universe and experience into a brand, to design products and experiences together, is something that makes you grow. The goal was always to create a design which was emotional and fantastic. But it was also about being completely different from anything else. When you start with a new brand, everything has to be consistent. Our approach was defined by 'the design is the brand, and the brand is the design', which is why we created a design language where the face of the car would be derived from the logo. We wanted to have a consistent approach all the way through from the first sketch to the product on the road. It was a once in a lifetime experience.
W*: The shooting brake is a very European model type. Was it difficult to convince the company that you needed it for this market?
LD: We designed the DNA of Genesis so that it would not be [a case of ] designing for another continent and trying to sell them in Europe. We told Hyundai's management that we had to address the special customer needs in Europe with specific products. They rely on our experience, and they have full trust in us. Normally, if you do a car for a specific market, automatically the investment constraints are quite strong because you're talking about limited volume. They supported us to develop a product that was differentiated from the competition.
W*: There's a classic traditional beauty to all the Genesis models. You've managed to distil the essence of how big cars work best. How will this design language evolve – will there always be a focus on sedans and SUVs?
LD: We wanted to create a design language that had a certain timeless beauty but was not retro. If you design an aggressive sportscar you typically do a wedge design. This car is an 'anti-wedge'. It's a noble design, with a serene attitude. It's not arrogant but has a laid-back, relaxed, self-confident stance. A Genesis appears to sit back on its rear wheels, emphasising the rear-wheel-drive package. It also refers to the classical golden rules of car design, with very few folds and creases in the bodywork. The G70 Shooting Brake is about 'athletic elegance', which is to say sporty, but controlled.
In Korea, the market is sedans, so we have very good experience of designing them. We have had to enhance our portfolio with SUVs, because they are a big part of some markets. But we'll be working on different typologies. The recent Genesis X coupé concept shows that we don't want to exclude any type of vehicles. I am sure that the current dominance of SUVs will give way to demand for other vehicle types. There will be a diversification.
W*: What about the detailing? How do you treat things like headlights and grilles, because we're seeing a move away from the traditional grille in electric vehicles?
LD: It's not really about the size of a design element like the grille, but how you execute it. We don't want to appear provocative or aggressive. The shape of the grille originates from the crest on the logo, which we could only achieve by integrating the number plate. With electric cars, the cooling function of grilles is becoming less relevant, so from a Darwinist point of view, the grille could almost disappear, like in the GV60. However, [there will be] the need to integrate the 'sensor pad' of the near future – more or less the same size as the grille today. When we started designing electric vehicles a few years ago, these were the questions we were asking.
W*: What do your customers expect of a car interior? Are you hoping to give them something that's unexpected?
LD: We want to apply the same kind of purity as to the exterior. But interiors are a very complex discipline. It's like being an architect who has created a beautiful room with perfect materials and proportions and then somebody puts a radiator in the room, and it's ruined. You can make a fantastic sculptural interior, but you must accommodate the air vents and the buttons and the screens and everything. In Korea there's a huge sensitivity and appreciation of aesthetics, integral to the cultural tradition of the country. Genesis interiors use a concept called the 'beauty of white space', which is about orchestrating spatial elements. There's also a sense of quiet, unobtrusive service in the way the buttons and controls are arranged. It's also why we have these slender air vents, the thinnest you get in production.
W*: Are there elements within the interior designed to create surprise and delight?
LD: We often refer to the driver as a guest. The technology is not about fireworks or spices, so you're not relying on overpowering experiences. But we have so much more to come. I don't think any car company has ever launched so many products in such a short space of time. And each new Genesis model will have its own identity.
INFORMATION
Jonathan Bell has written for Wallpaper* magazine since 1999, covering everything from architecture and transport design to books, tech and graphic design. He is now the magazine's Transport and Technology Editor. Jonathan has written and edited 15 books, including Concept Car Design, 21st Century House, and The New Modern House. He is also the host of Wallpaper's first podcast.