Through the lens of photographer Tino Chiwariro
'Through the lens' is our monthly series that throws the spotlight on photographers who are Wallpaper* contributors. Here we explore London-based Tino Chiwariro's vision further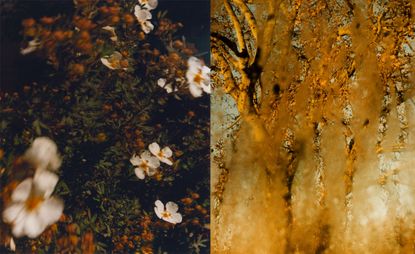 (Image credit: Tino Chiwariro)
As a recent alumna of London College of Communication, photographer Tino Chiwariro is fast making her way in the industry as she builds on her impressive graduate portfolio while working with the likes of JW Anderson and Toast. Alongside this, she's been keen to assist photographers with disciplines that differ to her own, emphasising that putting yourself in unfamiliar spaces can be a huge learning curve towards growth.

At the heart of her practice are her skills in the darkroom, which include an eye for beautiful tones and natural light. Across our April and May issues, Chiwariro has brought her medium format eye to a series of simple yet elegant jewellery shoots.
W* Describe your style and process
Tino Chiwariro: The majority of my personal work is very instinctive. Sometimes that's simply a documentation of my flatmates or people I have met via Instagram, or it could be anything I've found interesting and think would be interesting to hand print in the darkroom. I had a phase recently where I was photographing a lot of flowers, that was such an enjoyable process in the darkroom and I still haven't shared most of them. Often it's more process than outcome led in that sense. I just have fun with it and don't overthink things because once it all comes together I know it will make sense.
W* Tell us how you brought your approach to our story on New York jewellery brand Third Crown?
TC: I am absolutely not a photographer who is focused on the technical side of things, so whenever the sun comes out I am always very excited to work with what I have, especially when it's really bright. In this particular shoot, I was so inspired by the shadows from the jewellery, and I loved how the sun elongated the shape of the pieces.
W* What do you think is the most interesting thing happening within photography now?
TC: The creative industry is shifting for the good; I feel seen as a Black female photographer and I hope this continues because there are so many creatives out there that are going unnoticed.
W* What's on your radar?
TC: Home by Ronan McKenzie, I just can't stop thinking about it or talking about it. The exhibition 'WATA, Further Explorations' was incredible. It is a collaborative new work from Ronan Mckenzie and Joy Yamusangie which included a short film of the same name. It is a beautiful story that has got me thinking a lot recently.
W* What's next for you this year?
TC: I am really hoping to get a job in which I am able to return home to Zimbabwe to document my homeland as I have only seen this image through a white lens.
INFORMATION
Sophie is currently Photography Editor at Wallpaper*. Sophie joined the team following the completion of her photography degree in 2018, and works with Photography Director Holly Hay, where she shoots, commissions, produces, and writes on photography. Alongside this, she continues her art practice as a photographer, for which she was recently nominated for the Foam Paul Huf Award. And in recognition of her work to date, Sophie was nominated by the British Journal of Photography for the Futures photography platform in 2021.
With contributions from