Through the lens of Wallpaper* contributor Louise Hagger
'Through the lens' is our monthly series that throws the spotlight on emerging photographers who are Wallpaper* contributors. Every month one photographer is commissioned to capture the upfront Newspaper section – an artist's residency in print form – here we explore their vision further.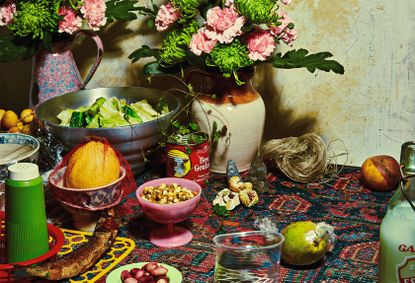 (Image credit: Louise Hagger)
With an award-winning specialism in food and drink still life photography, Louise Hagger was the natural fit to capture the latest in our Artist's Palate series from American artist, Robert Longo. The London-based photographer has travelled the globe for editorial, commercial and personal projects. Of particular note, is her self-published 'A Carp in the Tub' series, a collaboration with food stylist Victoria Granof and prop stylist JoJo Li. Through words, pictures and recipes, it tells the weird and wonderful story of Granof's winter-long journey to adopt her infant son in Ukraine, using food to anchor a sense of belonging, identity and home.
Wallpaper*: Describe your style of work and process.
Lousie Hagger: Telling the stories behind food imagery within domestic scenes and around food memories is what really interests me. This approach is creative and often colourful, making impactful images that look delicious. An idea can stem from anywhere, usually sharing the references that I'm excited about with someone I would be curious to collaborate with. Then we refine ideas with notes of what we're thinking and meet to discuss and develop it further so that we are aligned in what we're trying to achieve before the shoot. My regular collaborators have become friends and so we work very intuitively together. That's the perfect kind of shoot when each creative is working in perfect synergy to create the work. You can feel the energy, working harmoniously to elevate one another's work.

W*: Tell us how you brought your way of working to Artist's Palate.
LH: I love shooting recipes that have a narrative behind them, so the Artist's Palate was a perfect fit. I worked alongside food stylist Liam Baker, and Wallpaper's art and interiors team, using graphic colour and texture to reflect artist Robert Longo's style. Keeping a focus on the dish itself was also essential to us creating a delicious and thought-provoking image.
RELATED STORY
W*: What's the most valuable thing photography has taught you?
LH: How to express myself, and that photographs can connect you emotionally to someone even when you don't share the same language or background; you can share a powerful collective experience or memory from looking at a photograph.

W*: What do you think is the most interesting thing happening within photography now?
LH: How we share images and communicate with one another. I love how someone I don't know can reach out from anywhere around the globe and share an image that can connect you both and start a conversation.
W*: What's on your radar?
LH: I get excited by colour and texture in everyday surroundings. How food is contained and displayed, in plastic bags, jars, tins, on trays, in windows, market stalls, and particularly plastic food packaging – how it is arranged within a space, packaged and displayed. Food and veg stalls, especially in Japan and Paris are great for this. The way the food is elevated onto wooden plinths or perfectly wrapped reminds me of food shrines in Asian cultures from family holidays and travelling. It ties in with continuing a project, 'The Rituals of Nourishment', which is published in The Photographers' Gallery journal, Loose Associations and also explores dining settings and food memories.

W*: What's next for you this decade?
LH: I would like to do more work globally, shoot more books, travel and have a book published of my food annual A Year in Food which is a retrospective of my personal collaborations and commissions. Also, I want to exhibit more of my personal work, explore moving image further and to keep developing as an artist.
INFORMATION