Artist's Palate: Robert Longo's blood and guts
Devour Robert Longo's spine-tingling dish for our artist's recipe series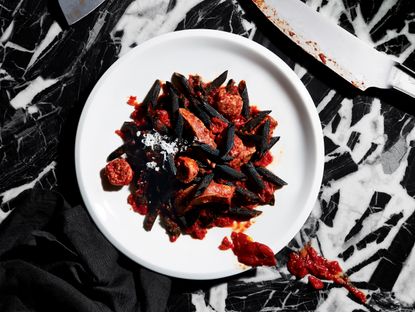 (Image credit: Louise Hagger​​)
From his memorably blackened American flags to monumental charcoal drawings of atomic mushroom clouds, and more recent works that speak to gun violence and political corruption, Robert Longo has never shied away from the visceral and morbid. His fascination with the dark side of civilisation is also reflected in the title of his signature dish, 'blood and guts'. A penne with tomato sauce is topped with sweet Italian sausage (gutted, to make it look extra lumpy) and chopped sirloin, then garnished with grated cheese and fresh basil. 'I've been making it for years, and taught it to my kids,' says the artist. 'It should look like a horror show.'

Ingredients (serves four)

2 tbsp olive oil
1 large onion, peeled and chopped
2 garlic cloves, peeled and chopped
400g can chopped tomatoes
300g squid ink penne pasta (or normal if this is unavailable)
6 sweet Italian sausages, casings removed and cut into pieces
400g sirloin steak, cut into pieces
grated Parmesan, to serve
fresh basil, to serve

Method

Heat a tablespoon of olive oil in a pan, then cook the onion and garlic for about 5 minutes over a low heat until softened. Stir in the chopped tomatoes, then simmer for about 15-20 minutes. Meanwhile, cook the pasta.

Heat the remaining olive oil in a frying pan and fry the sausage pieces over a fairly high heat until golden brown, then set aside. Fry the steak pieces until cooked to your liking. Drain the pasta and stir into the sauce.

Serve the pasta in bowls topped with sausage, steak, grated Parmesan and basil.
A version of this article originally appeared in the March 2020 issue of Wallpaper* (W*252)
TF has been editor of Wallpaper* since December 2020. He is responsible for our monthly print magazine, planning, commissioning, editing and writing long-lead content across all our content pillars. He also plays a leading role in multi-channel editorial franchises, such as our annual Design Awards, Guest Editor takeovers and Next Generation series. He aims to create world-class, visually-driven content while championing diversity, international representation and social impact. TF joined Wallpaper* as an intern in January 2013, and served as its commissioning editor from 2017-20, winning a 30 under 30 New Talent Award from the Professional Publishers' Association. Born and raised in Hong Kong, he holds an undergraduate degree in history from Princeton University.