Through the lens of Wallpaper* contributor Baud Postma
'Through the lens' is our monthly series that throws the spotlight on photographers who are Wallpaper* contributors. Here we explore their vision further.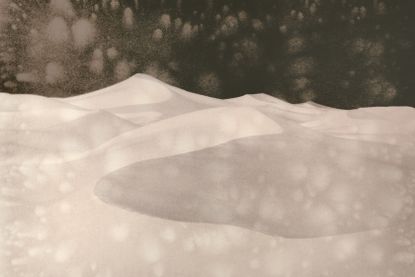 (Image credit: Baud Postma)
After years of working and travelling extensively with several of the world's top fashion photographers, London-based Postma set out to find his own photographic voice. After much experimenting, he developed a unique and technical practice, shooting large format, 10x8 paper negatives, resulting in images with a distinctive texture and colour palette. Fascinated by photography's inherently complicated relationship with authenticity, his work often explores the intersection of fact and fiction, representation and imagination.

Postma has collaborated with the likes of JW Anderson, Burberry and Paul Smith and has exhibited work at the National Portrait Gallery and Peckham 24. For a recent Wallpaper* fashion shoot, he took lockdown remote working to a new dimension, capturing our monochromatic Pre-Fall looks via Zoom, and developing the images in his bathroom-turned-darkroom.
Wallpaper*: Describe your style and process
Baud Postma: Several years ago I started experimenting with both colour and black and white paper negatives. After a great deal of trial and error, I eventually came to a process by which I now create almost all my work; using a 10 x 8 camera to make exposures directly onto photographic paper without the need for a film negative.

The process instils my work with various unique aesthetic properties but also profoundly affects how I go about making the work. For example, the low light sensitivity of the paper (compared to film), requires a slower, more considered and collaborative approach to portraiture than would otherwise be needed. I like how the challenging analogue process has caused me to embrace, and on occasion, actively encourage the unpredictable results that can appear – whether that be light leaks in processing or unexpected texture from old paper stock.
W*: Tell us about your approach to our Pre-Fall fashion shoot (via Zoom).
BP: At the start of lockdown, I became interested in making physical prints … something analogue and tangible during this time when most of our interactions with each other (and art/culture more generally) has been limited to screens. To achieve this I made a lockdown/darkroom in my bathroom. Using an improvised enlarger, I started making fibre-based, silver gelatin, hand prints from screenshots taken during video calls with sitters.
RELATED STORY


I had been working on a series of portraits for a while when Jason Hughes (Wallpaper's fashion director) approached me to shoot the Pre-Fall story. I had already started adapting to shooting remotely via a screen but shooting ten images in ten looks proved to be far more challenging than the 20-minute portraits I had been doing. The process really makes you appreciate the importance of body language and non-verbal cues more generally.
W*: What do you think is the most interesting thing happening in photography right now?

BP: In recent years I've been very interested in developments like Google's art camera and Madpixel's ROB, creating ultra-high-resolution gigapixel (billion pixel) images of the world's great artworks. I wonder what this means for galleries and artists when works can be viewed in greater detail at home on your computer than with the naked eye standing in front of the original. Particularly when combined with developments in 3D printing super-accurate replica artworks, it fits into my interest in photography's complicated relationship with authenticity and representation.
W*: Who or what is on your radar?
BP: When thinking about your question, I realised during the last few weeks I have unintentionally been following themes of time and the nature of reality. I've been reading A Brief History of Time by Steven Hawkins, watching Devs by Alex Garland and The Encounter, directed & performed by Simon McBurney (Inspired by the book Amazon Beaming by Petru Popescu). They are all really thought-provoking in different ways.
W*: What's next for you this year?
BP: This year is a bit hard to say with everything that's going on around Covid-19. I had been talking about a show in the autumn but it's all very much in the air now. I have several projects that I'm working on (and really excited about) but at the moment I can't really say more than that!
INFORMATION
Harriet Lloyd-Smith is the Arts Editor of Wallpaper*, responsible for the art pages across digital and print, including profiles, exhibition reviews, and contemporary art collaborations. She started at Wallpaper* in 2017 and has written for leading contemporary art publications, auction houses and arts charities, and lectured on review writing and art journalism. When she's not writing about art, she's making her own.
With contributions from