The Palais de Tokyo's latest exhibition 'Inside' has us all wrapped up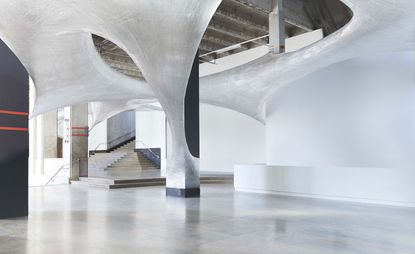 (Image credit: press)
Wallpaper* Newsletter
Receive our daily digest of inspiration, escapism and design stories from around the world direct to your inbox
Thank you for signing up to Wallpaper. You will receive a verification email shortly.
There was a problem. Please refresh the page and try again.
As the young docent at the Palais de Tokyo in Paris began a private tour of the expansive new group exhibition, 'Inside', he pointed to the scotch tape sculptural piece overhead and said, 'Okay, see you on the other side.' By which he meant, climb up the spiral staircase, crawl or wobble through the tenuous, translucent tunnel, and descend down a different staircase just like an ordinary playground activity.

This is not the first time that the collective known as Numen/For Use has installed one of its futuristic branched structures in a public space; all titled 'Tape', they have appeared in Frankfurt, Melbourne, Tokyo and elsewhere. But the impact is no less impressive.

'Ten days, ten people, ten hours a day; it was a lot of work,' conceded Sven Jonke of the latest iteration. The industrial designer, who contributes to Numen/For Use from Berlin, went on to explain that the structure is determined by its setting. 'This form is so perfect, it's shaped by the forces of tension… we determine the attaching points and then we have a sense of what the volume will look like.'

'Tape Paris' was a specific request from Palais de Tokyo president Jean de Loisy, who clearly recognised that the installation would fascinate as much from the outside, by revealing silhouettes of bodies on all fours, as from within. The appeal was immediate for the team at COS, the exhibition's partner. 'We liked the idea that an everyday simple material could create this sculpture,' said Karin Gustaffson, head of women's wear design.

This summer, the brand sponsored the Serpentine Gallery's summer outdoor programming. Here, COS has also supplied special blue canvas totes for people to safeguard their belongings, while they inch through the web. Gustaffson also noted the reciprocal role of art in inspiring her creative team, 'Seeing something like this makes you think, it makes you excited, it makes you stimulated and it opens your mind.'

In fact, the entire show succeeds on this level, with upwards of 30 artists proposing interpretations of the theme, whether physically immersive or psychologically penetrative. Whereas Marcius Galan sets up a clever illusion of crossing over mirrored threshold, Christophe Berdaguer and Marie Péjus create a white room populated with resin and fiberglass trees rendered from drawings by patients receiving psychoanalysis. Towards the end of the winding exhibition, a piece from Bruce Nauman moans, 'Get out of my mind, get out of this room.'

As for 'Tape Paris', intrepid visitors might want to consider this: once you reconcile that the tensile strength from 44km worth of tape is enough to support five humans at once, the experience shifts from terrifying to transportive. Being inside feels simultaneously primordial and futuristic, otherworldly yet familiar. Just try not to dwell on the crackling noise as the tape stretches to accommodate your body weight, an unsettling reminder that this ordinary material is doing an extraordinary thing.
Receive our daily digest of inspiration, escapism and design stories from around the world direct to your inbox