Magnum photographer Stuart Franklin talks CineStill, film and experimentation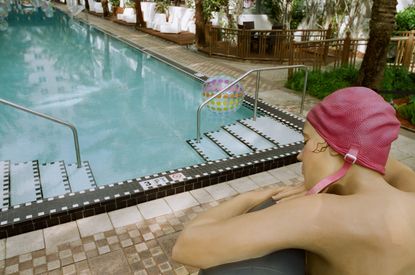 (Image credit: Stuart Franklin)
Founded by Los Angeles-based twin brothers Brandon and Brian Wright, CineStill bridges the gap between the big screen and photography with reverse-engineered Kodak motion picture film. After several years of experimentation (and thousands of feet of wasted film), the brothers developed a method for removing the rem-jet layer of cinema film without disturbing the sensitive emulsion and making it safe for typical C-41 processing.

It's a welcome breakthrough for photographers still dabbling in analogue, who are rarely able to celebrate new offerings these days, in terms of film, equipment or otherwise. 'Today, CineStill brings the wonders of cinema film technology to the still photographer,' explain the brothers. 'Now, anyone can use film in the same lighting situations as new blockbuster movies and TV shows.'

To wit, Magnum photographer Stuart Franklin has been on the road for over a month, testing CineStill's 35mm 50 ASA Daylight and 800 ASA Tungsten films (along with a beta 120 film ­– unavailable to the public). He shared the results of his adventures with us, from a Magnum board meeting in Brooklyn, to a retreat in Miami and days off photographing in Malta and Oxford.

Captured through an enviable array of razor-sharp, crystal-clear Zeiss lenses, Franklin's observations include the open window of his hotel room and a troop of Santas in New York, while an image of a sandstone cast in sunlight does well to show off CineStill's magnificent tonal range. 'The main thing with the 50 is that for a slow film it is quite low in contrast and seems very true to way I see colour, for the most part at least,' explains London-born Franklin, who compares CineStill to transparency film and Kodak Portra.

The main difference, however, is in CineStill's ability to hold a neutral tone in shadows. 'In my 35 years career as a photographer, getting the shadows to open in colour photography has always been a challenge,' he adds. 'Before digital we had a great film by Fuji – Astia 100 – that could do that, but sadly it is discontinued.'

Digital photography may have already reached its tipping point. But initiatives such as CineStill (or even the Impossible Project, an independent revival of Polaroid film and cameras) will help cement analogue's position in an increasingly digital world.
INFORMATION
For more information and stockists, visit the CineStill website (opens in new tab)