Kim Whanki, 'the father of abstraction in Korea', is celebrated at Frieze Seoul
Kim Whanki's work has its moment at Frieze Seoul 2023, where it is reimagined for the digital age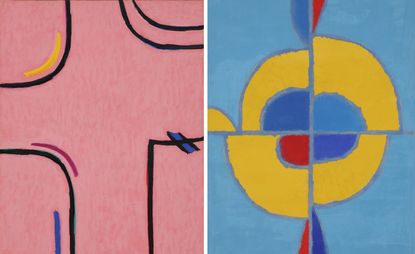 (Image credit: Kim Whanki)
Wallpaper* Newsletter
Receive our daily digest of inspiration, escapism and design stories from around the world direct to your inbox
Thank you for signing up to Wallpaper. You will receive a verification email shortly.
There was a problem. Please refresh the page and try again.
Kim Whanki – the late pioneer of Korean abstraction – wanted to be an artist so badly that he boarded a ship from Korea to Japan in 1933 at age 20 so that he could learn the craft at the College of Arts at Nihon University, which he attended from 1933 to 1936. Kim's ambition brought him to Paris in the 1950s, before he moved to New York in 1963, where he passed away in 1974 at 61 years old.
The career gamble paid off; Kim's painting 05-IV-71 #200 (Universe) became the most expensive painting by a Korean artist when it sold for 88 million Hong Kong dollars ($11 million) at Christie's Hong Kong in 2019. There's also a museum in Seoul dedicated to the artist. Even RM, one of the members of BTS, Korea's biggest K-pop group, is a fan; he paid tribute to the artist in an Instagram post.
The artist's oeuvre depicts an abstraction that was revolutionary at the time. He carefully painted series of dots to form thoughtful, large-scale, abstract compositions, full of colour and form. But despite all the buzz about Kim's work in Asia, he has only just been afforded a global platform – at Frieze Seoul 2023.
Kim Whanki's art reimagined for the digital age
Korean art is certainly having a moment in the global spotlight, and the work of Kim Whanki has received an audience of curators, gallerists, collectors, artists, and more from September 6 to 9 at the second edition of Frieze Seoul, thanks to LG OLED, the event's lead sponsor, whose television pixels emit their own light.
'Kim Whanki is the father of abstraction in Korea,' said Kate Oh, the vice president of home entertainment marketing at LG. 'He's the beginning. I wanted to introduce his great works to the world.'
The exhibition, nestled between Hall C and Hall D at Coex, gives Frieze Seoul visitors the opportunity to see a dozen of the artist's original paintings from his time in Paris and the pointillist works that he created during his final decade in New York. Kim will also have his works presented in digital form through the LG OLED, allowing viewers to see the work in a new, vibrant light. 'The old generation, they know about it, but the young generation don't,' said Oh. 'So I just want to introduce [it] the way young people like, so that's one of the best ways to show the beautiful words to the young generation.'
LG OLED partnered with Je Baak, an associate professor and chair of the department of sculpture at the College of Fine Arts at Seoul National University and creative director of Verseday, who worked with a collective of artists that also included Jason Kim; Mano Ahn, creative director and CEO of Ahn Graphics; and Daehwan Kim, CEO of Besign.
The digital versions of Kim's works range from a reinterpretation of a 1972 painting consisting of a series of red-hued dots that form a circle. Verseday created approximately 30 to 40 layers to make the reimagination sparkle on the LG OLED screen. For a pink work accented with curved lines, Verseday envisioned every stroke as if the artist himself was painting, and the piece runs for approximately an hour before viewers see the final version. Jason Kim took 7-VII-74, Kim Whanki's final painting from 1974, and pixelated it to make the black-and-white work dance as each pixel moves about on the screen.
'One artist generated art tools so he made all the pieces [come to life],' said Je. 'Another artist showed a very concept-heavy approach. It takes one hour to show all the painting, but you can feel all the tension of all the strokes, and the practice Kim Whanki made. And then Ahn has a very graphic design-style approach. He made a grid and moved elements.'
The LG OLED team worked closely with the Whanki Foundation to ensure that the new digitally enhanced works stayed true to the integrity of the late artist's work. 'There was a continued discussion and alignment with the foundation; there were several rounds of discussion based on the concept, how we can express that, what we want to keep, what are we open to – a continuous conversation,' explained Oh. 'They were imagining it was like a conversation, as if we were talking, and imagining how he would answer their questions,' added Je.
Kim Whanki paved the way for the Dansaekhwa movement, a loosely related group of artists who include Park Seo-Bo, Ha Chong Hyun, and Lee Ufan. In New York, he found himself surrounded by artists who would go on to become big names: Nam June Paik, Mark Rothko, and Barnett Newman. LG OLED would like its efforts to bring Kim Whanki to a global stage beyond Frieze Seoul. 'I have a duty to let the people know about the origin of Korean art,' said Oh. 'It started from Whanki. Every Korean knows about him, but globally, not many people know about [his] work. If he lived a little bit longer he [could have] changed the art in Seoul.'
Receive our daily digest of inspiration, escapism and design stories from around the world direct to your inbox