Artist's palate: Park Seo-Bo's janchi guksu
A step-by-step guide to the influential Korean painter's best-loved dish, as featured in our monthly artist recipe series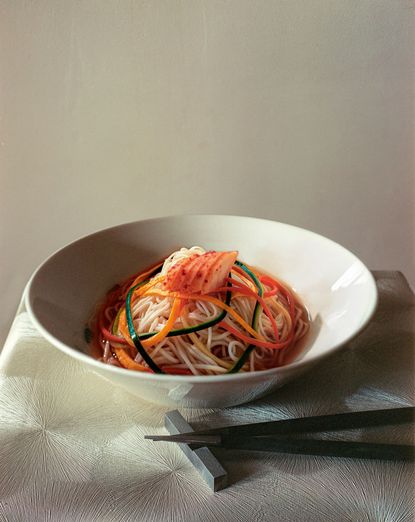 (Image credit: press)
Noodles are associated with longevity in Korean culture, so it's fitting that a noodle soup, janchi guksu, is a favourite of painter Park Seo-Bo, who turns 90 this year.

A founder of Dansaekhwa, a monochrome style that emphasises repetition and tactility, Park played a pivotal role in shaping postwar Korean art and remains active to this day. His new London show reinterprets his pencil and oil works as vehicles for collective healing: 'my slower movement of pencil tracings overlap on top of one another to reveal the passage of time,' he reflects. His wife Yoon Myeong-Sook has written up his recipe featuring step-by-step photographs for preparing the anchovy broth, which Park favours for its 'clean taste'.
Janchi guksu recipe and method: serves 4
The broth:
2 green onions
2 litres water
50g dried Asian mini anchovies (myulchi)
25g kelp (dashima)
2 tbs soju
2 tsp salt
2 tbs soy sauce
1 tbs brown sugar
1 onion

Tip: prepare the mini anchovies by removing the head and the gunk so they don't taste bitter in the soup

Wash the roots of the green onions thoroughly with a toothbrush and include them in the broth (the root is good for colds). Put all the ingredients in a pot at once and boil them over a high heat. When the water starts to boil, remove the kelp, reduce the heat to medium low, and boil for 30 mins with the lid on the pot closed. Turn off the heat, cover the pot, and let it sit for 30 mins or up to 2 hours. Strain the broth using a sieve.
The garnish:
Zucchini
Salt
Carrot
Cabbage kimchi
1 tsp sugar
Sesame oil
2 eggs and a little oil for the egg garnish

Slice the zucchini and sprinkle with a teaspoon of salt, and when water forms, squeeze the water out with your hands and stir-fry the zucchini in a frying pan with oil. Chop the carrot, sprinkle with a teaspoon of salt and stir-fry.

Shred the cabbage kimchi, squeeze tightly and mix with a teaspoon of sugar and sesame oil.

Make an egg garnish according to the instructions from Bburi Kitchen.
Seasoned soy sauce:

1 garlic clove, chopped
2 tbs chopped chives
1 to 2 chilli peppers, chopped
3 tbs soy sauce
1 tbs bonito fish sauce (or oyster sauce)
1 tbs chilli powder
1 tbs sesame seeds
1 tbs water
1 tbs sesame oil

Combine all the ingredients together to make the seasoned soy sauce. Those who like a lighter flavour may prefer unseasoned soy sauce.
The noodles:

Dried somyun noodles, such as those found at Starry Mart.

Boil the noodles according to packet instructions, rinse them in cold water, and squeeze the water out with your hands.
This article originally featured in the May 2021 issue of Wallpaper* (W*265), on newsstands now and available for free download
INFORMATION
Park Seo-Bo's exhibition at White Cube Bermondsey will be on view until 1 May 2021. whitecube.com
ADDRESS
144-152, Bermondsey St
London SE1 3TQ
TF has been editor of Wallpaper* since December 2020. He is responsible for our monthly print magazine, planning, commissioning, editing and writing long-lead content across all our content pillars. He also plays a leading role in multi-channel editorial franchises, such as our annual Design Awards, Guest Editor takeovers and Next Generation series. He aims to create world-class, visually-driven content while championing diversity, international representation and social impact. TF joined Wallpaper* as an intern in January 2013, and served as its commissioning editor from 2017-20, winning a 30 under 30 New Talent Award from the Professional Publishers' Association. Born and raised in Hong Kong, he holds an undergraduate degree in history from Princeton University.