Art and Seoul: global galleries are flocking to Korea's capital
In recent years, Seoul has become a creative magnet for global galleries and art fairs, but why? SuhYoung Yun speaks to those at the heart of the art boom in South Korea's capital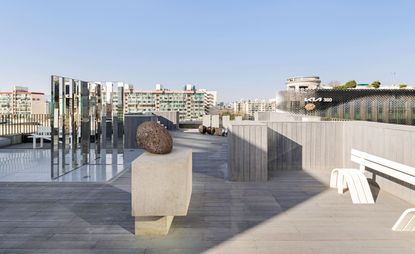 (Image credit: Cheonho Ahn & KÖNIG GALERIE,)
Wallpaper* Newsletter
Receive our daily digest of inspiration, escapism and design stories from around the world direct to your inbox
Thank you for signing up to Wallpaper. You will receive a verification email shortly.
There was a problem. Please refresh the page and try again.
Foundry Seoul, a gallery owned by a Korean pipe manufacturing company, opened in June 2021 beneath the new Gucci flagship store in the affluent neighbourhood of Hannam-dong. Designed by Seoul-based architecture and interior design studio Intg, it's just another addition to the district's already thriving local art scene, which has more than a dozen galleries within a 5km radius, making it a key part of the wider Korean art boom.

Next to the Han River, Hannam-dong is increasingly popular among international galleries opening their first Seoul outposts, or expanding their existing footprints in the city.

Pace Gallery recently relocated to a space four times bigger than its previous Seoul location – next to the Leeum Museum owned by Samsung – and Thaddaeus Ropac will be opening its first Asian outpost in Hannam-dong in October 2021, which will feature interiors designed by Seoul-based designer Teo Yang. Yang was also responsible for Kukje Gallery's K1 multi-use arts complex, which won Best Cultural Draw in the Wallpaper* Design Awards 2021.
Local galleries such as BHAK, Gallery Joeun and Gallery Baton have all settled in Hannam-dong, and Gana Art Center has two exhibition spaces there.

The rise of Hannam-dong as a sweet spot for galleries catering to wealthy local collectors coincides with Seoul's ascent as an art and culture hub in Asia. Berlin-based gallery König relocated its Asian outpost from Tokyo to Seoul in April 2021, settling in the MCM building in the upscale fashion district of Cheongdam-dong. Frieze art fair will be holding its first Asia fair in the capital in September 2022.
Why has Seoul become a magnet for international galleries and art fairs?
'It's a creative, cool, interesting [city],' says Victoria Siddall, board director of Frieze. 'Korea has incredible music, food and architecture and just a lot of reasons for people to want to visit.' What Frieze is looking for is a city 'that has a great foundational art community, but also goes beyond the arts', she says.

'London, New York and Los Angeles are all cultural centres that have amazing communities of artists, galleries, museums, great art schools and sophisticated collecting scenes,' she continues. 'That's been the approach we've taken to fairs, and Seoul was the perfect addition.'
Seoul's burgeoning local art scene
'It feels like Seoul and Korea have rapidly risen to be a major city and country in the global art world,' says Kyu Jin Hwang, Asia director at Thaddaeus Ropac.

The Korean art scene has grown rapidly in the past five or six years, beginning with the Dansaekhwa boom, she says, which brought international attention to Korean art. 'Big names such as Lee Ufan, Park Seo-Bo, Yun Hyong-keun, Chung Sang-hwa and Ha Chong-hyun were steadily promoted by local galleries such as Kukje and Hyundai, and as these artists started to garner global attention, naturally the market grew,' says Hwang.
RELATED STORY
'I've lived in Europe for 15 years. Ten years ago, when we said Asia, people thought of China, Hong Kong or Japan. Now the contemporary Korean art market has established a strong foothold and I'm proud to be spending my career in the art industry as a Korean.'
'All the right ingredients'
Despite the pandemic, the art world in Seoul hasn't struggled. In fact, it's actually faring better because of it, gallerists say. 'Because people stayed at home, they spent what they would spend on travel on interior decoration and buying art. Online fairs have also become an effective way for people to consume art,' says Hwang.

Soo Choi, managing director at König Seoul, also says the pandemic has helped bring art closer to people. 'Since there are social limitations to what people can culturally enjoy, I think they have newly discovered how much they can experience in galleries. They've also started collecting art within their budget,' says Choi.
The lower barrier to entry has allowed galleries to be visited by a younger audience – another contributing factor to the burgeoning art scene. 'I've been a gallerist for 15 years and I definitely notice that the audience is younger these days. Galleries weren't easy places to visit but now the perception has changed, it's somewhere they can visit freely,' Choi continues. 'People's tastes have elevated as well.'

The influx of the younger audience cannot be explained without social media, which played a pivotal role in creating the art boom in Korea, says Youngjoo Lee, senior director at Pace gallery, which inagurated its new Seoul outpost with a solo show by American artist Sam Gilliam. 'When it comes to contemporary art and understanding it, Koreans' speed of communicating and sharing on social media is fastest, especially among young people,' says Lee. 'I think the biggest change in the market is that Korea is leading the trend in terms of introducing art [to the public].'
Could Seoul become Asia's new art capital?
Socio-political factors are not to be dismissed in Seoul's rise, however, as galleries are exiting Hong Kong to find a new Asian hub. Seoul is the most favourable option for many because it offers similar tax benefits to Hong Kong, as well as a growing cultural scene.

'I don't think we've fully taken advantage of Korea's tax-free benefits until now. If Korea uses that to its advantage, not only will the Korean art market grow, Seoul can become a trading hub,' says Choi of König.

'Tax exemption for trading art has definitely played to our advantage,' adds Lee of Pace. 'The strong contemporary art scene, tax exemption, and popularity of Korean culture have made Seoul an attractive destination.'

As Siddall continues: 'I think it [Seoul] has potential to be the art market capital in Asia just because it has all the right ingredients.'
Receive our daily digest of inspiration, escapism and design stories from around the world direct to your inbox