Paul McCarthy puts Snow White (and himself) under the knife in Seoul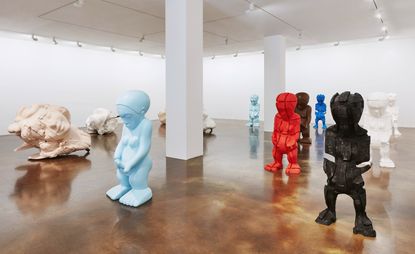 (Image credit: Paul McCarthy)
Snow White was the original, archetypal Disney princess: she was the 'fairest of them all', she was cheerful and kind, and most importantly, she was as innocent as a lamb. Just as her allegorical name would suggest.

Since Disney's 1937 film adaptation of the Brothers Grimm fairytale, she's remained one of the company's most popular characters. Since then, Snow White has appeared in a myriad of different forms, from porcelain models to plastic figurines that fetishise the princess idol.

Fast-forward to the gender fluid, capitalist dystopia of 2017 and Snow White appears in South Korea as you've never seen her before. At Seoul's Kukje Gallery, American artist Paul McCarthy has turned commercial desire into a silicon conglomerate, appropriating various Snow White figurines and warping them into a giant, fleshy-pink sculpture in a show dubbed 'Cut Up and Silicone, Female Idol, WS'.
Previously, McCarthy's preoccupations with Snow White have been realised as drawings, as seen in his 2008 sketches of the character masturbating. At Kukje, he redirects his ideas of the mythological heroine into video, sculptures and installation.

While making the works for his White Snow series, McCarthy started using a technique known as 'the core'; that is, part of the casting process, referring to the hidden centre of a sculpture. This has inspired its own body of work, wherein McCarthy presents the core of a work by itself, a comment on the hidden interiors that give structure to the shell of fantasy. Referring to avant-garde painter Francis Picabia's plays on female archetype and idolatry, McCarthy has made his own cut-ups in colour.

It's not only the female figure that goes under the knife in this exhibition – McCarthy has also used his own naked body for the show, casting it in resin and aggressively dismantling his own form. What lies beneath might not always be pretty, but it has its own truth.
INFORMATION
'Paul McCarthy: Cut Up and Silicone, Female Idol, WS' is on view until 29 October. For more information, visit the Kukje Gallery website (opens in new tab)
ADDRESS
Kukje Gallery
54 Samcheong-ro
Jongno-gu Seoul
VIEW GOOGLE MAPS (opens in new tab)
Charlotte Jansen is a journalist and the author of two books on photography, Girl on Girl (2017) and Photography Now (2021). She is commissioning editor at Elephant magazine and has written on contemporary art and culture for The Guardian, the Financial Times, ELLE, the British Journal of Photography, Frieze and Artsy. Jansen is also presenter of Dior Talks podcast series, The Female Gaze.