Fine figures: Jonathan Anderson and 6a celebrate fantastic forms at Hepworth Wakefield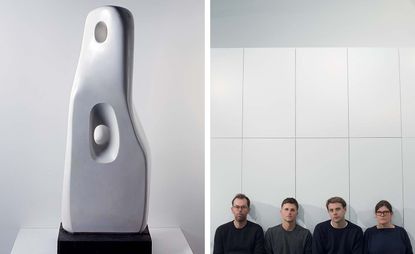 (Image credit: Jerry Hardman-Jones)
In a bid to open itself up to alternative narratives and bring in new audiences, the UK's Hepworth Wakefield is launching a series of shows curated by creative forces in other fields. The first opens this month. Entitled 'Disobedient Bodies', it is curated by Jonathan Anderson, the designer behind JW Anderson and creative director of Spanish leather goods house Loewe.
The Hepworth's chief curator Andrew Bonacina hopes these alternative viewpoints will create fresh ways of navigating the collection. He chose Anderson as 'he has often spoken about his love of Hepworth's work and many other British artists, such as Henry Moore, Ben Nicholson, Lucie Rie and Hans Coper'. He adds, 'Jonathan has a very curatorial approach to bringing disparate things together in a way that's expansive and promiscuous.'
Anderson, who had access to more than 5,000 works from the museum's collection, homed in on Hepworth and Moore's early works, at the point where they began to push the figurative towards abstraction. Anderson himself is interested in how abstraction may be read as a form of disobedience, whether in art, in his own fashion or that of other directional designers. According to Bonacina, 'it's about the confrontation of the form and where it goes'.
Anderson's idea is to create a series of dialogues between works of art and fashion. The link is the human form in whatever way it's represented. Think of pairings such as Naum Gabo's Head No. 2 (1916), a loan from the Tate, and a Comme des Garçons A/W 2012 dress; Henry Moore's Reclining Figure (1936) and a Jean Paul Gaultier conical-bust dress from 1984; and Dorothea Tanning's Nue couchée (1969–70), also from the Tate, and JW Anderson jumpers from S/S 2017. 'Culturally, we grade things: on fame, how good they are or on price,' says Anderson. Such pairings aim to dissolve aesthetic hierarchies by presenting art alongside fashion and photography.
'Disobedient Bodies' also features Jean Arp's S'élevant (1962); Constantin Brâncuşi's Prometheus (1912); Louise Bourgeois' Echo VIII (2007); and Alberto Giacometti's Standing Woman (1958), sourced from private galleries and public collections, including the Sainsbury Centre for Visual Arts, the Scottish National Gallery of Modern Art, and Anderson's 'favourite place on the planet', Kettle's Yard at the University of Cambridge.
For Anderson, 'fashion is about the body, and art is about an emotional interpretation of the body'. For the show, he has chosen work by designers such as Helmut Lang, Issey Miyake and Rei Kawakubo, as they are, in his opinion, 'the most influential in terms of how they changed form'. Another pick is a Ligne Profilée dress from Christian Dior's 1952 collection, with its padded hips; Anderson says it's 'just like art', sitting off the front of the body, like 'a 3D building'.
The show is installed across four of the temporary exhibition galleries. The first room is a giant scrapbook of stories and narratives, or a kaleidoscope of influences, a mass of imagery which traces the form of the body through art, design, fashion and photography. Bonacina believes the studio-style display will help establish the narrative of the exhibition, creating a coherent dialogue out of unexpected objects. Think of it as a giant moodboard, anchored by Moore and Hepworth. Anderson hopes this will let visitors understand his own design process, as he builds a collection, drawing out a thread to get to an end point. He doesn't see himself as a fashion designer, as he is not classically trained. Instead, he is constantly researching, be it at a flea market, on the internet or on Instagram. He collects countless visuals and ideas and mixes them; his original creative direction is how these are edited and used.
The exhibition installation has been conceived with Stephanie Macdonald and Tom Emerson of London's 6a Architects, whose projects include the extension to the South London Gallery; Raven Row, an art gallery in Spitalfields; the façade of Paul Smith's Albermarle Street store; and Juergen Teller's studio in west London.
To understand the concept behind the installation in the two principal galleries, Macdonald and Emerson suggest imagining 'a cocktail party where people are thrown together, paired up slightly uncomfortably, and forced to make small talk with people they don't know'. The conversations are organised and divided by fabric curtains hung in a grid, with slow variations of colour giving private space to each conversation, yet allowing a glimpse of the next 'conversation'. Here among the art and fashion there are chairs such as Gerrit Rietveld's 'Zig-Zig' and Eileen Gray's 'Non-Conformist'. As Emerson puts it, 'if there is one object that specifically talks to the body, it's a chair'.
The fourth gallery, at the heart of the exhibition, is devoted to knits. According to Tom Emerson, this space will become an interactive forest of 'super jumpers', all especially commissioned, supersize versions of the elongated sweaters shown in Anderson's S/S 2017 men's catwalk show.
Anderson's starting point for the exhibition was Henry Moore's Reclining Figure (1936), paired with 2015 photographs by collaborator Jamie Hawkesworth, in which models were fully covered in knitted sheaths from the JW Anderson line, the body turned into sculptural forms. Suspended from the ceiling, some of these sweaters will be 8m long. The idea is for visitors to wear them and become sculptures themselves. For the Instagram generation, this is the selfie room, where you may end up resembling a reclining Moore or Isamu Noguchi's 1951 'E' lamp shown in the other gallery.
Anderson wanted to address the distance between exhibit and visitor in the gallery context. Barbara Hepworth always said her work needed to be touched, although that's not currently permitted in today's conservation-conscious art world. Each night the Hepworth produces a daily 'touch list' of visitors who disobey the rules: now the disobedient become part of the show.
As originally featured in the March 2017 issue of Wallpaper* (W*216)
INFORMATION
'Disobedient Bodies' is on view until 18 June. For more information, visit the Hepworth Wakefield website
ADDRESS
Hepworth Wakefield
Gallery Walk
Wakefield WF1 5AW
Receive our daily digest of inspiration, escapism and design stories from around the world direct to your inbox
Also known as Picky Nicky, Nick Vinson has contributed to Wallpaper* Magazine for the past 21 years. He runs Vinson&Co, a London-based bureau specialising in creative direction and interiors for the luxury goods industry. As both an expert and fan of Made in Italy, he divides his time between London and Florence and has decades of experience in the industry as a critic, curator and editor.