Ida Applebroog at Hauser & Wirth: raw, confessional and darkly comical
At Hauser & Wirth Somerset, a major new show by Ida Applebroog takes viewers through a labyrinth of dark twists and sharp visions of the human condition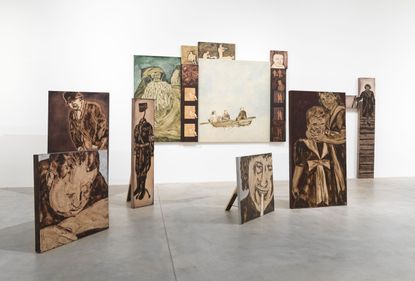 (Image credit: Ken Adlard )
At 92, Ida Applebroog is still working away in her New York studio as she has done, on and off, for the last 50 years. But despite the long career and the indie pop star moniker, Applebroog has flown under the art star radar. She could have been a Kusama (with whom she shares a birth year and familiarity with psychiatric care), Kruger or Bourgeois, but something didn't click or prevailing forces, personal and political, went against her.
'Ida Applebroog: Right Up to Now 1969 – 2021', a new show at Hauser & Wirth Somerset, makes clear that Applebroog, however underappreciated, is a key figure in American feminist art and American art per se. But also that her work, often raw, confessional, often dealing with dysfunctional relationships and male aggression, also has a dark wit, a way with aphorisms and an illustrator's fine, engaging line. (The show is an edit of a larger survey that ran last year at Museo Reina Sofía in Madrid, the timing more evidence, perhaps, that the fates are determined on maintaining her low profile.)
Applebroog is a name to conjure with and indeed she did magic it up, dropping her married name, Horowitz, and taking part of her maiden name, Applebaum. The renaming marked new momentum in her art career in the mid-1970s but it was not a happy rebirth, coming after a voluntary stretch in the psychiatric wing of San Diego's Mercy Hospital for the treatment of deep depression.
Born to a strict orthodox Jewish family in the Bronx in 1929 – she was one of three girls, a series of disappointments to her parents, gender-wise at least. Applebroog studied graphic design and worked in the art department of an advertising agency (suffering Mad Men-style harassment and mauling) before freelancing as an illustrator for children's books and greeting cards and taking a job in the art department of New York Public Library. (She might have become, had fate twisted in a different direction, the darker kind of New Yorker cartoonist or perhaps a feminist Robert Crumb.)
Instead, the family moved to Chicago in 1956 where Applebroog took art classes at the School of the Art Institute of Chicago, and then on to San Diego in 1968 where, aged nearly 40 and married with four children, her mental health quickly deteriorated. She was no fan of San Diego.
At Mercy Hospital, she started to draw biomorphic forms, misshapen cells and odd internal organs. Out of hospital and influenced by Claes Oldenburg, she began to create a series of blobby, soft sculptures in muslin, shredded foam and rubberised cheesecloth. These works were never shown – Applebroog decided that they were accidentally too much like the work or Eve Hesse, an artist she was unaware of when she began the pieces – but photographs of them open the Hauser & Wirth show.
In the mid-1970s, after returning to New York, she started to work on a series of vignettes on Rhoplex, a sickly skin-like stand-in for vellum. They featured characters, often headless and genderless, trapped within theatre curtains and their fragmented thoughts. Later she started to self-publish books she called performances, series of cartoon film-stills, mundane and menacing with deep shadows. Life, argues Applebroog, is a performance. But more Beckett (she is a huge fan) than Broadway.
In the 1980s and 1990s, she made oil paintings on different size canvases, often arranged in groups and shown both hung and as figures in a landscape, which she called Marginalias. They are mostly a dark, muddy blood colour of violence or the threat of violence, with bodies broken and haphazardly mended. Bad medicine is a regular theme in her work. (Queen Elizabeth II, in 'work clothes' rather than regal finery, also pops up in a number of Applebroog's paintings, an unlikely everywoman.)
During and after her stay at Mercy Hospital, Applebroog drew 150 remarkable sketches of her own genitals. Not forensic but assured, sometimes expertly drawn, sometimes almost abstract, they were intended as therapy but she decided to make them public in 2006 as Monalisa, which saw them scanned and printed on skin-like paper and displayed as the cladding of a room-sized wooden box. It's a portrait both porous and entrapping. In 2012, continuing that personal excavation, she reprinted the journal she had kept in the mid-1970s and turned that too into an installation piece, including posters and tear sheets visitors could take away with them.
Applebroog's subjects have mostly been people, figures, often just lines and without a landscape. Her 2016 series Angry Birds of America, then, feels like a radical left-run, darkly vibrant reworkings of John James Audubon's iconic ornithological illustrations and her sly take on the rise of Trump. The works make clear that Applebroog – an admirer of Josef Albers – is an expert colourist and her newer works, which close the show, reveal more play with colour, abstraction and new technologies.
Applebroog is a hard artist to pin down – she shifts tone and medium – but then her art is about the act of pinning down. It is an art both deeply personal and deeply political but never posturing. And that background in 'commercial art' and the difficult history before becoming 'Ida Applebroog' give the work an odd staying power, a psychic timelessness, unfixed in any particular movement or moment or method. Like her name, Applebroog's work is a unique invention.
INFORMATION
'Ida Applebroog: Right Up To Now 1969 – 2021' is at Hauser & Wirth Somerset, until 2 May 2022. hauserwirth.com (opens in new tab)