From colonialism to Soviet brutalism, Daniel Shea captures Havana's unique landscape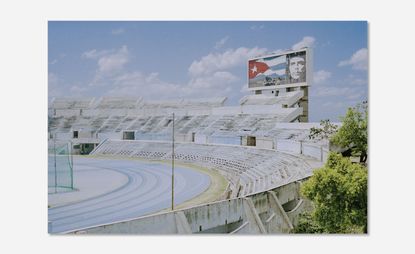 (Image credit: Daniel Shea)
On the eve of Chanel's landmark Havana Cruise 2016 show, we dispatched New York photographer Daniel Shea to shoot a portfolio of the Cuban creatives who are driving the country's new cultural revolution.

Here, Shea also shares his personal travel diary of the built and natural surrounds that inspired his first trip to a country that's in the midst of a creative shake up, spearheaded by a new economic and social liberalism…

W*: What were your initial impressions of Havana?
DS: Driving in from the airport, the first thing I noticed was the architecture, which felt unique to the place and its various competing histories, including colonialism. The combination of historical preservation, ruin and the sprinkling of new construction creates the Havana density, plus the beautiful colours and strong, hot sunlight bathing everything.

How did this evolve during your stay?
As I started walking around and shooting, I learned how friendly the city was. Strangers approached me sharing information about their city and their favourite places. I was reading about the town as I was there, and so much of my experience of a city comes through thinking about its architectural history, and I began to notice the different historical echoes and the embedded politics, from colonialism to Soviet brutalism.

What did you find yourself mainly shooting?
Architecture, but also the local flora. As part of my assignment, I photographed local Cuban artists in their homes, so I didn't make many portraits as part of my travel dairy. I wanted to walk and think about the landscape of the city.

What were you stylistically most taken aback by while shooting these portfolios for the W* September style issue?
A lot of the artists had their studios in buildings that were not previously industrial (like in New York), but primarily residential. They used bedrooms to stage various projects, almost like a gallery. It was a great way to experience their work, to have a discrete space for one or a small number of pieces, then move to a different room and see something else. And people's outdoor spaces seemed very important to them, and they were very beautiful, usually canopied and made for unwinding.

Was there a time of day when the city felt most alive or any local rituals you found yourself adopting?
By far, dusk on the Malecón, as the day's heat settles and people walk, sit, and drink rum and coffee. It's very special. I always made sure to be out on the Malecón if I could at this time, at various points on the long stretch, drinking rum with new friends or solo.
INFORMATION
For more information, visit Daniel Shea's website (opens in new tab)