New order: sex, Trump and rock 'n' roll at Frieze New York 2017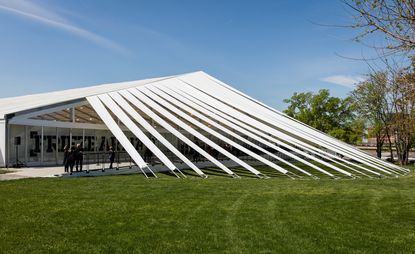 (Image credit: Mark Blower)
Opening day of the sixth edition of Frieze New York dawned bright and sunny, with over 200 galleries gathered to showcase contemporary art. Visitors were immediately greeted with white pigeons fluttering around an oversize car-shaped coop by Anton van Dalen in New York gallery PPOW's booth, which earned a Stand Prize for its evocative presentation of 1980s artist-activists.

Overall, Frieze New York expanded its global reach with over 30 countries represented, including first-time exhibitors from Brazil, Guatemala, Japan and Poland. Guatemala City gallery Proyectos Ultravioleta, winner of the Stand Prize at Frieze London 2016, brought in Akira Ikezoe, who transformed the booth with plants, paintings and sculptures assembled from housewares.

From Tokyo, Misako & Rosen showcased cartoonish paintings by Trevor Shimizu, food photography by Motoyuki Daifu and ink sketches by Ken Kagami that reimagined Snoopy and Charlie Brown. The Third Line from Dubai presented pop artist Farhad Moshiri with bright, graphic works highlighting similarities between Western and Eastern cultures.

This year also marked the inaugural 'Pacific Standard Time: LA/LA' symposium, where Latin American and Latino art were discussed in advance of the autumn exhibition of the same name in 70 separate exhibitions at institutions all over Southern California including the J. Paul Getty Museum.
Curator Cecilia Alemani – who is overseeing the Italian Pavilion for the Venice Biennale – commissioned seven works for the Frieze Projects programme that focused on voyeurism, including an installation by Jon Rafman that evoked a seedy adult theatre with chairs coated in resin and paint and a video loop animation of a computer-generated erotic fantasy world.

Besides Rafman's Dream Journal (2017) and a few others – Paperboy by Brian Bress at Josh Lilley Gallery, and Stutter by Thomson & Craighead at Carroll/Fletcher – there were notably few multimedia works. Instead, Frieze visitors were entertained by throwback performances such as 1-900 Mirror Mirror (1993–1996) by Chrysanne Stathacos, in which viewers Facetimed for a tarot card reading, and Swap (2011) by Roman Ondak at Esther Schipper where performers bartered with others for small trinkets.

Unsurprisingly, works dealing with politics, racism, and feminism were prevalent. More than one portrait of President Trump was spotted, such as in Andres Serrano's 'America' series at Nathalie Obadia Gallery. Stand prize winner Simone Duval Gallery out of New York presented playful, collage-like paintings and sketches by feminist pop artist Kiki Kogelnik, an oft-overlooked contemporary of Claes Oldenburg and Roy Lichtenstein.

More overtly, The Landscape by Tala Madani at David Kordansky showed a nude man's spread legs over an audience with an abstract, mythical gaze rather than a sexual focus. Los Angeles painter Henry Taylor at Blum & Poe presented Deanna Lawson in the Lionel Hamptons, with an enigmatic smile — perhaps at the title's pun.

Meanwhile, Anish Kapoor debuted a new piece at Lisson Gallery, coinciding with the opening of his Descension installation at Brooklyn Bridge Park, while Yayoi Kusama presented an all-white dining scene originally created for the Fuji Art Museum in Tokyo in 1994.
INFORMATION
Frieze New York ran from 5-7 May. For more information, visit the Frieze website