Pullman Hotels travelling series
For writer, broadcaster and Wallpaper* contributor Ekow Eshun, travel is a way of being open. Places tell stories, he believes travel helps us discover new ways of looking at the world. 'Arriving in Dakar you encounter a city that is open and friendly. A city that loves music, culture and art,' he says. 'You encounter heat, colour, physical dynamism, the fantastic, fiction-like forms of the buildings. Everything seems heightened, like a waking dream. Dakar is an exhilarating, thrilling place to be.'
Senegal's first city is also West Africa's cultural capital and there is evidence of its thriving art scene at every corner. Go to the medina and you'll see dazzling examples of indigenous street art on the walls – provocative work that creates a colourful, constantly evolving dialogue between artist and environment. The Dakar Biennale attracts big-hitting, international galleries and galvanises the city's growing reputation as a contemporary art destination.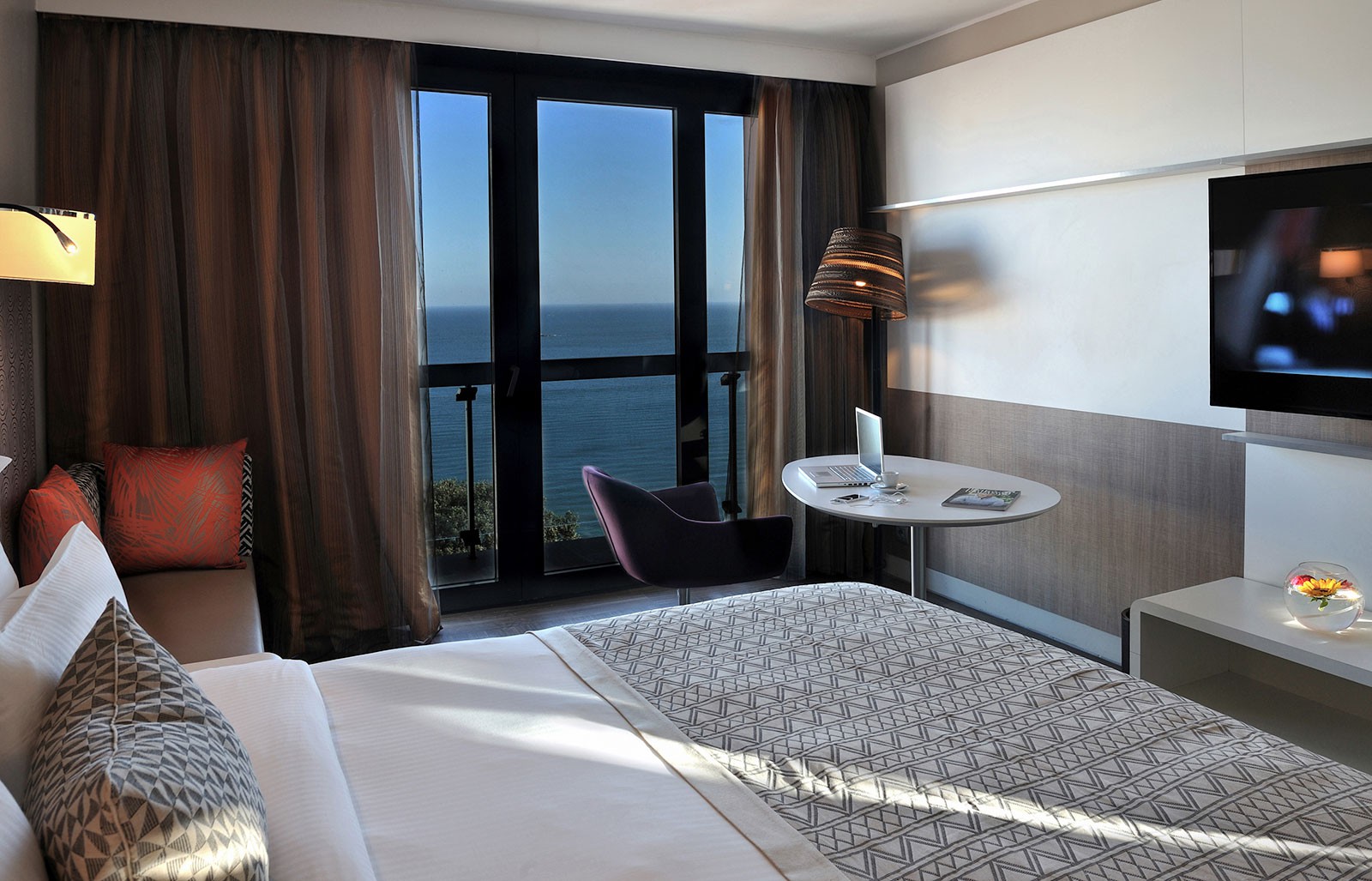 'Africa is not just a set of places,' reflects Eshun. 'Africa is an idea that is constantly being rethought, reimagined. You see that absolutely in Dakar. It feels as if the future is being written in the present.'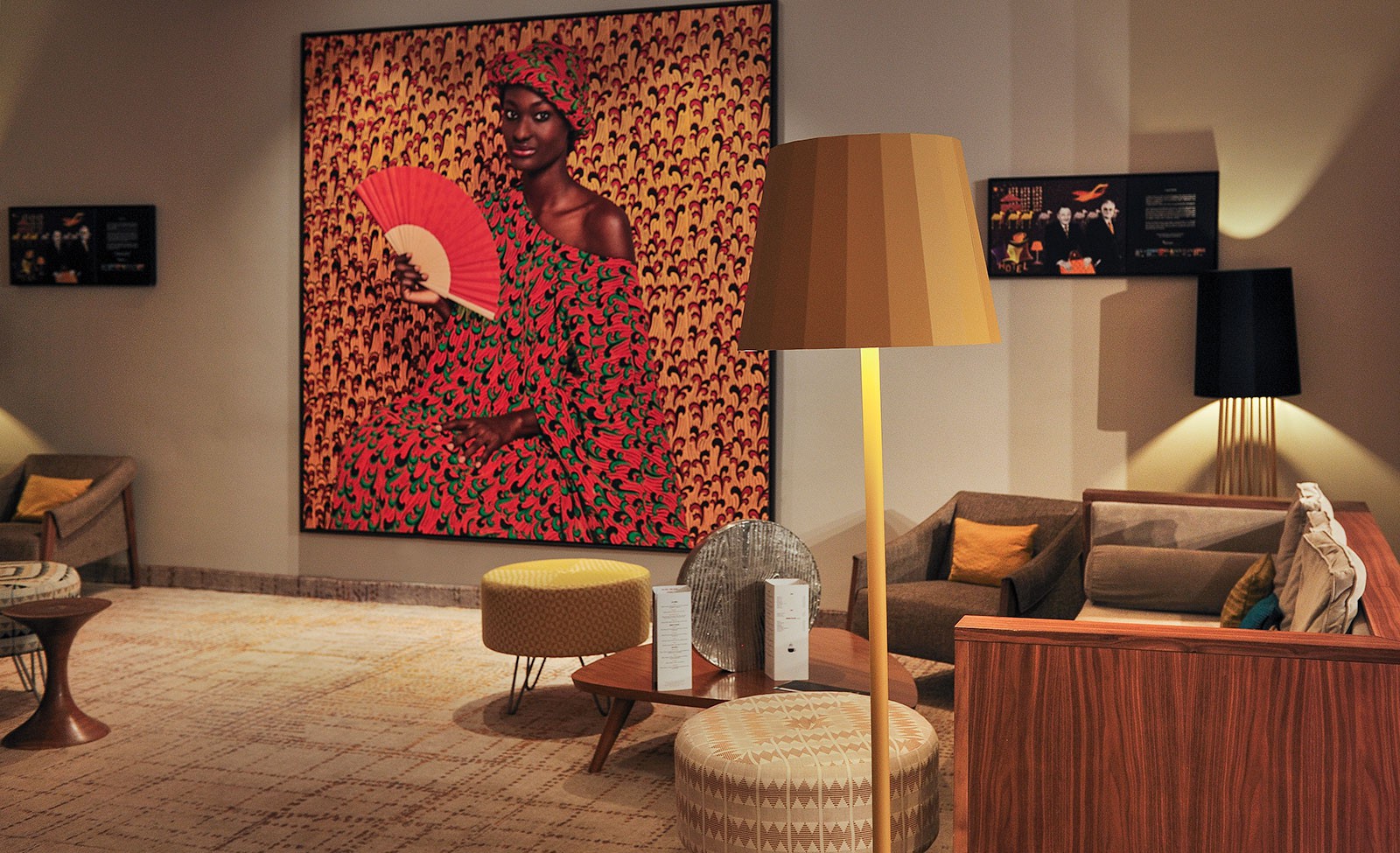 Recently renovated in vibrant African style, the Pullman Dakar Teranga Hotel ('Teranga' meaning 'hospitality' in the local Wolof dialect) is Dakar's exciting future rendered as a premium, hyper-connected urban resort. With a focus on performance, pleasure and efficiency, most of the hotel's 247 rooms enjoy spectacular views of the Atlantic Ocean and the island of Gorée, while the Teranga Beach Club, the heated swimming pool and lush green spaces offer plenty of scope for relaxation. Dakar's exhilarating, waking dream awaits you by the pool.
'There is nowhere like Tokyo,' says Adam Nathaniel Furman. 'And Tokyo is like nowhere.' Fresh from his 2018 collaboration with Pullman Hotels at the Pullman King Cross, London where he dazzled guests with a lobby installation of zinging colours and op-art graphics, Wallpaper* sent the British-based artist and Global Nomad to experience the multisensorial wonderland of the Japanese capital. 'Tokyo is the city equivalent of everything I love, in design, aesthetics, architecture,' says Adam. 'Imagine being able to walk into your utopia and actually spend time in it, that's Tokyo for me.' In a metropolis of some 38 million people it is the unexpected contrasts that surprise and delight. 'Big next to small, old next to new. Skyscrapers from another universe shoulder to shoulder with ancient houses. Bright lights. Food that looks like art. These are the wild adjacencies that make Tokyo a city of constant aesthetic thrills.'

This is a city with a wild, ancient heart of Shinto magic, of mythology that has effortlessly transformed itself into technology, steel and stone, entertainment and nightlife, comics, art and objects. In which every street, every building, every odd angle and unexpected corner is alive with thrill and magic. It's a place that looks like nothing you've ever imagined. But actually, in the end, its all just normal in the surreal brilliance that is Tokyo.
With the 143-room Pullman Tokyo Tamachi Hotel as his base Adam Nathaniel Furman went on a wonder-filled tour of the city's most intriguing and inspiring spaces – what he calls its 'choreographed chaos'; Tokyo City View, Golden Gai, Yanaka Ginza, Sumida Hokusai Museum, Akihabara, Hamarikyu Gardens, Edo-Tokyo Museum.

Pullman Tokyo Tamachi is located in Tamachi, one of the city's leading business districts which is also famous for its canals. Handy for the Tokyo Tower, Haneda Airport and Ginza, the hotel is connected to Tamachi railway station via an internal walkway. Tamachi is on the Yamanote Line, giving direct access to Shibuya, Shinjuku and Tokyo stations. A canal cruise to the shopping and entertainment precinct of Odaiba, on an island in the middle of Tokyo Bay, is also possible.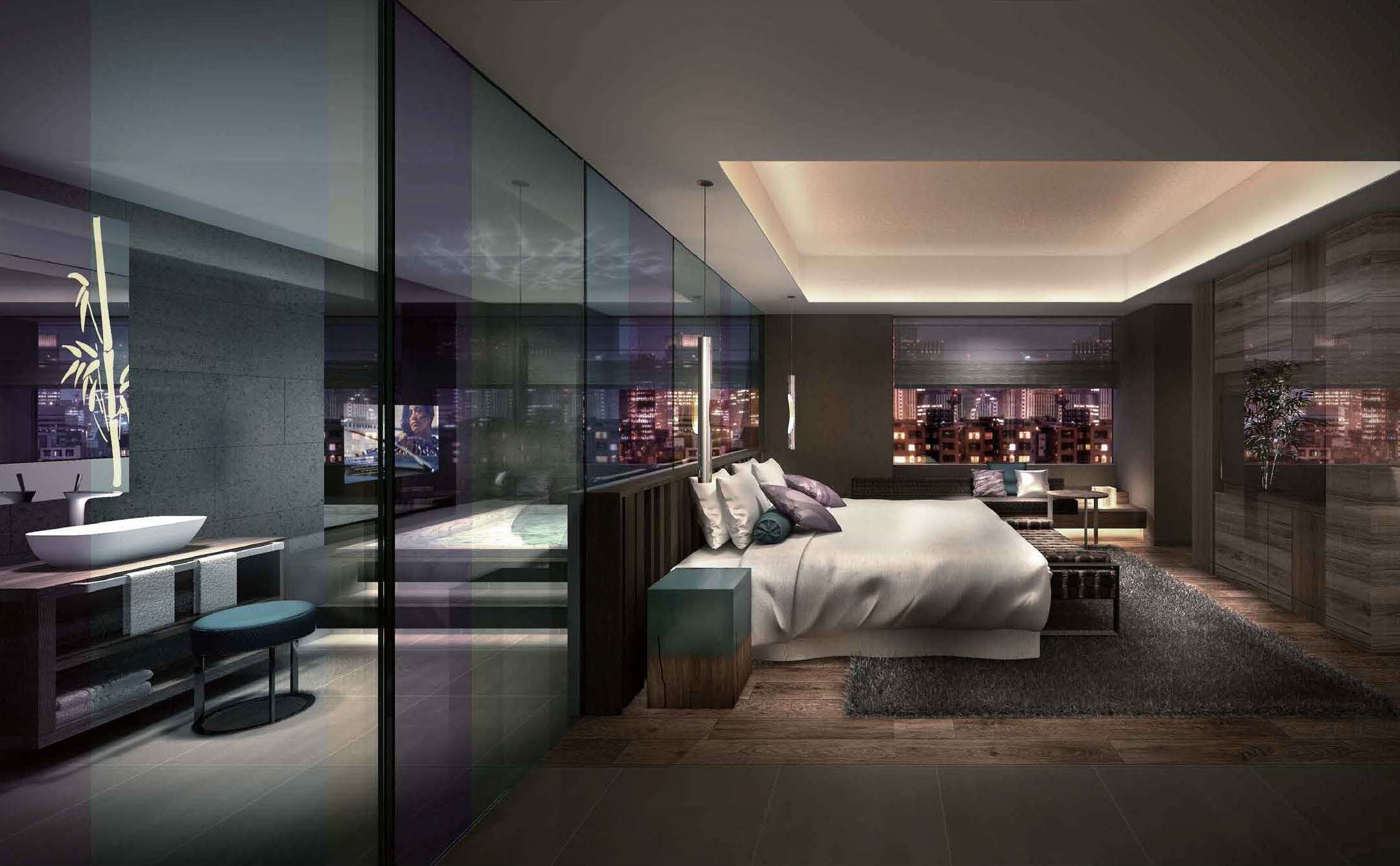 The lobby of the Pullman Tokyo Tamachi is an exercise in harmony, calm and urban elegance. The Junction, the lobby's bar and meeting place, boasts a colourful Japanese kabuki-inspired aesthetic, reflected throughout the hotel with a spirit of beauty and boldness that is typical of this stylised form of Japanese theatre. Designed to be lively and interactive, the Junction changes its mood throughout the day, offering barista-made coffees, cakes and pastries in the morning, and expertly-mixed cocktails in the evening.

At the rooftop Platform 9 bar, Japanese-style tapas can be shared alongside cocktails and sweeping views of the extraordinary skyline. There is, indeed, nowhere quite like Tokyo.
Wallpaper* travelled to Berlin to shoot the latest of its Global Nomad City Guide films with Pullman Hotels. With a nod to the craft of the architect and the joy of urban cycling, our clip showcases the Pullman Berlin Schweizerhof hotel as a tailor-made concept for a hyper-connected world, where time and distance are as fluid as the evolving ambitions of the city's global entrepreneurs.
David Bowie once described Berlin as 'the greatest cultural extravaganza that one could imagine', rubber stamping the city's reputation as the Europe's capital of cool first with the anthemic 'Heroes' in 1977 and later via 2013's 'Where Are We Now?'. With Bowie's lyrical endorsement, places like Potsdamer Platz, Bösebrücke and Nürnberger Strasse have become hangouts for hipsters, artists, creatives and counter-culturalists.

But beyond the beards, the craft beer and artisanal café culture, Berlin is also a must-visit destination for discerning architecture fans. Every contemporary style, from Soviet-influenced brutalism to European modernism is represented here, and the skyline reads like a roll-call of stellar talent, featuring the likes of Hans Scharoun's Berlin Philharmonic, Le Corbusier's Unité d'Habitation, Daniel Libeskind's Jewish Museum, Norman Foster's Reichstag, and Gehry Partners' Pariser Platz 3.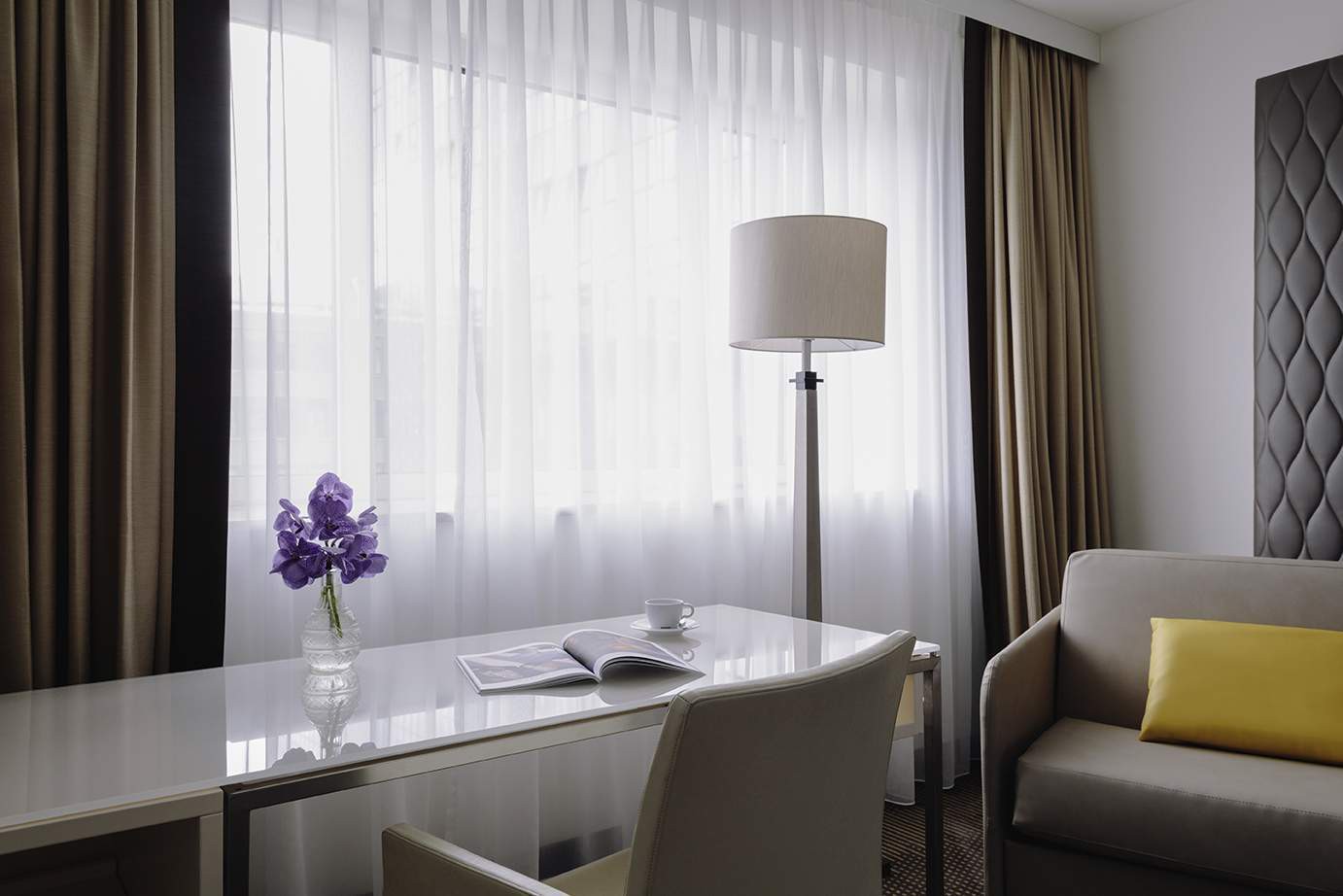 The Pullman Berlin Schweizerhof is another of the German capital's architectural gems. Originally built in 1966, the hotel is located in the Mitte district, opposite the zoo and close to Checkpoint Charlie, the Brandenburg Gate and the Kurfürstendamm shopping street.

Acknowledging Berlin's reputation for creativity, collaboration and culture, this dynamic and cosmopolitan hotel operates as both a base for frequent-flying global nomads – with its spa, fitness studio, saunas and large swimming pool - and as a state-of-the-art conference hub, with 18 function rooms, all fully equipped with the latest event technology.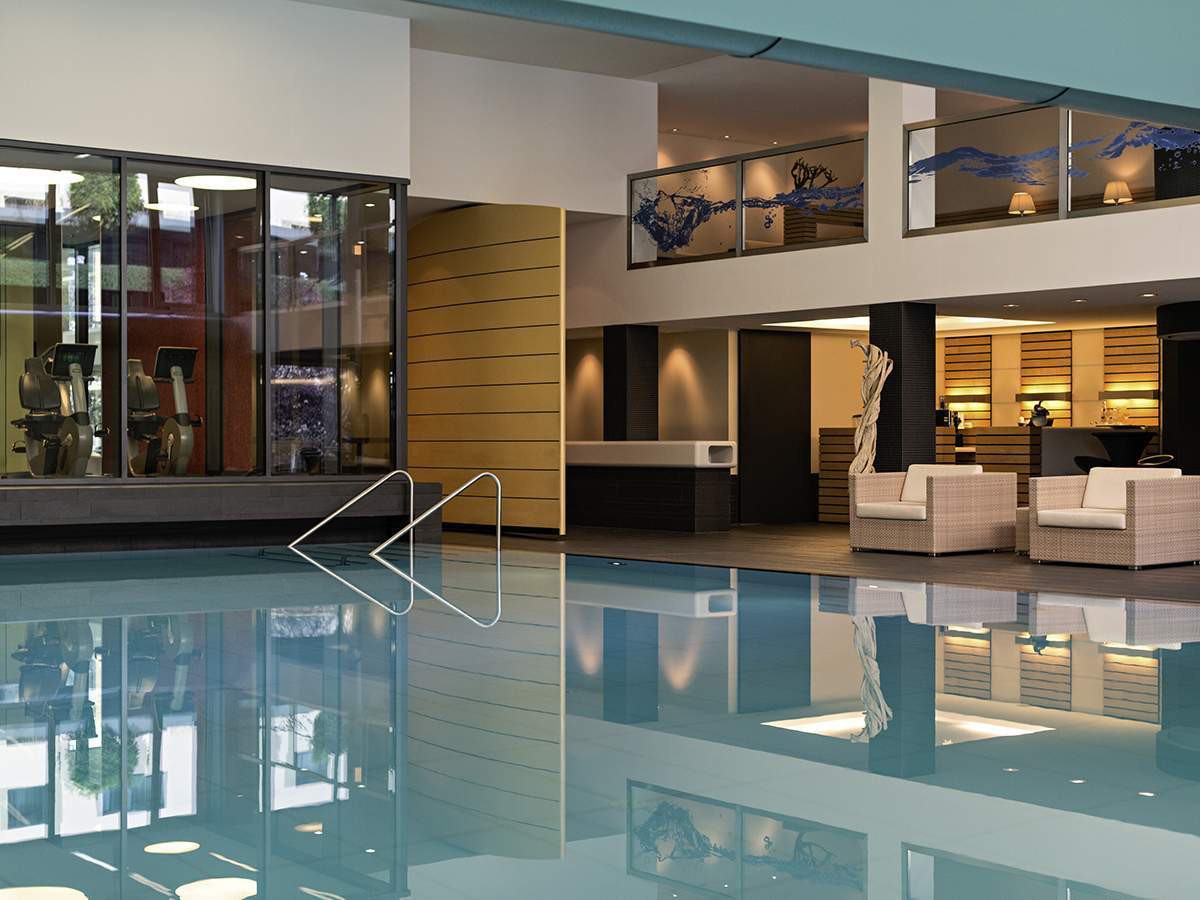 The public areas of the hotel have been recently re-imagined by Moscow-based design team the Sundukovy Sisters whose bold, graphic colour blocks and animalier stripes lend to the reception, lobby, Blend Kitchen & Bar a modernist, zoo station ambiance. Strict, Bauhaus-referencing geometric shapes are supplemented with leather, copper, marble, onyx with a large zebra and blinking piscine motifs acknowledging the Pullman Berlin Schweizerhof's proximity to the Zoologischer Garten.

The Pullman Hotels' philosophy – Our World Is Your Playground – continues in the meeting and conference spaces. The signature boardroom Business Playground by Pullman has been designed by Mathieu Lehanneur and feature the distinctive poker-style meeting tables, inspiring curiosity boxes and canopy break zone. Lehanneur also designed the Pullman Globe, which appears in the hotel entrance. The giant, tactile, sculpture invites guests and visitors to reach out and cross continents.
Wallpaper* and Pullman Hotels have teamed up to make a series of short films to help the sophisticated world explorers navigate the planet's hottest urban destinations. For the third in the series, Wallpaper* travelled to Hong Kong to shoot the city's soaring, modern architecture and traditional street markets, its mega-mixed culture, nightlife…and its myriad lights. The film's narrative follows the day to night schedule of a female, Global Nomad as she discovers the fragrant, harbour city.
Pullman Hotels' representation of a new generation of travellers and business leaders, Global Nomads are hyper-connected and sophisticated explorers, inventing new ways of doing business in all corners of the planet. With the world as their playground and every moment an opportunity, life is a mix of business and pleasure, a balance of efficiency and personal well-being.

As seen through the eyes of our modern global nomad, the Hong Kong film's narrative portrays an affluent, illuminated and maximum city that is a magnet for commerce, consumerism, culture and contemplation. Hong Kong is a hot, cosmopolitan agglomeration of shopping malls, vertiginous hero structures and an intoxicatingly cinematic urban sweep; Foster + Partners ICC building at West Kowloon. Dennis Lau and Ng Chun Man's Central Plaza. I. M. Pei's Bank of China Tower.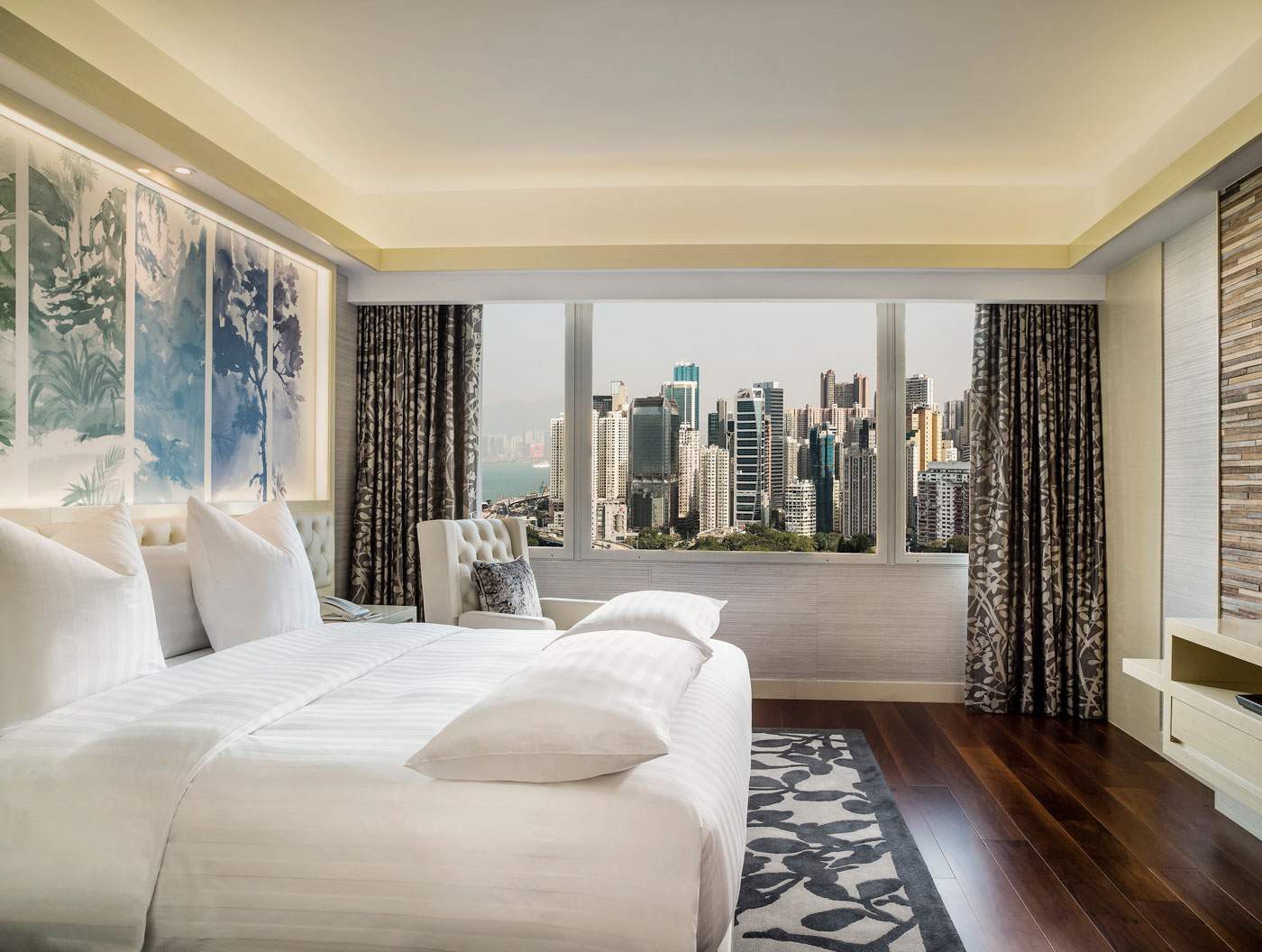 The global nomad's lens lands on Hong Kong's rooftops and rush hour streets, its quiet moments, reflections and the "Symphony of Lights" performance laid on by Victoria Harbour's 40 plus high rises every night. Dubbed "the world's largest permanent light and sound show', coloured lights, laser beams and searchlights deliver a cityscape spectacle synchronised to music that celebrates the energy, spirit and diversity of Hong Kong, its awakening, energy and heritage. The story of an incredible city played out in dazzling pyrotechnics.

Our view of the city is from SKYE, a roof top bar and restaurant located on the 27th floor of the Park Lane Hong Kong, Pullman Hotel. Recently radically redesigned to incorporate three dining outlets, business friendly facilities and services and a shopping arcade on the ground and first floors, the hotel, like the city it inhabits, is chic, distinctive, ambitious and stimulating - 832 modern guest rooms all offering breathtaking views of Victoria Harbour and Victoria Park. Located in the city centre, the Pullman, Hong Kong hotel is a few minutes' walk away from public transportation, business districts and tourist locations. Causeway Bay - a gourmet food and shopping destination is close by. Life in Hong Kong transcends cultural, architectural and experiential borders. Nothing is truly foreign…and everything belongs.
Wallpaper* and Pullman Hotels have teamed up to create a series of short films to help the sophisticated world explorer navigate the planet's hottest cities. For the second in the series Wallpaper* travelled to Brazil to make a short film about São Paulo's contemporary culture.
The film shows a handsome, hyper-connected, hedonistic city, a place to work and play 24/7. Hot and wet, muggy and captivating, a trans-São Paulo adventure is a pulsating blur of green and grey, of penthouse and pavement. Shot in different locations across town as seen through the eyes of a modern global nomad, it proves there's a lot more to Sampa than skyscrapers and city traders.

The 32 million residents of Latin America's largest city call it 'Sampa', a swift colloquial amalgamation of 'São' and 'Paulo'. The vast Brazilian metropolis moves at a similarly kinetic pace, playing host to world visitors who come not just for work (São Paulo is the country's economic powerhouse and main financial hub) but also to marvel at its neo-Gothic cathedrals, eye-popping modernist architecture and myriad cultural offerings.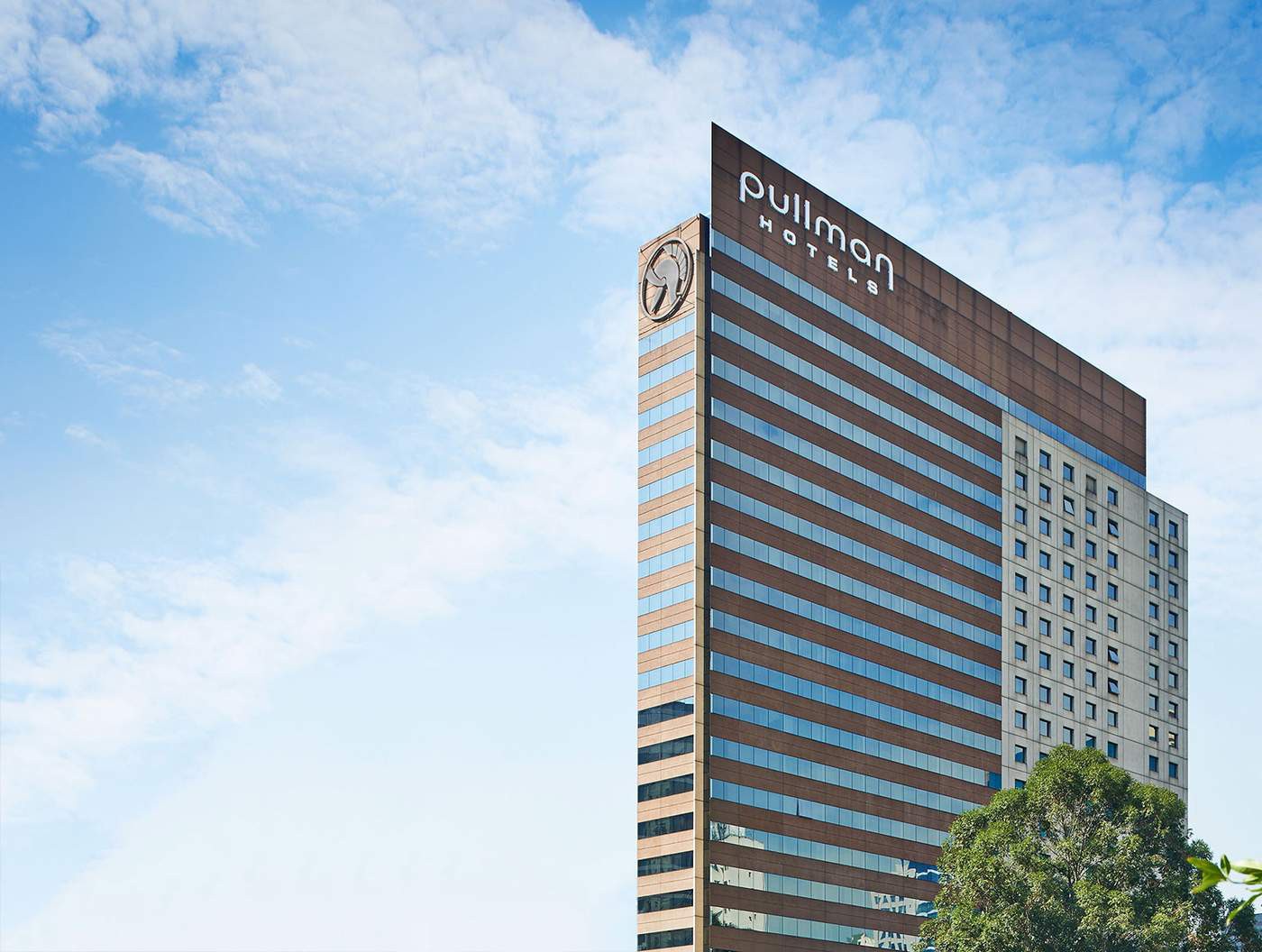 Like New York, São Paulo is, at first glance at least, a city of long streets and high buildings, the 1929 Martinelli Building and Oscar Niemeyer's Edifício Copan being highlights. Closer inspection reveals a culture of homegrown fashion design talent, world-class shopping, and a vibrant bar, restaurant and nightlife scene.

Identifying Sampa's neighbourhoods will help you get a handle on its unique energy. Centro has the bustle and edge of 1980s Manhattan. Jardins is all designer stores, promenading fashionistas, super-expensive real estate and beautiful people, while Vila Madalena is a boho quarter replete with art galleries, boutiques, funky bars and restaurants. Pinheiros Centro is lively, multicultural and great for dining, and Higienopolis can feel like Venice, LA.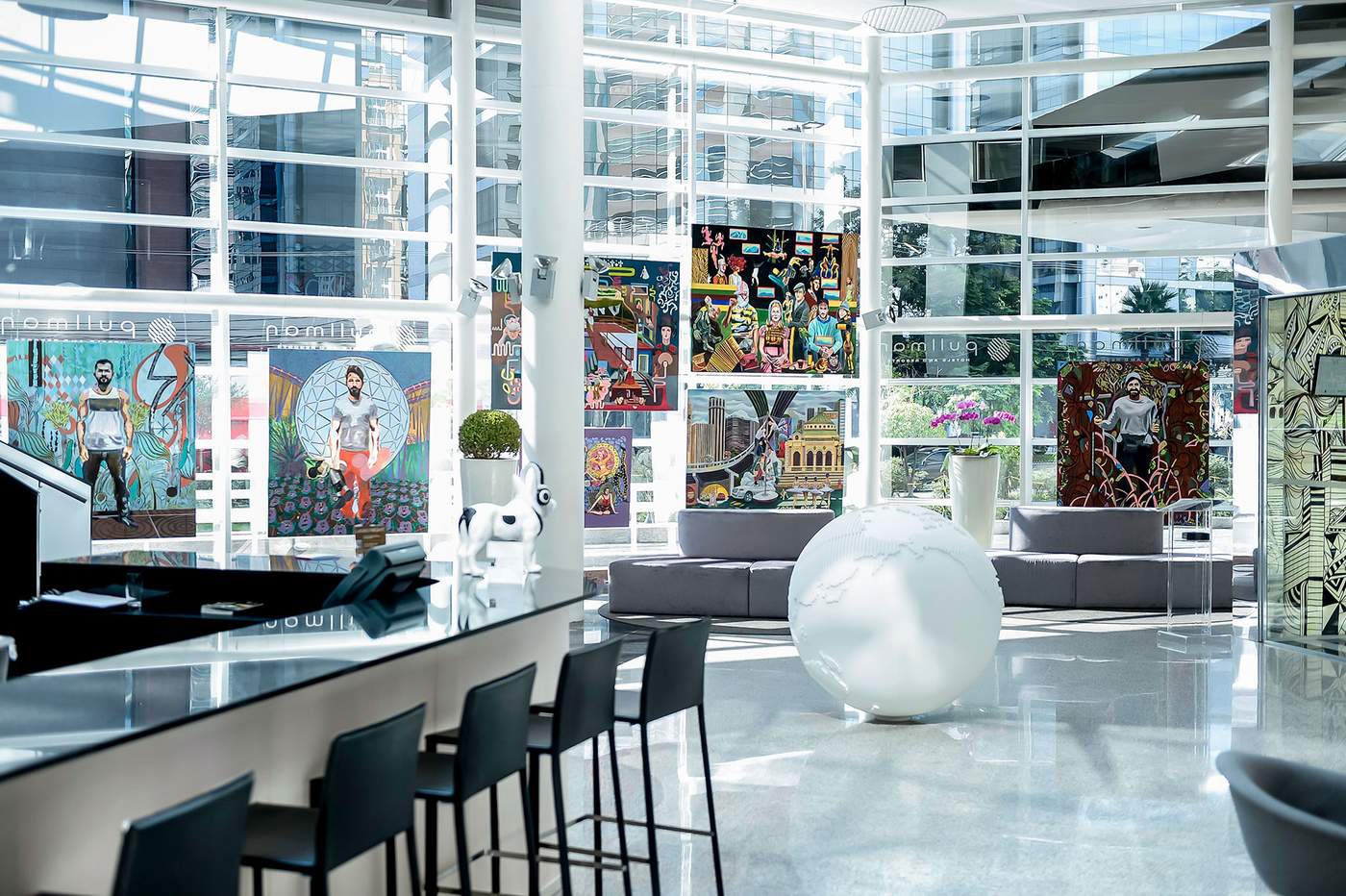 Go to the Pullman São Paulo Vila Olímpia, in Itaim Bibi, and you'll discover a sophisticated part of town that is connected to both Guarulhos International and Congonhas airports. This area also enjoys some of the city's best nightlife.

Pullman's high standards of luxury and comfort are evident in the spacious rooms and suites, as well as in the restaurant, which combines art with gourmet cuisine in a cosmopolitan environment, while a coffee or cocktail in the bar will set you up nicely for a night on the town. The hotel also offers a fitness centre and spa with all the latest equipment.

To underline its commitment to design, Pullman commissioned a number of internationally-renowned creatives to conceive some unique objects and furnishings for its hotels. For the hotel group's lobbies, Mathieu Lehanneur designed the Pullman Globe, a giant, tactile sculpture that symbolises travel and the brand's cosmopolitan spirit, while fashion designer Martine Sitbon created the elegant staff uniforms.
Inspired by Pullman Hotels' 'Our World is Your Playground' tagline and its vision of the contemporary global nomad - Wallpaper* travelled to Florida to make a film. Shot in different locations across the city, through the eyes of the modern global nomad, it illustrates the scale and velocity of Miami's cultural revolution.
Miami is fast becoming an international hotspot. The allure of South Beach, with its languid sun-kissed lifestyle, iconic art deco buildings, thriving restaurant scene and annual, must-attend Art Basel fair, has been widely documented, but ambitious development and major investment combined with a deeply engrained Latin American ethos has also inspired a cultural renaissance throughout Miami. Architectural projects by Sou Fujimoto, Zaha Hadid and Frank Gehry have contributed to a fluid skyline, the Design District and the Wynwood Arts District continue to flourish, while Herzog & de Meuron's Pérez Art Museum Miami has fired up downtown.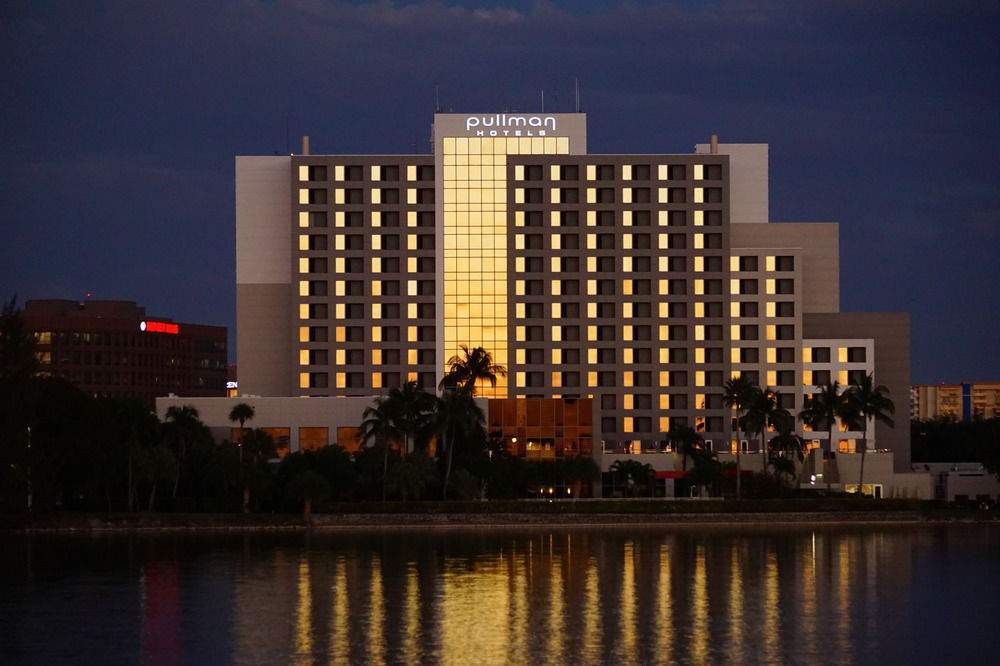 With Miami hotting up as a design destination, Pullman Hotels recently opened its first US property there. With easy access to Miami International Airport, PortMiami, South Beach, the Design District, the Wynwood Arts District and various upscale shopping destinations, the Pullman Miami Airport is perfectly placed for exploring the city, and the culturally diverse Miami style is evident in the hotel's striking contemporary design.

Pullman enlisted a number of renowned designers to create unique objects and furnishings to appear exclusively in its hotels. These include Mathieu Lehanneur, who was commissioned to design the 'Pullman Globe' for the lobby – a giant, tactile sculpture that invites the viewer to reach out and cross continents, summing up the brand's spirit – and Martine Sitbon, who designed the staff uniforms.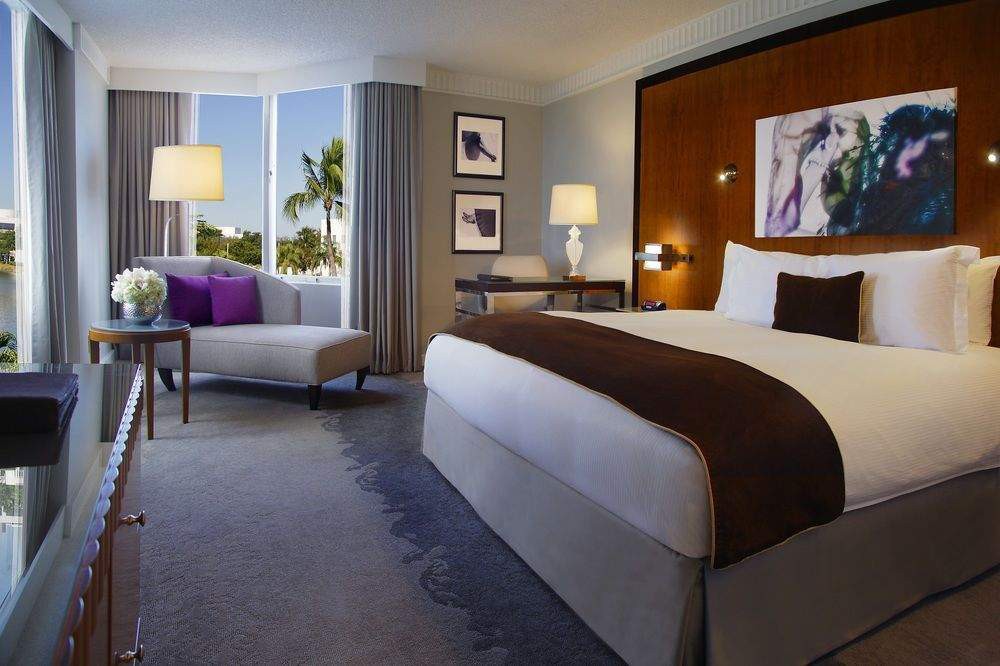 Pullman Hotels' high-end services and technology blur the boundaries between leisure and work, providing best-in-class business and fitness facilities, functional contemporary design, and balanced food and drink choices. Pullman Hotels is where global nomads meet and big ideas are exchanged. They are more than just hotels, they are a concept tailor-made for a hyper-connected world where time and distance are as fluid as the evolving ambitions of today's global entrepreneurs.
Pullman is the upscale international hotel brand of Accor Hotels with more than 100 hotels & resorts in Europe, Africa, the Middle East, Asia-Pacific, Latin America, and North America. Pullman has a global reputation for being situated in vibrant, energetic parts of town and Resorts are principally designed to cater to the requirements of cosmopolitan, seasoned travellers, whether they are travelling alone, with their clans or with colleagues. The brand has a dedicated commitment to design, art, photography and local culture, and collaborates with artists and designers around the world to help bring its design vision to life.

The brand recently unveiled its new tagline 'Pullman Hotels & Resorts + Our World is Your Playground' and first television campaign. The new campaign is stylish and modern and depicts the hero, Pullman's 'global nomad', moving through life in a series of swift encounters, both personal and professional, and ensconced in the pursuit of the work-life blend. He crosses days, borders and time zones with ease, and he is at once independent and connected with others.

The global nomad is Pullman's representation of the new generation of travellers and business leaders. Hyper-connected and sophisticated explorers, they invent new ways of doing business on a daily basis. The world is their playground and every moment is an opportunity. Their life is a blend of business and pleasure, a balance of efficiency and personal well-being.