In Bologna, photographers bring our built environment into focus
The fourth edition of Italian photography biennial Foto/Industria was an acute meditation on industry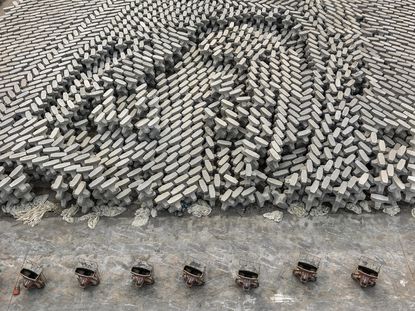 (Image credit: Flowers Gallery)
Among the medieval churches and palazzos of Bologna in northern Italy, the fourth edition of Foto/Industria visually studied the so-called 'technosphere', the term Peter K Haff coined in 2013 to describe the flow of energy, interaction and information that moves each day between the almost six billion people on earth. The world's first photography biennale devoted to industry has used as inspiration the professor of geology and civil engineering at Duke University, who described an artificial layer over the earth's crust one that weighs an estimated 30 trillion tonnes.

Foto/Industria demonstrates how this crust is an intact, infinitely intricate spider's web of connections, one designed to make our lives more rich, diverse and convenient. But, Haff asks, has this web of technology liberated us, or ensnared us in its web? Are you lives richer, happier? Or are we now so reliant on technology, and paying such an extreme price for it, that we are in fact the poorer for it? And then how don we understand and analyse this phenomenon visually?

Under the artistic direction of Francesco Zanot, the festival comprised 10 exhibitions in historic venues around Bologna's medieval city centre, each of which communicated a different perspective on the infrastructure with which we surround our lives. The technosphere is related to the Anthropocene, the new epoch in which humans have come to dominate and determine every force shaping the planet.
The headline show in Bologna, fittingly, is therefore the first European exhibition of Edward Burtynsky's 'Anthropocene', a hugely ambitious multimedia project now on show at Fondazione MAST – Manifattura di Arti, Sperimentazione e Tecnologia – curated by Urs Stahel and on view until 5 January 2020. Burtynsky's series of 35 photographs – from manmade hydroelectric dams in China to Nigeria's floating Makoko slum and the diminishing rainforest in Borneo – are displayed ten metres across alongside the films of collaborators Jennifer Baichwal and Nicholas De Pencier. Seen together, the exhibition is often awe-inspiring to behold, capturing both the beauty of the world, one that has developed its own internal balance over millennia, and the transformation the technosphere has wrought in just a few generations.

Notably, also on show for the first time in Europe is a series of augmented reality installations developed by Burtynsky. Viewers will witness a tree measuring 66m high, 12m in circumference and with a canopy spread of 18.3m, known to Canadian locals as 'Big Lonely Doug' – Canada's second largest Douglas Fir tree. From its home on Vancouver Island, British Columbia, as well as a rendering of Sudan, the last male northern white rhinoceros, who died in March 2018 at the Ol Pejeta Conservancy in Kenya. Close by is another near-to-scale rendering of the largest pile of elephant ivory found in history, poached from between 6,000 and 7,000 elephants across Kenya, and set on fire at Nairobi National Park in Kenya on 30 April 2016.
RELATED STORY
Alongside Burtynsky, well-established names in the history of photography, such as Albert Renger-Patzsch and are also exhibited. But there's a notable emphasis on the exhibition of newly emerging photographers, with Matthieu Gafsou, Stephanie Syjuco and Yosuke Bandai each given spectacular solo shows. Of particular interest was Armin Linke's study of the architectural infrastructure that connects nations underwater, at Biblioteca Universitaria Di Bologna, and Delio Jasse's Arquivo Urbano, which explores Chinese investment in Angola, the African city of her birth, at Fondazione del Monte di Bologna e di Ravenna in Palazzo Paltroni.

But perhaps the best thing to see in Bologna is the work of Luigi Ghirri, the great Italian photographer who was born in Scandiano, a satellite town just to the west of Bologna. He died in 1992 after spending his career working in new topographical photography made famous by names like Stephen Shore, Ed Ruscha and Andreas Gursky. Ghirri worked as a surveyor at the start of his career while teaching himself photography. After launching himself with the 1974 series Colazione sull'erba, a collection of perfectly-realised depictions of the domestic suburbs of Ghirri's Modena, just outside of Bologna, Ghirri grew to become Italy's leading contemporary photographer.
Yet he remains comparably unheralded beyond his native country. Foto/Industria attempted to correct this with 'Prospettive Industriali', a collection of Ghirri's early commercial work shown at Palazzo Bentivoglio, a beautiful medieval building which itself has a fascinating history. Built by the ruling Bentivoglio family in 1460, the building was partially destroyed during a populist uprising in the spring of 1507.

In the early stages of his photography career, Ghirri paid the bills by seeking out commercial commissions with a breadth of companies including Ferrari, Costa Crociere, Bulgari, and Marazzi. Many photographers would just do what they they could to keep the client happy, but Ghirri saw in the commissions the opportunity to experiment with his chosen medium. Ghirri had a deep relationship with his creations, and called these images 'reconstructions of the rooms of my memory'. Speaking today, Foto/Industria artistic director Francesco Zanot says: 'Even at this early stage in his career, it is possible to see signs of a number of themes in Ghirri's work that recurred throughout his life, and for which he became recognised.'

Foto/Industria was established in 2013 and is funded by Fondazione MAST, a non-profit organisation associated with the industrial group Coesia, a celebrated manufacturer of packaging machinery in the city of Bologna.
INFORMATION
'Anthropocene', until 5 January 2020, MAST. fotoindustria.it; anthropocene.mast.org