London Original Print Fair 2023: 10 prints on our radar, from Brian Eno to Tracey Emin
As London Original Print Fair 2023 kicks off (until 2 April 2023), explore the 10 prints on our wish list this year, from Brian Eno to Tracey Emin; Mona Hatoum to Harland Miller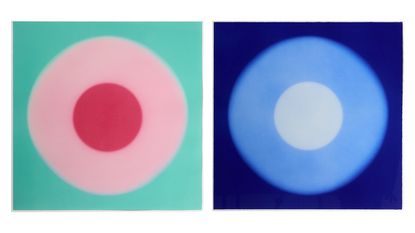 (Image credit: Brian Eno; Paul Stolper Gallery)
Spring has finally sprung and we're suddenly in the mood for something new to adorn our walls. Fortunately, the London Original Print Fair 2023 has just kicked off at Somerset House, offering a range of print-based treats at a range of price points.
Alongside all-time favourites, from the likes of Picasso, Paula Rego, and Bridget Riley, London's longest-running art fair will also launch brand-new editions from rising star artists and art-world superstars alike. With over 40 exhibitors showcasing work spanning six centuries of printmaking, there's a lot to get our eyes around, so we've narrowed down our wish list to 10 highlights to scoop up at the London Original Print Fair 2023.
London Original Print Fair 2023: the highlights
---
1. Tracey Emin, And Everything Was Full of Love
At the London Original Print Fair 2023, Counter Editions is staging 'Love Story' a solo presentation of six new unique monotypes by Tracey Emin. The visceral, emotionally charged series, bathed in a sea of loose red brushstrokes, includes And Everything Was Full of Love, which embodies Emin's deeply personal approach.
2. Brian Eno, Elger
The acclaimed musician and artist has a knack for blending sound and vision. His new series of bold-coloured etchings, released in a set of six with Paul Stolper Gallery, are minimal, hypnotic, and evocative of his recent colour-shifting turntable release.
3. Mona Hatoum, The Blues no. 1-12.7.2020-21
At this year's London Original Print Fair, Mona Hatoum will present The Blues no. 1-12.7.2020-21, with Migrate Art, a pioneering arts organisation that uses creativity to support vulnerable communities as part of their Prints with Purpose series. All proceeds from the work, which depicts a fence-like formation in subdued colours, will support Refugee Community Kitchen, The Lotus Flower, and RefuAid.
4. David Shrigley, Leap Into The Void
Ever the wordsmith with a finger on the pulse of contemporary nuance, Shrigley will reveal an especially batty new social-commentary-infused work at this year's London Original Print Fair for Jealous Gallery. Leap Into The Void, combines this piece of sage advice originating from a sinister yet adorable aqua-coloured bat.
5. Veronica Ryan, A Wind Blows Patterns I
2022 Turner Prize winner Veronica Ryan's A Wind Blows Patterns I, shown as part of Tate's offering at the London Original Print Fair 2023, was first launched as a limited edition print to coincide with the exhibition, 'Radical Landscapes', at Tate Liverpool last year. £400, (£360 for Tate members)
6. Gavin Turk, Pink Trash
Also from Paul Stolper, YBA Gavin Turk presents two new trash prints (which have their roots in Turk's famed series of Bronze rubbish bags). We've got our eye on the Pop Art-esque print Pink Trash, with its linear forms and electric colour. You know what they say about trash and treasure.
7. Frea Buckler, Duality
Frea Buckler's work occupies a balanced space between chaos and certainty. Works like Duality, presented at Smithson Gallery's booth at the London Original Print Fair 2023, are entirely abstract, origami-like forms that seek to capture our behaviours, such as poise and balance, through shards of tessellating colour.
8. Jimmy Merris, Interior with cat
As part of Marlborough gallery's presentation, Jimmy Merris' small-scale woodcut print, Interior with cat (2021) depicts a surreal street scene steeped in melancholy, symbolism and curiosity.
9. Boo Saville, One Thing After Another
Presented with Manifold Editions, Boo Saville's One Thing After Another (Morning, Afternoon, Evening, Night), a series of four collaged prints, deploy Saville's mesmerising technique of gradients that gracefully diffuse from one vivid colour to another. 'I am interested in the threshold between the experienced and the represented world in our minds and how colour can be an access point for this,' she says.
10. Harland Miller, LUV
Artist and writer Harland Miller delves into the aural, written, and typographical possibilities of language, and its potential to be deconstructed. Manifold's latest edition with the artist, LUV, is taken from a recent work from the artist's Letter Paintings.
London Original Print Fair 2023, Somerset House, 30 March – 2 April, londonoriginalprintfair.com
Harriet Lloyd-Smith is the Arts Editor of Wallpaper*, responsible for the art pages across digital and print, including profiles, exhibition reviews, and contemporary art collaborations. She started at Wallpaper* in 2017 and has written for leading contemporary art publications, auction houses and arts charities, and lectured on review writing and art journalism. When she's not writing about art, she's making her own.