EXPO Chicago 2023 is an indoor-outdoor art extravaganza, from witches to unicorns
As the landmark 10th edition of EXPO Chicago kicks off (13–16 April, 2023), Jessica Klingelfuss explores the fair and this citywide art spectacle, from Derrick Adams' unicorns to a witch-themed group show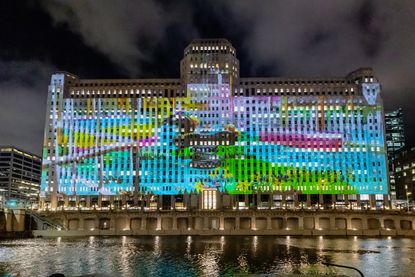 (Image credit: Courtesy of Art on The Mart © Art on the Mart)
'I say this often: Chicago is "big town, small town",' says EXPO Chicago president and director Tony Karman over Zoom. 'The city offers the international impact and scope that anyone would want when they come and visit, while there's a collaborative nature to our city that is unique. And we benefit greatly from those collaborations and alignments.' Set to welcome a far-reaching coterie of collectors, curators, dealers and connoisseurs to its milestone 10th edition at Navy Pier, EXPO Chicago (13–16 April, 2023) reemerged from the Covid pandemic last year with a new slot in the international calendar – pivoting from autumn to spring – and with it a sense of renewal.
The fair's core programming builds on its foundations, including the return of 'IN/SITU' and 'IN/SITU Outside', presenting large-scale sculpture, video, and site-specific installations in Festival Half and throughout the city's public spaces; '/Dialogues' panel series, bringing creative luminaries together in conversation; 'Curatorial Forum' and 'Director Summit', gathering curators and museum leaders to discuss pressing issues in their fields; and 'OVERRIDE', a curated display of artworks commandeering digital billboards and information panels in the city's Central Business District. 'I go backwards to go forwards. I'm mindful of what we started out to be: and that is a great international fair that serves the greater Midwest region,' explains Karman.

Headlining the talks programme, artist Hank Willis Thomas will be joined by Chance the Rapper for a conversation on galvanising communities through public art and underrepresented artists. Elsewhere, Rosario Zorraquin (Isla Flotante, Buenos Aires), Jeanne Gaigher (Southern Guild, Cape Town) and Julien Creuzet (DOCUMENT, Chicago, Lisbon) are among some of the artists to have created new works for this year's 'IN/SITU' presentation. 'Chicago's art scene continues to be robust. In generations past, people would leave for the coasts. Now, you're seeing a new renaissance of artists who are recognising that we have incredible teaching institutions and arts programmes throughout Chicago,' Karman reflects. 'Either it's the best-kept secret or obvious to most that this is a city with a fantastic list of artists working and living here.'
EXPO Chicago 2023: beyond the booths
On view nightly until 5 July, Derrick Adams' new site-specific commission Funtime Unicorn: Ruby Rides Through Four Seasons will light up the Chicago Riverwalk with projections celebrating Black joy, love and play (the project coincides with the artist's activation at Navy Pier's Polk Bros Park). Nearby at 150 Media Stream, art-world multi-hyphenate Kenny Schachter dons his artist hat with an immersive video installation that uses artificial intelligence to imagine a version of Chicago in prehistoric times, collaged with manipulated depictions of the city at present and its hypothetical future.
Curator Zoe Lukov and cultural producer Abby Pucker, co-founders of nonprofit creative enterprise Art in Common, are casting a spell over the Windy City with Boil, Toil + Trouble – a vast group exhibition taking shape in a 10,000 set ft mixed-use building in Fulton Market District. The travelling exhibition examines water through the lens of magic and the role of the 'witch', while this iteration reflects the work of local artists including Ricardo Partida and Armani Howard against rarely exhibited works by Marina Abramović and Bruce Nauman, among others. Over at the Color Club – a locale for Chicago's creative community occupying a 100-year-old brick gem – the third edition of the invitational Barely Fair will present miniature works in 1:12 scale booths presented by artist-run spaces, commercial galleries and curatorial projects.
Hotels, too, are getting in on the fun of the fair: The Peninsula is illuminating Chicago galleries through highlights from the collection of Beth Rudin DeWoody. Curated by Laura Dvorkin and Maynard Monrow, the riveting line-up of contemporary artists includes Amy Sherald, Adam Pendleton, Ebony Patterson, Ayana V Jackson and Kennedy Yanko. At 21c Museum Hotel, the theme of 'ritual' – from religious to cultural, institutional to domestic – forms the foundation for 'OFF-SPRING: New Generations', a meditation on the contemporary construct of identity society.
EXPO Chicago, 13–16 April; Navy Pier, 600 E Grand Avenue, Chicago IL 60611; expochicago.com