Paris+ par Art Basel: how the new art fair could transform Europe's cultural identity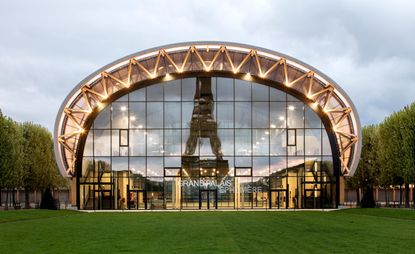 (Image credit: Patrick Tourneboeuf - Tendance Floue)
Nine months after the bombshell dropped that Art Basel would dislodge the 47-year-old FIAC from its October spot at the Grand Palais, the new contemporary art fair, called Paris+ par Art Basel, throws open its doors this week to great expectations. (The Grand Palais Ephémère will house it until the projected completion of renovations at the Grand Palais in 2024.)
Arriving just one week after Frieze London 2022, the Paris edition of Art Basel demonstrates that in the past few years, the French capital and its contemporary art scene have awakened from a decades-long torpor. 'There is a Parisian moment that Art Basel wanted to be part of,' says Clément Delépine, the new fair's director. 'Paris is benefiting from a new dynamism. The market is stable, and getting stronger. International galleries [such as Hauser & Wirth] are moving in. There's a very strong base of collectors, and a context of cultural institutions, private foundations and public institutions, supporting the effort.'
The fair's name reflects Art Basel's specific identity for this city. Many on the Paris team are FIAC veterans, including six out of ten people on the gallery selection committee. Beyond that, says Delépine, the fair 'will be supported by a global infrastructure. The tools that Paris+ has at its disposal are extremely efficient. To give you an example, the VIP team at Art Basel has 35 VIP reps spread around the world, working daily to identify new collectors and spoil existing ones.'
But, he adds, the fair is not just about well-heeled collectors: 'There is a will to address audiences far beyond ticket holders.' They are accomplishing that with satellite programmes such as 'Sites,' an exhibition of more than 20 artworks in publicly accessible parts of the city. It is open to all galleries, whether or not they are exhibiting at the fair. This year, there are large-scale works on the theme of history's layers in the Jardin des Tuileries (such as four toppled marble lions scattered with birdseed by Danish artist Nina Beier), sculptures by Thaddeus Mosley at the Delacroix museum, an immersive project by Omer Fast at the Beaux-Arts de Paris, and a new site-specific work by Berlin-based Polish artist Alicja Kwade at the Place Vendôme, her largest installation to date.
On a boat docked in the Seine, Paris+ is hosting a three-day programme of 'Conversations,' free to the general public upon advance reservation. A duo of independent curators, Pierre-Alexandre Mateos and Charles Teyssou, put together an eclectic programme for this inaugural year, with nine panels and 32 speakers. Teyssou says, 'When we spoke with the Art Basel team about what they had in mind, the focus on Paris was strong – to acknowledge the new identity of Paris's artistic scene,' especially on its margins. Mateos adds, 'We wanted to take advantage of the different cultural industries in Paris – the place of the fashion industry, arthouse cinema – and make bridges and connections.' For instance, a conversation around 21st-century dandyism features Jeremy O Harris, who wrote Slave Play and acted in Emily in Paris.
The fair itself will host 156 galleries, just a handful fewer than last year's FIAC. Some are names that haven't come to Paris in a while, such as the New York galleries Matthew Marks, Greene Naftali and Peter Freeman. Delépine is excited that galleries are 'bringing their A-games', including an immense new work by Philippe Parreno at the booth of Pilar Corrias; the Argentine conceptual artist León Ferrari at the booth of Fortes D'Aloia & Gabriel; and avant-garde painter Francis Picabia at Applicat-Prazan.
The powerhouses Hauser & Wirth, Pace and Gagosian are all coming. Serena Cattaneo Adorno, director of Gagosian Paris, says that her gallery has modified its approach this year, as its artists are particularly eager to participate. 'FIAC was a fair where the gallery worked a lot more with the modern aspect of our programme. We did curated booths – for example, we rebuilt the Villa Santo Sospir of Cocteau. This year, the approach is more contemporary, and we will be able to present new works by artists that have never really shown in Paris before, like Nathaniel Mary Quinn, Ewa Juszkiewicz and Ashley Bickerton,' paired with figures from earlier generations, such as Brice Marden and Simon Hantaï. The designer Pierre Yovanovitch has fashioned Gagosian's booth in the shape of a hexagon.
When the news of Art Basel's arrival first hit, some French galleries worried they would be pushed aside. Kamel Mennour, who runs four locations in Paris, claims there was no cause for concern, as organisers were careful to keep the quota high – 30 per cent of participants have their first or primary exhibition space in France. 'They considered it very important to not do something too elitist, too foreign,' Mennour says. 'They really took the Paris scene into consideration.' He thinks the fair will be great for the city. 'It will bring higher standards and more expertise. Lots of collectors are saying that Paris is becoming more desirable, and it will be even more so thanks to Art Basel. You can't not be here.' His booth is showing Camille Henrot, Anish Kapoor and Lee Ufan alongside artists who have major events elsewhere in Paris, notably Alicja Kwade and Ugo Rondinone (with a solo show at Petit Palais).
Another important French dealer, Almine Rech, who just doubled the size of her Avenue Matignon address, is doing a group show with artists from different countries, including a new work by American painter Scott Kahn, Ghana's Otis Kwame Kye Quaicoe, and France's Claire Tabouret. Rech expects a large increase in the number of clients coming to town for the fair. 'I got many emails from North American and South American clients telling me, "Hey Almine, I'm coming, what are you showing?" And they were not coming in the years before. It's very exciting. I think Paris is going to be very crowded. I must say I understand, it's a very nice time in Paris with beautiful museum shows, restaurants, a hotel offering that's crazy beautiful. There are many reasons…the fair, of course, but also it's nice to have a few days in Paris.'
Not all the exhibitors at Paris+ will be so well established; 16 emerging galleries from around the globe have been invited to do solo presentations. One of these is Chris Sharp, who opened his space in LA less than two years ago and is showing young British painter Sophie Barber. 'FIAC was a very good fair, Art Basel is the best. It's an incredible honour for a gallery to be selected,' says Sharp, who lived in Paris for a decade in the early 2000s. As he recalls, back then 'the art scene was really local. But in the past few years, it's evolved a lot. Brexit obviously helped. This will push it over the edge. I think this puts Paris in a position to become the art fair for Europe.'
Paris+ par Art Basel fair will run from 20-23 October (preview day 19 October) at the Grand Palais Éphémère, Paris. parisplus.artbasel.com
Receive our daily digest of inspiration, escapism and design stories from around the world direct to your inbox