Ghanaian artist El Anatsui on reclamation, nurturing, and creating powerful concepts with simple materials
As Tate Modern announces El Anatsui for its 2023 Hyundai commission (taking over the Turbine Hall from 10 October 2023-14 April 2024), we revisit our 2019 profile of the leading Ghanaian artist, published ahead of his survey exhibition at Doha's Arab Museum of Modern Art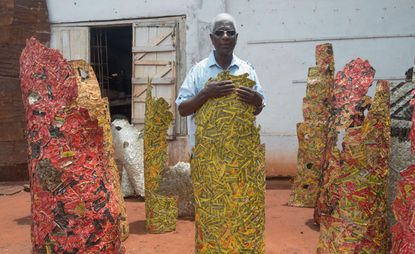 (Image credit: Uche James Iroha)
In September 1986, El Anatsui walked into his freshman design class, asked his students to draw egusi soup, then walked out. He left no further instruction. The students, in their first semester at University of Nigeria Nsukka (UNN), debated for hours what exactly their lecturer wanted. How do you paint egusi, recreate its yellow paste of crushed melon seeds on canvas? Do you include hints of cow tripe that go into it? Some Nigerians prefer theirs with crayfish. How do you account for that? Some students decided Anatsui was looking for an idea or concept. Others gravitated towards form and saw it as a test by the artist of who could draw the best. Anatsui's intentions were less complicated and echo his own artistic philosophy. He wanted his students to reflect on an 'object' that was a part of their immediate environment as an entry point to solving an art problem. After all, egusi soup is one of the most popular dishes in Nigeria, eaten with different local variations across the country.

'This was the first signal that he thought things out differently,' says Chika Okeke-Agulu, a member of that class. He is now an art historian and co-curator of Anatsui's travelling exhibition, 'Triumphant Scale', which opens in October at Mathaf: Arab Museum of Modern Art in Doha. It's this ability to 'think things through differently' that helped Anatsui become one of the most accomplished contemporary artists of his generation. This year he is also showing for the third time at the Venice Biennale, as part of Ghana's inaugural pavilion (he won the Golden Lion for Lifetime Achievement back in 2015).

Anatsui was born in Ghana in 1944, the youngest of his father's 32 children, but has lived in Nsukka for the last 45 years. His mother died when he was a baby and Anatsui was raised by his uncle, a Presbyterian minister, who 'sheltered' him from local cultural practices, convinced by conventional Christian wisdom that they were heretic. Despite his uncle's intentions, Anatsui would embrace and then advance the artistic traditions of his ancestors.
He developed his artistic philosophy – of using what the environment throws up as medium – after graduating from Ghana's Kwame Nkrumah University of Science & Technology (KNUST). His first medium was the wooden trays used to carry goods in Ghanaian markets. 'You should look for things around you,' he says, 'and not look for anything else, because if you find materials from around you, you will do work that relates to your location and circumstances.'
He has held on to these foundational principles and experimented with wooden mortars, broken ceramics, cassava graters, printing plates and milk tins; creating work with fluid forms, reminiscent of textiles, upsetting categories of sculpture, exploring the reuse and transformation of materials, proving how these materials are at once local and specific and yet transcend place. 'My work has freedom as its watchword, the idea of freedom being able to shape itself or get shaped in different ways. Each time it is an opportunity to do something new. This has been my principle leading up to the bottle cap series.'

Of all his mediums, it's the use of liquor bottle caps (a reminder that alcohol was an item of barter in colonial trade across Africa) that made him a global art star. Anatsui had been exhibiting consistently since 1969 and in Europe and the States since the mid-1990s. But he became an 'overnight success' at the 2007 Venice Biennale, where he draped Fresh and Fading Memories, a monumental tapestry made of liquor bottle caps and copper wire, over the 15th century Gothic façade of the Palazzo Fortuny. 'It was a bit of surprise. I went from struggling and trying to get things to move and then, all of a sudden, they just pick up and you're like, what is happening?'

His Doha exhibition surveys his five-decade career, including the bottle top sculptures, ceramic sculptures from the 1970s, wood sculptures and wall reliefs from the 1980s and 1990s; and lesser known drawings, prints and sketchbooks. 'The term "Triumphant Scale" encompasses not only materiality, but also the journey, and the journey of artists like him from what used to be called the margins to what is now the mainstream,' Okeke-Agulu explains. 'Anatsui is an artist working in a place called Nsukka that very few people can identify on a map, and whose work has inevitably compelled art world types to know where Nsukka is.'


Anatsui arrived in Nsukka in the mid-1970s to teach at the Fine and Applied Arts department of UNN (he remained there until 2011). He often went to surrounding villages around Nsukka to be inspired by the sculptural expressions of its people. It was in one of these mountainside villages, in 1998, that he discovered liquor bottle caps by accident – in a trash heap. He took them to his studio. Eight months later, it occurred to him to explore them as a medium. 'People are constantly shaping things, arranging things and installing things without calling them art. But with one's experience, one knows it's an idea that can be developed into art,' says Anatsui.


Nsukka has been the well spring of Anatsui's productivity in other ways and the foundation of his artistic legacy. In 2001, he gathered a number of artists, his former students – also working in unlikely mediums – and curated an exhibition of their works, titled 'New Energies'. The unconventional show, which took place at the Nimbus and Mydrim galleries in Lagos, caused a scandal but helped launch careers. Some of Anatsui's acolytes – Nnenna Okore, Gerald Chukwuma, Bright Ugochukwu Eke, Ndidi Dike, Eva Obodo – might be familiar and if you don't know them, you should. Anatsui also sponsors an annual exhibition and competition, titled 'Life In My City', with six finalists visiting the Dakar Biennale.
In Anatsui's Nsukka studio are several ceiling-high pyramids of crates, in which his works are encased, most bound for faraway destinations, a few returning from abroad. Scattered around them are woven plastic sacks of bottle caps, copper wires, pliers, shears, chainsaws, cut strips of aluminium foil and the quiet enthusiasm of Anatsui's studio assistants. There are about ten of them present (sometimes there are up to 40) working in groups of twos and threes, binding the bottle caps with copper wire: which eventually become tapestries that Anatsui has conceptualised. Given his style of small forms becoming a monumental mass, it is unclear how many works are being created. The volume of the work in front of the assistants gives nothing away. Nor does Anatsui.

To the left of the studio, there are crates to be despatched to Marrakech, São Paulo and Ontario. In another corner, work destined for Paris, Frankfurt, London. To reach any of these destinations, movers have to journey nine hours by road from Lagos to Enugu, the nearest city to Nsukka, and then drive back to the port city. These long, important journeys were highlighted by the influential Nigerian curator Okwui Enwezor, the artistic director of Haus der Kunst in Munich, who organised the first showing of 'Triumphant Scale' from his hospital bed (Enwezor had cancer and died earlier this year). By his design, the first set of work seen by visitors to Haus der Kunst had been shown in three iconic museums on both sides of the Atlantic: the British Museum in London, the Centre Pompidou in Paris and the Metropolitan Museum of Art in New York.

The American author Toni Morrison once said, 'I stood at the border, stood at the edge and claimed it as central and let the rest of the world move over to where I was.' It could describe Anatsui's career too. And the rest of the world is now knocking at Anatsui's door. Does this create some kind of creative pressure to please, to satisfy this demand?

'I don't feel any pressure because you know that you are reaching people. If you weren't reaching them, they wouldn't be demanding. It stimulates you to work hard. I don't bother to ask how the work reaches them,' says Anatsui. 'As an artist, you have a leadership role – you lead and see whether they will follow.'
As originally featured in the October 2019 issue of Wallpaper* (W*247)
INFORMATION
'Triumphant Scale', 1 October – 31 January 2020, Mathaf. mathaf.org.qa (opens in new tab); el-anatsui.com (opens in new tab)
ADDRESS
Mathaf
Education City Student Center
Doha
VIEW GOOGLE MAPS (opens in new tab)