David Hockney at Lightroom: a technologically spectacular journey, but is it art?
As David Hockney's much-anticipated, and critically divided 'Bigger & Closer (not smaller & further away)' opens at Lightroom, London, writer Will Jennings sifts through the burgeoning landscape of immersive art experiences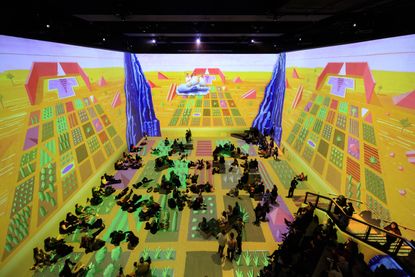 (Image credit: © David Hockney. Photography: Justin Sutcliffe)
Virtual Reality. NFTs. Artificial Intelligence. Robotics. Contemporary art seems saturated with technology right now, with creatives seemingly fighting one another to incorporate new technological developments within ever-more spectacular projects.
Though it may seem like a new scientific goldrush, it is nothing new. From the Baroque onwards, artists have incorporated contemporary thinking and techniques within their work, while 20th-century art can be directly mapped onto scientific progression – from futurism through cybernetics and into new media.
Such work has always sat alongside, rather than in competition with, traditional sculptural and painterly techniques, with many artists taking pleasure in fusing traditional with technological and analogue with digital.
David Hockney is a case in point. Celebrated for a career of pop-infused painting, he has never shied away from technological experimentation, including photomontage, multi-camera video, and more recent forays into iPad drawing. Recognising the historic precedents of such practices, he also researched historic uses of the camera obscura by Old Masters, explored not only in a book and documentary but also through his own visual experimentation with perspective and how the eye reads information.
Such research is presented across the opening chapters of 'David Hockney: Bigger & Closer (not smaller & further away)', the first presentation at Lightroom, London's newest entertainment space, a four-storey cube-like room with HD projection mapping across four walls and the floor. For just under an hour, visitors are immersed in a whistlestop journey through Hockney's practice set to a voiceover montaged from new and archive interviews with the artist. It is at once documentary, visual installation, and technological spectacle, but – cliché incoming – is it art?
Hockney is not the only artist who has had such an immersive experience forged around their output: there are currently two separate Monet experiences touring the US; van Gogh is getting the treatment simultaneously across three continents; Frida Kahlo and Diego Riviera are in Washington DC after their London run; and 'Dalí: Cybernetics' can be experienced in both Barcelona and London. Hockney is distinct from this stellar line-up. Not only is he the only living artist among them, but he was deeply involved in the show's creation and design. Consequently, 'Bigger & Closer' might be considered not only as a presentation of his work, but perhaps as one of his works in and of itself.
The benefits of such projects to their producers is clear: the ability to exhibit concurrently in countless locations; the possibility to engage with a broad audience who may not consider an art museum, or who simply don't want to fight blockbuster exhibition crowds to see work up close; and at £25 a pop with visitors unlikely to stay longer than one loop of a pre-recorded show, it can presumably provide a good financial return. But, what does a living artist gain from such a packaged presentation?
Over three years, Hockney collaborated with designers 59 Productions on preparatory ideas from his home in Normandy, then refined the production in model-box form, before coming to London and overseeing the final touches in the Haworth Tompkins-designed venue. Where an artist's work is normally diffused through a curatorial framing, at institutional arm's-length from the creator, 'Bigger & Closer' is far more hagiographic in approach than any traditional solo exhibition, and presented at such a breakneck pace that there is no time to dwell in or deeply consider the works as one may in a gallery setting.
While the technology of such immersive presentations may be cutting-edge, the creative desire to create all-encompassing environments is not new. Yayoi Kusama's Infinity Rooms, still showing at Tate Modern, are a global crowdpleaser, while a forthcoming exhibition at Munich's Haus der Kunst, 'Inside Other Spaces', is set to explore midcentury immersive environments by women artists including Judy Chicago, Aleksandra Kašuba, and Marta Minujín.
Technology progresses relentlessly, not only with Lightroom but in other spaces such as the ABBA Arena, the planned global network of Outernets, and the imminent U2 residency opening at Las Vegas' MSG Sphere. But it can seem that the more technology is built into such spaces, the more a division between commercial and fine arts, and their different modes of show and experience becomes apparent. That division is somewhat artificial, often reinforced by the arts industry to create an aura, but there surely can be more nuanced play between the division than the flood of immersive experiences which struggle to pull off the emotion, presence, and power of all the artists they create environments from.
It may be that such technologies need time to bed in, for artists to slowly absorb them and play with nuances of design and science, to test possibilities beyond big-bang spectacle. There is no shortage of contemporary artists engaged with technology who could play with such venues in phenomenally creative and progressive ways. If Lightroom or an MSG Sphere were given over to Anicka Yi's algorithmic machines, Ian Cheng's evolving AI narratives, Danielle Brathwaite-Shirley's lo-fi digital support of Black trans life, or the studies of race and science by David Blandy and Larry Achiampong, then there may be genuinely exciting shifts not only in how something is presented, but in how such presentations can develop critical and profound ideas.
Such artists – and many more interested in pushing experiential and political boundaries – could easily still create accessible and immersive works that could pull in a crowd, perhaps with less commercial profit but with more artistic ambition.
'David Hockney: Bigger & Closer (not smaller & further away)' runs until 4 June 2023 at Lightroom, London. lightroom.uk (opens in new tab)
Will Jennings is a writer, educator and artist based in London and is a regular contributor to Wallpaper*. Will is interested in how arts and architectures intersect and is editor of online arts and architecture writing platform recessed.space and director of the charity Hypha Studios, as well as a member of the Association of International Art Critics.