'The Yosemite Suite': Pace Gallery exhibits David Hockney's bucolic iPad drawings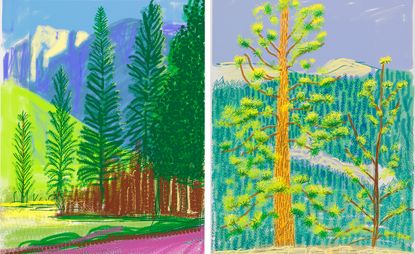 (Image credit: courtesy of the artist and Pace Gallery)
David Hockney has done it again. Until 18 June, Pace Gallery in New York is showing 'The Yosemite Suite', a collection of the artist's iPad drawings. Hockney visited Yosemite National Park in 2010 and 2011; as part of his continued interest and engagement with landscape, the artist has produced these works as a way of embracing new means of creation.

'David has always been interested in the latest technologies. When the fax was new, he was faxing us all drawings. When the iPad was new, those of us who are privileged to be his friends were sent images from his iPad,' says Douglas Baxter, the director of the show. And so the size of an iPad further facilitated a new way of working – immediate and even impromptu.

Hockney knew that these drawings could be produced as large prints and so calibrated each gesture and colour accordingly – transposing the scale from screen to print. In fact, this Yosemite series follows a previous set of iPad works done in his native East Yorkshire, where he captured seasonal changes. Pace showed these in 2014, as 'The Arrival of Spring'.

'David is an extremely visual person, who fell in love with the landscape of East Yorkshire during summers as a youth. Similarly, when he moved to Los Angeles he fell in love with the landscape of the American West,' continues Baxter.

Hockney now lives and works in Los Angeles. This is his fifth exhibition at Pace since 2009.
INFORMATION
'The Yosemite Suite' is on view until 18 June. For more details, please visit the Pace Gallery's website (opens in new tab)
Images courtesy of the artist and Pace Gallery
ADDRESS
Pace Gallery
537 West 24th Street
New York, NY 10001
Daniel Scheffler is a storyteller for The New York Times and others. He has a travel podcast with iHeart Media called Everywhere (opens in new tab) and a Substack newsletter, Withoutmaps (opens in new tab), where he shares all his wild ways. He lives in New York with his husband and their pup.