Sarabande artists explore the creative potential of paper in 'Bound'
Bound is a book of paper artworks from 36 Sarabande artists that celebrates the arts and cultural foundation's singular legacy. Director Trino Verkade shares the story behind the creation of this unique document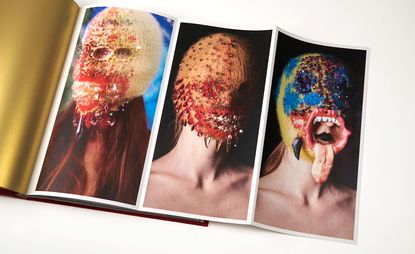 (Image credit: Judas Companion)
The Sarabande Foundation has just released Bound, a limited-edition run of hand-bound paper artworks made by 36 of the more-than 130 artists who have been supported by the foundation since it was established in 2007.
Talk of creating a Sarabande book (a misnomer for what the project would become, but more on that later) began as the foundation edged closer to accepting 100 artists within its studio programme and, more poignantly, as it got closer to the tenth anniversary of the death of fashion designer Lee Alexander McQueen. McQueen established the foundation and it became the major beneficiary of his estate after his death in 2010.
Since then, the foundation's base, a converted Victorian stable block in east London, has become a bastion for emerging artists, offering scholarships and studio spaces, alongside workshops and lectures from fellow creatives.
Sarabande rarely emphasises its connection to the late designer, focusing more on 'the future of creativity and where that can take us', in the words of its director, Trino Verkade.
Yet, Verkade acknowledges that McQueen's singular ethos is inscribed deep within the pages of Bound. 'It's like when Lee would do something that made no sense. If you'd said in the beginning, "We're going to do this project and every book is going to be unique", it [wouldn't have] made sense. But it kind of does because the whole point is that you go as far as you can with it. [Lee] taught me never to compromise. We've not had to compromise with this project.'
Inside the pages of Bound
Indeed, Bound is, despite its title, an exuberantly unrestrained expression of creativity. The project features artworks made from GF Smith paper that has been sculpted, cut, embossed, perforated, hand-painted, embroidered and dyed. With creations by 36 Sarabande artists working across disciplines – from jewellery designers to filmmakers, fashion designers to milliners, painters to performance artists. No single edition of Bound is the same, with 20 of the artists contributing ten original artworks that are distributed across the 100 copies of the book (two per copy).
The books have been wrapped in the traditional Japanese furoshiki style, with linen hand-embroidered by artisans from Uttar Pradesh that are supported by the Kalhath Institute. The cover comes in 18 colours, with one of four different logos designed by Sarabande artists for the project.
Within all this variety, there is one unifying factor: all of the works have been made on paper, which, as Verkade points out, is the most democratic artistic material there is.
'Almost all creatives start off with paper. Even if you're a filmmaker, your storyboard is on paper, if you're a fashion designer you use paper, if you're an artist you use paper.' Asking everyone to work in this material was, 'very Sarabande', Verkade says. 'We always think about [the fact that] everybody is under one roof, everyone is the same. It doesn't matter what discipline you do. Everyone is a creative in that space and everyone is of equal value as a creative.'
While everyone within Sarabande and Bound is treated with equal value, the individual qualities of each artist radiate from the book's pages. Highlights include Emma Witter, whose transparent windows trap crushed bone, flowers and pearls; paper artist Alice von Maltzahn's painstakingly detailed cut-outs; a paper hat by milliner Jo Miller; and paper shoes by Jimmy Junichi Sugiura.
The book contains a number of surprises. Asking creatives to translate their practice into paper was akin to an artistic Rorschach test, with each of their interpretations revealing the narrative threads that have always run through their work. For instance, jeweller Christopher Thompson Royds is best known for his delicate metal sculptures of the humblest flowers – frail weeds and wildflowers that peep from between pavement cracks or shards of grass (see an example among our pick of wedding tiaras). For his Bound project, Thompson Royds made paper weeds that pop up through the binding of the book – reminders of the small beauties we often overlook.
Or take Elena-Andreea Teleaga, a multimedia artist whose work is rooted in photography and often investigates the workings of memory. For Bound, Teleaga selected a special sandpaper – paper that will gradually erode the two photos on either side of it – so that eventually the images will only exist in the memory of those who saw them before they disappeared.
Ultimately, Bound is a kaleidoscopic landmark, gathering different fragments together to create one prismatic vision. In this way, it is like the Sarabande Foundation itself and, more expansively, like art itself.
'Art has always marked points in history,' Verkade says. 'But it never reflects one reaction because everybody always reacts differently to things.' Artworks are dynamic documents, windows into the past, mirrors of our present, and sometimes even looking glasses into the future. They afford us, the viewers, new perspectives on certain moments in time.
'You can always look at [a work of art] and say, "That's what we took from that time, that's what we felt at that time." Sometimes we might forget it and move on, but the art very often leaves that mark there which we can go back to.'
Bound does just that, offering those lucky enough to see it a unique look into the Sarabande Foundation and a poignant document of creativity in our strange era.
INFORMATION
Bound, £2,500, sarabandefoundation.org (opens in new tab); exclusivly retailed at doverstreetmarket.com (opens in new tab)
Mary Cleary is the Beauty & Grooming Editor of Wallpaper*. Having been with the brand since 2017, she became an editor in February 2020 with the launch of the brand's new beauty & grooming channel. Her work seeks to offer a new perspective on beauty, focusing on the pioneering personalities, product designs, and transformative trends within the industry.