Learn the art of paper crafting with 'slow artist' Alice von Maltzahn
The Sarabande Foundation's artist-in-residence will lead a free virtual workshop on paper crafting and collage techniques on 23 February 2021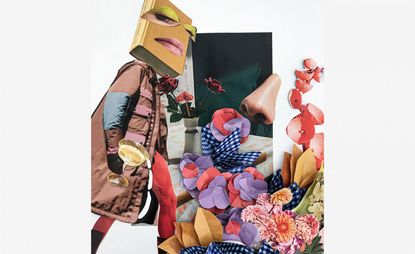 (Image credit: Sarabande Foundation)
Global lockdowns have inspired a revolution in crafting. From simple origami to mask-making, tactile pursuits have provided a welcome sanctuary away from the screen for many of us. As part of its virtual events series, London's Sarabande Foundation is inviting budding artisans to try out a new hobby – the art of paper crafting.
Led by artist-in-residence Alice von Maltzahn and taking place on 23 February, The Understated Craft of Paper is an online workshop offering tutorials in traditional and contemporary paper craftsmanship.
From the comfort of home, you will learn a range of techniques – including collage, how to manipulate through folding and how to create a 3D pop-up. Using old magazines, scrap paper and newspapers, there will be an opportunity to create a one-of-a-kind portrait of yourself, your family or your housemate.
Resident at the Sarabande since October 2020, von Maltzahn's art ranges from postmodern collage to large-scale paper installations, using Japanese paper inks and sustainable materials. The artist is currently working on a site-specific installation for the foundation's east London space.
A keen proponent of 'slow art', von Maltzahn believes the humble piece of paper holds unlimited possibilities.
'The most unassuming scraps of paper can become artworks and constructions,' she says. 'This is about opening up our creativity, having fun and being playful, creating a collage portrait or something more abstract. I want people to come away with some great collages, having had fun, and with a new understanding and appreciation for a material we've come to see as everyday and disposable.'
Sign up for the Zoom workshop, which will take place on 23 February 2021 from 5-7pm (GMT), via Eventbrite and find out more about Alice von Maltzahn's work on the Sarabande Foundation website.
INFORMATION
sarabandefoundation.org (opens in new tab)