A Helsinki exhibition explores the artistic synergy between the Nordics and East Asia
Ateneum museum is marking the centenary of diplomatic relations between Finland and Japan with a quietly beautiful display of ceramics, paintings, sculptures and textiles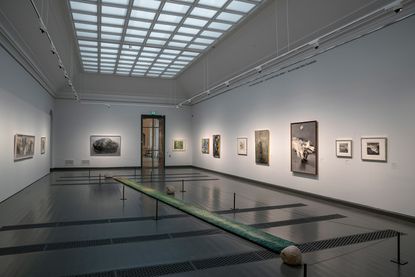 (Image credit: Hannu Pakarinen)
Silent beauty. It's a phrase that perfectly captures the shared aesthetic of two remote parts of the world. One is the Nordic region – especially Finland and neighbouring Sweden – the other is East Asia; mainly Japan, with ancestral influences from Korea and China. An exhibition by the same name combines the collection of Helsinki's Ateneum (one of three museums forming the Finnish National Gallery), where the show is being held, alongside pieces from the Japan Folk Crafts Museum in Tokyo.

On display are mainly ceramics and paintings, dotted with sculptures, textiles and architecture, which explore the countries' artistic synergy. The timing is apt: this year marks the centenary of diplomatic relations between Finland and Japan. The show's time span is elastic: focusing on pre- and post-World Wars, yet sometimes diverting to Korea's Joseon dynasty (15th century) or the present day.

The opening section profiles Yanagi Sōetsu, art critic, philosopher and father of the Mingei movement, initiated in 1925. His campaign, which emphasised the beauty of everyday objects in simplified shapes, culminated in the opening of the Japan Folk Crafts Museum in 1936. Yanagi had visited Stockholm in 1929 and played a key role in Japan's embrace of Nordic aesthetics.
Meanwhile, Finnish and Swedish artists were discovering Japanese sensibilities through techniques and materials like woodcut printing and Japanese handcrafted paper, exhibited in Paris or at the Venice Biennale. This section's display starts with a 19th-century haori, a kimono-style coat. The simple lines and geometric motifs of the garment, which was used as fireman's uniform, illustrate the beauty in a functional item made by an unknown craftsperson. Coincidentally, its motifs also recall the universe of iconic Finnish design house Marimekko.

The next room is largely dedicated to landscapes, starting with an oil painting by Helene Schjerfbeck. The strong connection to nature highlights similarities between the Far East and the far north. Then a great number of stoneware and earthenware pieces appear including slender-shaped jugs and bottles by Kyllikki Salmenhaara, which recall the stretching cedar tree, while minimally shaped plates and bowls by Kanjiro Kawai and Shōji Hamada lend a sense of dynamism.
'According to Hamada, it takes sixty seconds to apply his decorative technique, but it took him sixty years to learn it', says Anne-Marie Pennanen, the show's curator, pointing out the calligraphy-like motif on the plate. As a backdrop to the pottery, two stencil-dye (Katazome) works by Samiro Yunoki are displayed on the wall.

'Silent Beauty' unfolds as a perpetual dialogue between different disciplines. Its flow is organic, guided by themes such as winter, fire, still lifes and black and white. The show also includes ceramics by Bernard Leach, paintings by Ufan Lee, and abstract paintings and sculptures by the Finnish couple Ahti and Maija Lavonen. Among the qualities juxtaposed throughout this exhibition, such as harmony, calmness, cleanness, simplicity, patience, the most prominent of all is pure silence. Here, silence is more golden than ever.
INFORMATION
'Silent Beauty: Nordic and East-Asian Interaction', until 6 October, Ateneum. ateneum.fi
ADDRESS
Ateneum
Kaivokatu 2
00100 Helsinki
Minako Norimatsu is a Japanese journalist and consultant based in Paris. Extremely curious about everything creative, her field ranges from fashion to art, dance, hospitality and travel. She has interviewed many Japanese fashion designers and artists for Wallpaper*, as well as non-Japanese creatives whose inspirations are drawn from Japan.