How the art of Burning Man ignited a cultural movement beyond the desert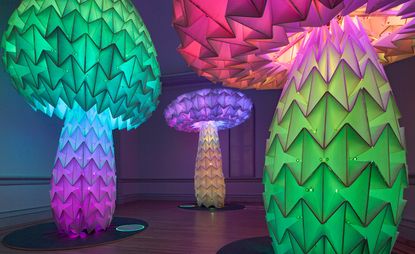 (Image credit: Ron Blunt)
Burning Man began, as great legends sometimes do, with a romance. It's 1984 and a 36-year-old Larry Harvey has taken his then-girlfriend and her teenage son down to Baker Beach in San Francisco to celebrate the summer solstice. A friend of Harvey had dressed mannequins in polyester, and thrown them into a bonfire while a boom box beat 'mechanical thuds' around the flames.

'[My girlfriend's] son was doing something only a 14-year-old would invent. He was saturating the sand with gasoline, and then taking a burning stick and writing in fire. So I knelt with my lover and wrote [in the sand] – it was supremely romantic,' Harvey explained at a 1997 speech in Nevada. 'And so, having thought of this morning and night for a couple of years I woke up on the solstice and I thought "I'm tired of this." So, I called up a friend [Jerry James] and I said 'Let's burn a man, Jerry."'

On 22 June 1986, Harvey and James hobble together an 8ft-tall wooden man out of scrap lumber in a basement in Noe Valley. The pair haul it down to Baker Beach with about ten friends, douse it with gasoline, and set it on fire. Within moments, the crowd has tripled to 35-odd onlookers. According to Burning Man lore, a woman darts from the pack to stand at its side, holding the effigy's hand while it's engulfed in flames. Another bystander begins to improvise a melody on a guitar. 'That was the first spontaneous performance, that was the first geometric increase of Burning Man. What we had instantly created was a community,' explained Harvey.
Between 1986 and 1989, Harvey and James returned to Baker Beach on the summer solstice. The effigies grew larger each time, as did the audience (in 1988, Burning Man was christened with the name we know it by today). By 1990, Burning Man had caught the unwelcome attention of the Golden Gate Park Police (GGNRA) who prohibited its burning, fearing the potential fire hazard during the California summer. A compromise was eventually negotiated: they would be allowed to build and erect the Man, but not set it alight. This kindled what is perhaps the single most fortuitous turning point in Burning Man's history.

After the Man failed to meet its demise, members of San Francisco's Cacophony Society – an influential collective of so-called 'culture jammers' who had attended Burning Man previously – invited Harvey and his friends along on a Labor Day weekend trip to Black Rock Desert, 100 miles north of Reno, Nevada. The very first desert Burning Man was ignited in front of 90 people by retired carnival worker and veteran fire breather David Warren, who had donned a red costume for the occasion.

Over the years, Burning Man has mutated in extraordinary ways, with numerous rites, rituals, and customs formulated by both its creators and its patrons. Burners began creating art in 1991, though it wasn't necessarily a deliberate preoccupation. In 1992, Burning Man culture expanded to include an art festival, a fashion show, and an Exploding Man, by San Francisco artist Kimric Smythe. In 1993, the first unofficial theme was introduced ('Christmas', bizarrely enough); and in 1994, tickets (priced at a princely sum of $30) went on sale for the first time.
In 1997, Burning Man was relocated to private land (despite stunted attendance, art installations are fourfold the numbers of the previous year), moving back to Black Rock Desert the following year. Towards the end of the 1990s, the organisers devised the 'Wheel of Time' layout, and in 2004, Harvey outlined the Ten Principles (opens in new tab), which includes the now-iconic Burner mantra of 'Leaving no Trace'. Hundreds of such mutations, large and small, have shaped Burning Man over its 32-year history (a comprehensive timeline of Burning Man can be found here (opens in new tab)).
Today, Burning Man embodies both a cultural movement and an ephemeral city of more than 70,000 Burners that rises from a seven-square-mile patch of desert dust for a single week each year in the late summer. To the uninitiated, the Burning Man festival may appear to be a hedonist mirage: a weeklong desert bacchanal involving psychedelic artworks, zany mutant vehicles, electronic dance music, and, naturally, alcohol, nudity, sex, and drugs.
In recent years, there have been murmurings among purists that the festival's DNA has been altered too much, becoming a magnet for celebrities and influencers, as well as earning a reputation as a networking event for the tech elite (opens in new tab) (Tesla founder and CEO Elon Musk, Google founders Larry Page and Sergey Brin, Facebook CEO Mark Zuckerberg and Amazon CEO Jeff Bezos have all attended). And with the bloat of success at this scale inevitably comes the sobering taint of misfortune. At last year's edition, a 41-year-old man tragically died (opens in new tab) after rushing into the effigy's flames.
Nevertheless, at the core of Burning Man remains Harvey and James' effigy, the Ten Principles, and its wondrous art installations, many of which are incinerated after the week is over. 'We've taken the playfulness of art and defined it in terms of social utility. We've always sponsored and encouraged forms of art — this is my particular and personal passion — that convene society around themselves,' explained Harvey in a 2000 lecture at The Walker Art Center in Minneapolis. 'The chief tool for organising society in Black Rock City is art. It's art that is meant to be played with, leaned against, reacted to. It's art, in a lot of cases, that is so contrived that it requires that you assume a role that puts you in a relationship with your fellow citizens. And a more potent organiser of human communities is hard to imagine.'

More intriguing still: can the art of Burning Man exist outside of the desert in a formal museum setting? A new exhibition just opened at the Renwick Gallery branch of the Smithsonian American Art Museum in Washington DC is perhaps the most confident bid yet to prove that it can. The show, 'No Spectators: The Art of Burning Man', pays homage to the festival's visionary artworks – many are impressive feats of technology. In the craft-focused museum, large-scale installations from Black Rock City have been recreated in the Renwick's classical surrounds – the first time they have been exhibited in the nation's capital.

The polished Second Empire environs of a museum may seem counterintuitive to the bohemian spirit of Burning Man. However, Nora Atkinson, the museum's Lloyd Herman curator of craft, has done exceptionally well in bringing to life the monumentality of the festival, with works by artists Leo Villareal, Aaron Taylor Kuffner, Marco Cochrane, Candy Chang and more. 'These artists represent the creative spirit of the contemporary maker movement and the ongoing importance of craft in the digital age,' Atkinson says. 'They range from members of the art world, the tech community and beyond. Their work asks questions such as "What does art look like when it is separated from commercial value?" and "Why do we continue to make in the 21st century?"'
A select handful of Burning Man perennials were commissioned specifically for the Renwick presentation, debuting brand new installations in Washington DC. Michael Garlington and Natalia Bertotti command the entrance of the show with Paper Arch (2018), a 15ft-tall archway bestrewn with a black and white collage of flora, fauna, and human characters (we see you, Susan Sarandon). David Best, the American sculptor behind the festival's annual temples (17 of them now), has crafted a colossal wooden one in the Renwick's Grand Salon, layered with intricate motifs that resemble paper cut-outs.

The show's name too, 'No Spectators', is as much an invitation as it is a maxim for visitors. Atkinson wants you to get involved, neatly circling back to one of the festival's Ten Principles: participation. In one room, Shrumen Lumen (2016), an interactive Wonderland-esque installation of five towering origami mushrooms by art and design collective FoldHaus responds to visitors' movements. Another light-based work by Hybycozo – this one inspired by Leonardo da Vinci's polyhedron drawings – comprises a series of sculptures that play with geometry, light and shadow.

'The scale, the communal effort and the technical challenges inherent in creating works for the desert are part of what sets Burning Man apart from other art experiences,' says Stephanie Stebich, the Margaret and Terry Stent director of the Smithsonian American Art Museum. 'It is an amazingly creative laboratory where innovators go to play and to push the boundaries of their craft. Displaying the art of Burning Man at the Renwick is the latest example of our focus on new directions in craft and making.'
Archival photographs, video, jewellery, costumes, mutant vehicles, and historical documents from a previous exhibition held by the Nevada Museum of Art round out the display at the Renwick. In addition to the in-gallery presentation, the Renwick will expand beyond its walls for the first time with an outdoor exhibition of six sculptures dotted throughout the surrounding neighbourhood, such as Mr and Mrs Ferguson's Ursa Major bear, which is saluting passers-by on the 900 block of 19th Street NW between I and K Streets.

Is Burning Man the world's most ambitious art programme? It certainly is one of its most outré ones. Since 2001, the Burning Man organisation has sought to bring interactive, civic-minded artwork to the world beyond Black Rock City through the Black Rock Arts Foundation (now Burning Man Arts). The Burning Man Project established a Global Art Grants programme to provide seed money to works by new and emerging artists outside of the festival (to date, it has granted over $750,000 to help fund over 164 projects in 34 US states and 24 countries).

The appetite for Burning Man art is certainly there. In 2017, three museum showings took place at the Fuller Craft Museum in Brockton, Massachusetts; Virginia's Hermitage Museum; and the Nevada Museum of Art. The city of Reno, in particular, has embraced large-scale art from the playa, and has permanently installed several pieces over the years. 'Burning Man isn't "a place you put art"– but a "context in which art is created",' opines Caveat Magister, a member of Burning Man Project's Philosophical Center, in this deconstruction of what Burning Man art actually is.

Most recently, the Burning Man Project announced it would be developing public art for Google's Charleston East Plaza Campus. It will be 'dynamic, fun and Googley', promises the announcement. Still, it's a curious partnership for a countercultural phenomenon that built itself in part on the principle of decommodification and it will be fascinating to see its trajectory as it slips further into the mainstream. Fittingly, the festival's art theme for 2018 is 'I, Robot', after Isaac Asimov's 1950 collection of short science-fiction stories, tapping into the current conversation on artificial intelligence. Burning Man, too, has taken on a life of its own.

Update 30 April: Burning Man founder Larry Harvey passed away aged 70 on 28 April 2018 in San Francisco. He had suffered a stroke earlier in the month, according to a statement (opens in new tab) on the arts festival's website. Burning Man CEO and board member Marian Goodell said: 'He was a landscape gardener, a philosopher, a visionary, a wit, a writer, an inspiration, an instigator, a mentor, and at one point a taxi driver and a bike messenger. He was always a passionate advocate for our culture and principles that emanate from the Burning Man experience in the Black Rock Desert.'
INFORMATION
'No Spectators: The Art of Burning Man' is on view from 30 March 2018 – 21 January 2019. The 2018 edition of Burning Man runs from 26 August until 3 September. For more information, visit the Smithsonian American Art Museum website (opens in new tab) and the Burning Man website (opens in new tab)
ADDRESS
Renwick Gallery
1661 Pennsylvania Avenue NW
Washington DC
VIEW GOOGLE MAPS (opens in new tab)