Tanabe Chikuunsai IV wraps Casa Loewe Barcelona in 6,000 strips of tiger bamboo
Inside the newly revamped Casa Loewe Barcelona, Japanese artist Tanabe Chikuunsai IV reflects on family traditions and environmental destruction with a staggering bamboo installation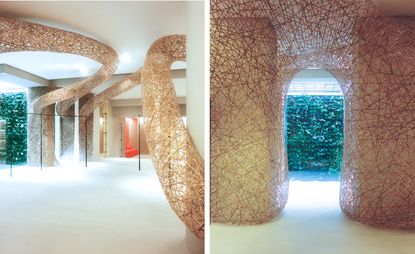 (Image credit: Adrià Cañameras)
A twisting mass of woven bamboo winds its way around the interior of the newly revamped Casa Loewe Barcelona, stretching across the ceiling and down a series of pillars. Yūgo (or Fusion), as the ethereal installation is called, is the handiwork of Japanese bamboo artist Tanabe Chikuunsai IV, who has taken the family tradition and run wild with it.
Chikuunsai IV has used 6,000 strips of tiger bamboo (torachiku) – a treasured variety with a decorative stripe that only grows in one valley in Kōchi Prefecture on the Japanese island of Shikoku and is becoming rarer by the day.
'Climate changes are casting a shadow over these tiger bamboo groves,' says the artist, who is known for creating vast installations for art institutions such as the Metropolitan Museum of Art in New York, the Odunpazari Modern Museum in Turkey, and the Guimet Museum in France. 'The soil there has been affected by environmental pollution and global warming, showing detrimental results in the beautiful outer layer of tiger bamboo.' Once some 100 families tended the bamboo grove, but now only three people are left – a decline in the trade that Chikuunsai IV wants to reverse while raising awareness of nature's fragility. 'My hope is to preserve such beauty for future generations,' he adds. If it isn't trimmed, the bamboo doesn't develop its distinct stripe, it only grows green.'
Normally Chikuunsai IV would visit a site to learn about its history and soak up its atmosphere before working on a design, but Covid-19 restrictions meant he had to work on the fly when he arrived in Barcelona. His diaphanous installation for Casa Loewe Barcelona is a fusion of natural forces and the fluid forms of Loewe's bags and clothing. Like with all his installations, he made it without using glue, relying instead on bamboo's high tensile strength to support the structure. The strips can be dismantled and reused at a later date.
Yūgo is joined in Casa Loewe Barcelona – one of the brand's gallery-like stores bringing together craft, art, design and fashion – by other feats of artisanship, including a large macramé sculpture by Catalan artist Aurelia Muñoz, which plunges from a ceiling on the lower floor, and an amorphous Dangling Hairy Hug by South Korean artist Haegue Yang beside the entrance. Among other design hits inside the building, built by Catalan modernist architect Lluís Domènech i Montaner, are chairs by Gerrit Thomas Rietveld and tables by Axel Vervoordt, offset by 16th-century furniture and a staircase with railings inspired by the Arts & Crafts designs of William Morris. Works by Loewe Foundation Craft Prize finalists abound, including Japanese ceramic artists Sakiyama Takayuki and Tomonari Hashimoto.
Like many of the makers that the foundation and the Loewe brand support, Chikuunsai IV is expanding the possibilities of his medium. Bamboo craft stretches back at least 1,000 years in Japan, and his great-grandfather, Chikuunsai I, was the first of the family to take up the art of weaving it 120 years ago. Each generation has pushed the medium in new directions. Chikuunsai IV, who was born in 1973 and works in a studio in Sakai – a port city in the Osaka area – began learning basic weaving techniques even before he went to primary school, later studying sculpture at Tokyo University and apprenticing with his father. Like others in his family, he makes baskets and table-top sculptures, but he is the first to work on room-sized pieces.
'Tanabe Chikuunsai IV is a one-of-a-kind artist in the Japanese bamboo art scene,' says his gallerist Philippe Boudin. 'He is continuing a tradition but imbuing it with an avant-garde approach and creating installations on a monumental scale.' With his daughter Zoé Niang, he runs Paris' Galerie Mingei, which helped facilitate the Casa Loewe Barcelona installation and is exhibiting smaller works in its space at 5 Rue Visconti (until 28 May 2022).
For the Japanese, bamboo is more than just a material – and a highly renewable one at that. It has strong cultural roots and inherent spiritualism, says Chikuunsai IV. 'It gives the Loewe store a sacred quality,' he adds – fitting for a newly reopened temple to craft and fashion.
INFORMATION
loewe.com (opens in new tab)
ADDRESS
Casa Loewe Barcelona
Paseo de Gràcia 35
08007 Barcelona
VIEW GOOGLE MAPS (opens in new tab)