Sarabande reframes femininity for International Women's Day
At the London art foundation, three artists-in-residence slash taboos and rethink the significance of inhabiting a female body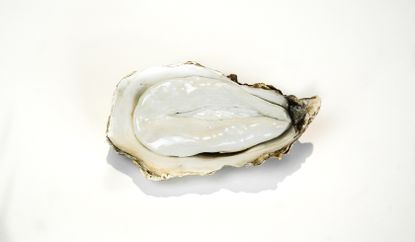 (Image credit: courtesy of The Sarabande Foundation)
For Camilla Hanney, Shannon Bono and Paloma Tendero, a residency at the Sarabande Foundation has meant the opportunity to deepen their individual perspectives on womanhood and femininity. A sculptor, a multimedia painter and a performative image-maker, this particular constellation is formed at the Sarabande Foundation, Alexander McQueen's legacy to the creative world. For International Women's Day, they present their first exhibition together, 'Live Flesh'.

One quickly gathers that the exhibition is carnal, definitively disruptive and a little voyeuristic. 'Live Flesh' sees the female form take centre stage: often nude, sometimes disembodied, other times crossbred with seemingly unrelated forms, like a broomstick or an oyster.
All three women look to employ 'violence, brutality, illness; narratives around the physical past and present' explains exhibition curator, Charlotte Jansen. The artists bend and morph the female form in order to understand it, each dissecting and amalgamating in a way that calls to mind the work of a scientist or Mary Shelley.

Camilla Hanney's sculptures give her the 'freedom of form' to subvert the constraint and demonisation of female sexuality, claiming back the power of female reproduction and desire. Hanney's approach to femininity is willful and salacious. In discourse with her own Irish Catholic experience, her disturbing hybrid pieces are intended to 'celebrate the more unruly aspects of the maternal body'. Her work is both humorous and hideous and blurs the boundaries between human and animal.
Shannon Bono's paintings use the black female body as a 'second canvas' and are a reaction against the limiting cultural narratives that currently contextualise the black female experience. Her multilayered motifs and use of traditional African textile print can be read through the bodies of the figures in her work – faint but still traceable. Establishing her work in a tradition of 'artivism', she demonstrates how cultural history is inevitably codified on the body. Bono's work reconstructs the gaze to include and reflect the viewer.
Paloma Tendero, whose work establishes appendages on her own body, explores the genetic materiality of womanhood. Her self-portraits are both performative and sculptural, using her body as a base to build upon. Tendero's images seek to decrypt inherited mysteries and retrieve lost histories, creating a visual language for biological determinism versus self-will. 'Clothed' in papier-mâché eggs, the naked body in her work feels fragile and vulnerable.
As she curates, Jansen is mindful that 'Live Flesh' isn't an exploitative International Women's Day venture of needless consumerism. She reflects instead on how to 'challenge the status quo and push real-life change'. For the Sarabande Foundation, the event is another potent way to provide an open forum for creative minds to examine and confront contemporary issues.
INFORMATION
A panel talk for International Women's Day will be held at the Sarabande Foundation on Sunday 8 March. For more information, visit sarabandefoundation.org
'Live Flesh', 4 - 8 March, Sarabande Foundation.
ADDRESS
Sarabande Foundation
22 Hertford Road
London N1 5SH
VIEW GOOGLE MAPS (opens in new tab)