G . F Smith reveals the world's favourite colour with new installations by artists and designers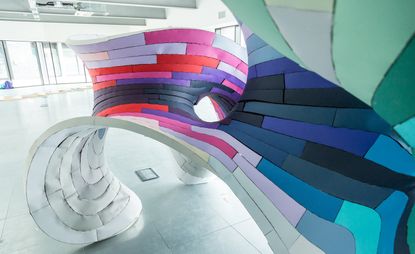 (Image credit: TBC)
Finding the world's favourite colour may sound like a ambitious and daunting task, yet it is one that, earlier this year, G . F Smith took on with gusto. A global survey ensued, with thousands of people from over 100 countries worldwide voting for their most beloved shade.

The Hull-based paper manufacturer announced Marrs Green – a deep green hue with a tinge of blue – as the winning colour. Submitted by survey participant Annie Marrs who was inspired by the landscape that surrounds her home in Scotland, the teal shade now joins G . F Smith's Colourplan range as the 51st shade, and is available for use by designers, brands and individuals via their website.

The selection chimes with colour authority Pantone's Colour of the Year – a fresh and zesty yellow-green shade. Colour theorist Caroline Till, who serves as director of FranklinTill Studio, and editor of Viewpoint Colour magazine believes that the popularity of all things green is no coincidence, saying: 'In these uncertain times, where political and social upheaval has become the norm, we crave the calming tranquillity of green and its association with the reassuring certainty of nature's cycles.'
A pop-up shop on Humber Street is selling a range of customised classic British products in the new Marrs Green hue
To celebrate the launch, G . F Smith has curated the exhibition 'Paper City' – a showcase of beautiful and surprising installations, that will be on display across a number of locations in Hull where the brand has been based since 1885. Eight leading creatives – including Adam Holloway, Max Lamb, Lazerian, Made Thought, Jacqueline Poncelet, Joanna Sands, Bethan Laura Wood and Richard Woods – were each invited to create inventive paper displays for the occasion.

'Paper allows us to spend money, end wars, send love, become wiser and communicate to the future,' reflects Made Thought co-founder Ben Parker. 'From such a natural, rudimentary and innately beautiful material it has quietly, slowly and assertively transformed our world.'

On show until 9 July, pieces include Colourplan furniture by Max Lamb, who has used stacks of standardised stock paper sizes and weights to create his angular designs; a giant paper codfish sculpture by Lazerian celebrates Hull's fishing industry as well as it's famous fish and chips, while a colourful paper tapestry by Made Thought integrates the new Marrs Green stock.

Adam Holloway's organic paper sculpture demonstrates how paper can be made into fluid forms, and a floor-based installation of cut and folded paper by Jacqueline Poncelet uses the full Colourplan range. In an old smoke house, Bethan Laura Wood has created paper seaweed from laminated papers; Joanna Sands has conjured a series of curved paper tiles that snake across the floor, while Richard Woods' architectural-scale graphic brickwork interventions can be found along Humber Street.

Also on Humber Street, visitors will find a pop-up shop selling a range of customised classic British products saturated in the new Marrs Green hue – think teal Anglepoise lamps, Sunspel clothing and Cambridge Satchel Company bags.

Not only does 'Paper City' celebrate the launch of the new colour, it also forms the latest in the Look Up programme of public artworks being produced throughout the year for Hull UK City of Culture 2017 – a series that aims to challenge people's perceptions of Hull and offer different ways to experience the city.
INFORMATION
'Paper City' is on view until 9 July. For more information, visit the G . F Smith website (opens in new tab)
ADDRESS
Humber Street Gallery
64 Humber Street
Hull HU1 1TU
VIEW GOOGLE MAPS (opens in new tab)