Whimsical Murano mirrors scoop Bonhams Prize in Venice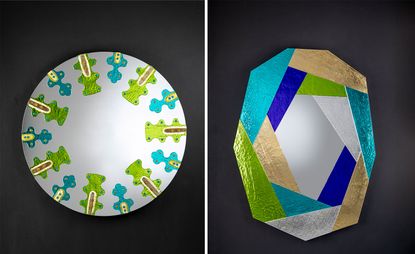 (Image credit: Francesco Allegretto)
Mirror mirror on the wall, who's the winner of them all? At the awards ceremony celebrating Venice Glass Week, the answer to that riddle was Barbini Specchi Veneziani, the almost century-old artisanal mirror producer based out of the island of Murano, who scooped the inaugural Bonhams Prize for the best project participating in the festival.

Curated by local architectural studio Babau Bureau and third-generation glassmaker Pietro Barbini, the Venetians tapped the likes of Martino Gamper, Bethan Laura Wood, Lucia Massari and Sara Forte to create a series of spelling-binding mirrors that fuse the artisans' ancient craft with the designers' shared witty sensibilities. 'This sprang from the desire to show that Murano glass art continues to evolve and develop on the back of its tradition,' Barbini explains of the exhibition, entitled 'Materia Eterea' (Ethereal Matter).
Each designer was given free artistic reign and the expertise of an artisan to create their contribution. Martino Gamper took a customarily colourful approach, overlapping shaded fields around a transparent centre. Wood 'decided to follow her passion for the world of fake food,' describes Barbini of her wavy-edged piece. Combing modern water jet cutting techniques and traditional detailing, she was able to 'emphasise the way in which this ancient tradition reflects the changes that have occurred in contemporary craftsmanship.'
Local designer Lucia Massari took a second look at the traditional Venetian mirror by mixing elements typically used to create frames — decorative flowers, leaves, garlands and rosettes — in a Mr Potato Head-style face that had a life of its own.
Staged within Palazzetto Tito, the headquarters of the Bevilacqua La Masa Foundation, Babau Bureau was responsible for the install: 'We decided to transform the glass works into characters living inside a traditional Venetian palace,' they explain. 'We tried to give to each work a specific place to stay, in a constant narration and dialogue between the rooms. So, ironically, glass faces are speaking to each other, reflections coming from the palace's windows are reflected by the mirrors and so on.'
Discussing the Bonhams prize, Barbini emphasises his optimism: 'For us, this award is confirmation that what we had the right idea when we set out last year [to create this exhibition] and that all our effort was worth it,' he explains, reflecting on the road to the big win. 'This prize will encourage us to keep going with tradition and innovation, those two characteristics that have always made Murano and its glass art production great.'
INFORMATION
Laura May Todd is a Canadian-born, Milan-based journalist covering design, architecture and style. In addition to the Italian dispatches she writes for Wallpaper*, she regularly contributes to a range of international publications, including T: The New York Times Style Magazine, Architectural Digest, Elle Decor, Azure and Sight Unseen. Prior to her work as a journalist, she was assistant editor at London-based publishing house Phaidon Press.