The Czech designers reshaping the future of glass
Our discoveries from DesignBlok 2019, which took place inside Prague's ornately rendered Industrial Palace, an Art Nouveau convention centre from the late 19th century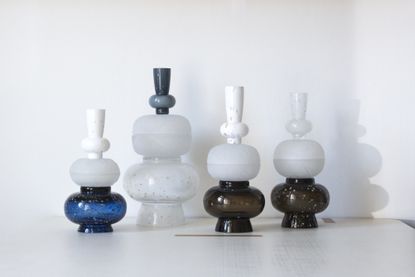 (Image credit: Jiří Krejčiřík)
Wallpaper* Newsletter
Receive our daily digest of inspiration, escapism and design stories from around the world direct to your inbox
Thank you for signing up to Wallpaper. You will receive a verification email shortly.
There was a problem. Please refresh the page and try again.
The 21st edition of Designblok, the Czech Republic's largest design festival, made a point this year of looking forward. Under the banner 'Ahoj!', or, 'Future!', curators assembled 348 participants for the occasion, which spanned the design fair, a talks program, fashion section and a performing arts element. 'For this year, we chose the theme Future,' remarked Designblok founder Jana Zielinski in her opening speech, 'because we think designers will have a role in making the world a better place.'
Slightly more subdued that last year's blockbuster twentieth-anniversary edition, a strong showing of independent local designers and brands proved that Czech design still has reason to celebrate. The fair was organised into four sections, all housed at Prague's ornately rendered Industrial Palace, an Art Nouveau convention centre designed and built in the late 19th century.
The main sections were Art House, a curated selection of work bundled under the theme 'Odyssey', Open Studio, featuring independent designers and studios, Superstudio, which hosted larger scale brands and producers, and Designérie, the fair's main stage and central gathering place, which took the form of a futuristic destination dreamed up by Czech designer Lucie Koldova.
'By choosing the Future as the main topic of Designblok 2019 festival, the organisers highlighted their lasting focus on emerging young designers,' jury member Eva Slunečková tells Wallpaper*. 'The amount of new talents, approaches and high-quality products featured in Prague was truly exceptional this year.'
Below, explore four rising star designers that caught our eye in Prague...
Dominika Petrtýlová
After hours were the inspiration for Dominika Petrtýlová's new series of hand-painted glass vases, shown within the Art House section. 'With Party Vase I resurrected the phenomenon of rococo vases, whose typical motifs were the erotic adventures of contemporaneous nobility,' explains Petrtýlová of the inspiration behind the narrative objects, which show couples locking lips under glowing neon after stumbling out of a bar, post last call, 'However, the subtle and sublime amour of the 1700s was replaced by the psychedelic intoxication in the obscurity of 21st Century.'
Lukas Novak
For his Lost and Found collection, Novaks rediscovered a 200-year-old glass colouring technique — Lithyalin, named for its resemblance to agate stone — which was first invented in 1818 in his hometown of Novy Bor, the Czech glass blowing capital. To achieve the opaque, psychedelic surface pattern, Novak mixes multiple colours of glass and metal, each with a different melting point, and then casts the piece in place with a mould, shedding new light on the ancient process.
Sebastian Kitzberger
Czech-based Sebastian Kitzberger presented Barrels, a series of clever glass vessels described as a 'reinterpretation of classical shapes via deliberate and artificial destruction of canonical morphology.' The pieces were given traditional forms — round bodies in varying colours and sizes — though rather than preserving their unsullied profile, Kitzberger etches graffiti-like markings into their surface, shifting the project towards what he describes as 'the level of aestheticism.'
Jiří Krejčiřík
Czech designer Jiří Krejčiřík presented two separate projects at Designblok this year. His squat coffee tables, Kalokagathos and Odyssey, were shown within the moody confines of the Art House — complete with simulated wind and a video loop of a vast and stormy ocean to drive home the section's Odyssey-inspired theme — which he described as 'representing a dialogue between the aesthetics of ancient Greece and the aesthetical work by Slovenian architect Josip Plecnik.' Over at Openstudio, he launched glass-based project HERITAGE/CONTEMPORARY, which fused traditional hand-cut vessels with newly blown pieces to create a series of clever totems.
INFORMATION
Receive our daily digest of inspiration, escapism and design stories from around the world direct to your inbox
Laura May Todd is a Canadian-born, Milan-based journalist covering design, architecture and style. In addition to the Italian dispatches she writes for Wallpaper*, she regularly contributes to a range of international publications, including T: The New York Times Style Magazine, Architectural Digest, Elle Decor, Azure and Sight Unseen. Prior to her work as a journalist, she was assistant editor at London-based publishing house Phaidon Press.