Learn about the marvels of glass design in Venice, Murano and Mestre this September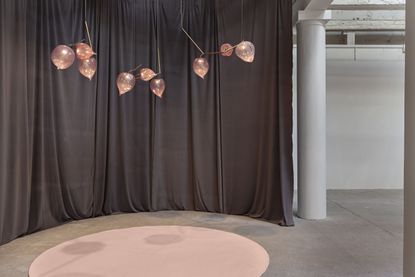 (Image credit: Cristina Galliena Bohman)
Venice Glass Week kicks off this September, the Venetian Lagoon's second edition of this international festival devoted to its deeply-rooted artisanal heritage of glassmaking. The city will host more than 180 events throughout Venice, Murano, and Mestre and this year's lineup and festival, a remarkable exhibition of craftsmanship and expertise, is realised by Fondazione Musei Civici di Venezia, Fondazione Giorgio Cini/Le Stanze del Vetro and Istituto Veneto di Scienze, Lettere ed Arti, and the Consorzio Promovetro Murano.
Also taking place alongside the festival is 'Homo Faber: Crafting a More Human Future', the first major exhibition dedicated to European craft artistry that will display traditional, rare, and contemporary work – in collaboration with Fondazione Giorgio Cini and Michelangelo Foundation for Creativity and Craftsmanship. Here we highlight the the unmissable exhibitions at Glass Week...
The M.V.M. Cappellin Glassworks and the Young Carlo Scarpa 1925-1931
Vase in coral red pasta vitrea with amethyst decoro fenicio and finishings in coral-red pasta vitrea.
Curated by Marino Barovier, this is the first comprehensive overview of Murano's storied M.V.M Cappellin & C and its glassworks produced between the 1920s and early 1930s. The show is centred on an instrumental collaboration under the artistic direction of a then young Venetian architect Carlo Scarpa before his term at Venini. His notable contributions in glass included pure geometric forms and vases in lattimo, incamiciato, and pasta vitrea exhibiting vibrant hues of coral red, turquoise, green, and yellow and revealing a ceramic-like opaque quality, while other works are meticulously decorated in feathering 'fenicio' effects and gold leaf applications.
10 September - 6 January 2018; Le Stanze del Vetro, Fondazione Giorgio Cini, IIsola di San Giorgio Maggiore, 8, 30124 Venezia VE; www. (opens in new tab)lestanzedelvetro.org (opens in new tab)
The Skin of Glass: Carlo Scarpa at Venini 1936-1942
Carlo Scarpa, Corroso a bugne, 1936-38, collezione private
Following his short-lived tenure at the now closed M.V.M. Cappellin & C, Carlo Scarpa generated an impressive portfolio of advanced glass techniques and undertakings at the famed Venini Glassworks during a 15-year period. Also curated by Marino Barovier, this exhibition will display 15 key vases and vessels from private collections at the Scarpa-designed Olivetti Showroom. The architect's glassworks at Venini – a kaleidoscope of exterior textures – revealed evidence of progressive experimentation in opal to create undulating motions, hydrofluoric acid-applied eroded surfaces, and a precise grating technique to create an exterior of nodules.

9 September - 6 January 2018; Olivetti, Piazza San Marco, 101, 30124 Venezia VE
Mario Bellini in Murano. The Architecture of Glass, The Glass of Architecture
©Mario Bellini per Venini-Spa
The Murano Glass Museum collaborates with Fondazione Musei Civici di Venezia on a retrospective of celebrated Milanese architect and designer Mario Bellini, focusing solely on his extensive modern glass practices. Viewers will be able to follow the breadth of Bellini's glassworks from his lively clusters of chromatic vases and its unique configurations for Venini to signature furniture, including Plissè for Glas Italia, a coffee table conceived in a seamlessly folded shape. The exhibition itself, also designed by Bellini, will reveal his innovative blown glass production processes through prototypes and research in a 20-metre-long stretch of displays.

9 September - 2 December 2018; Murano Glass Museum, Fondamenta Marco Giustinian, 8, 30141 Venezia VE; www.bellini.it (opens in new tab)
Wonderglass at Venice Glass Week and Light Blowing Festival 2018
Returning for the second time at Venice Glass Week, WonderGlass exhibits at three different locations. At BTM's (Breaking the Mould) space-workshop in Murano, WonderGlass' collaboration with architect and designer Marco Zito will be on display. Titled The NASSE Collection, the glass pieces reflect the subtleties of the Venetian lagoon environment like morning sunset colours on the water, winter light, and fog effects.
Showing at Fondaco Marcello as part of the annual Light Blowing exhibition, Cristina Celestino unveils Physalis, delicate glass reproductions of the lantern shape that allow light and colour reveal the bubbles encased within them. Elsewhere at Giorgio Mastinu Fine Art Gallery, Ronan and Erwan Bouroullec's highly-regarded Alcova collection (pictured) that launched at this year's Salone del Mobile will be on view. Made of elegant molten cast glass alcoves, the vases will illuminate their new context alongside new curious drawings by Ronan.

Alcova will be on view 6 - 12 September 2018 at Giorgio Mastinu Fine Art Gallery, 126 S. MARCO, Venezia, VE 3012; The NASSE Collection will be on view from 9 -16 September at the BTM space-workshop, Campiello San Maffio 3, 30141, Murano; Physalis at Light Blowing will be on view from 9 - 30 September at Fondaco Marcello 30124, Calle del Traghetto, 3415, 30123 Venezia VE; www. (opens in new tab)wonderglass.com (opens in new tab)
INFORMATION
Venice Glass Week is on view 8-15 September. For more information, visit the website (opens in new tab)