Star cast: The Bouroullec brothers create alcoves and cylindrical vessels for WonderGlass in Milan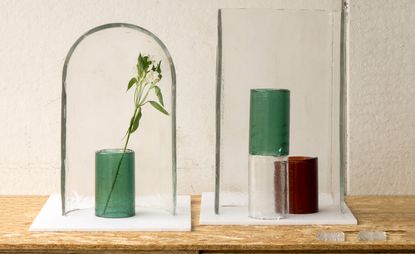 (Image credit: Giulio Ghirardi)
On a wet March day in a small industrial town, under an hour north-west of Venice, Ronan Bouroullec is in the main hall of a vast glass-casting factory belonging to London-based brand WonderGlass. Here, basking in the glow of the furnaces, he is standing atop a platform to get a bird's-eye view of the factory floor below, where a team of craftsmen wrestle with vats of molten glass, expertly working it into simple but elegant shapes. The sculptural designs are new pieces by Ronan and Erwan Bouroullec for WonderGlass, set to be unveiled during Milan's Salone del Mobile.

Although it is the Paris-based brothers' first collaboration with the brand, it's not their first with its co-founder, Maurizio Mussati, who recently completed an eight-year tenure at furniture brand Established & Sons. 'For me, Ronan and Erwan are the best in the business,' says Mussati. 'They are very precise. Ronan is also very direct. If he doesn't like something, he will tell you. He doesn't compromise.'

Mussati founded WonderGlass with his son and business partner Christian Mussati in 2013, launching an impressive debut collection of lights designed by industry heavyweights Nendo, Jaime Hayon, Nao Tamura and Zaha Hadid.

While the company produces glass collections under its own name – and also runs WonderLab, a research department focusing on innovation, bespoke solutions and the blending of glass with other materials – the Mussatis estimate that more than 50 per cent of their business lies in creating bespoke works in glass for other brands and architects, most of the time anonymously. Chanel's glass-brick storefront in Amsterdam, designed by MVRDV, was produced at the WonderGlass factory, while architect Richard Meier called upon its expertise to produce some of his lighting collection last year. 'The industry knows that we are the best in Europe for cast-glass production,' says Maurizio, who divides his time between Venice and London. 'The team is fantastic; they've worked together for at least 15 years and they are like a machine, each one has his own role.'
Ronan Bouroullec (centre) is flanked by WonderGlass founders Maurizio Mussati (left) and Christian Mussati (right) at the brand's factory near Venice.
Called Alcova, meaning 'a place where the lovers meet' in Italian, the Bouroullecs' cast-glass collection comprises alcoves and cylindrical vessels that together form shrine-like displays in a delicate palette of grey, green, clear and amber. The alcoves, made in three different shapes, form a backdrop for the thick glass cylinders, which can be displayed individually or stacked to create tall vessels. 'We've designed vases since the beginning,' says Ronan, who set up design shop with Erwan in 1998. 'But there has very often been a question of how to display or how to link a composition.'

The arched alcove shape is a familiar fixture in the Bouroullecs' design vocabulary, appearing in creations such as their 'Conque' lights (2010) and 'Honda' vases (2001) for Galerie Kreo. The brothers are also experienced in working with glass, having collaborated with both Glas Italia and Iittala on blown-glass pieces. But the glass-casting technique that produces the new collection's organic, imperfect finish is one that they only discovered in 2016.

'The starting point for the collection was a project in which we created a table with a cast-glass top and blown-glass legs,' recalls Ronan. 'The cast table top was made using a particular technique that we wanted to take further.' The discovery of the process led the Bouroullecs to WonderGlass, and the Alcova project has been in the works since July last year.

To create the alcoves, a group of eight craftsmen pour the molten glass onto a flat surface and roll it out like dough into an even thickness. The molten glass is then scooped up like a pizza and draped over the mould, where the craftsmen, equipped with masks and all manner of tools, surround the glowing orange form like a pack moving in on their prey, before speedily setting to work trimming its edges, ironing out its kinks and smoothing out the surface until a perfect alcove form is achieved.

The piece is left to cool for a minute, then prised away from the mould before being lifted into an annealing oven (or lehr), where the temperature is carefully controlled to avoid cracking or shattering the glass as it cools. 'The cooling process can take a few hours or longer depending on the thickness and size of the glass,' explains Christian as he watches the craftsmen carefully transferring the pieces into the lehr. 'There's a very precise formula.'
Ronan Bouroullec examines an alcove. Its thick glass shows off the marks of the production process.
Meanwhile, the creation of the simple-looking cylinders, he says, has been much more challenging. In this case, the glass is poured into a cylindrical mould in a slow spiral motion. Removing the glass from the mould is particularly challenging as it's prone to cracking if it cools too quickly. If all goes well, the result is thick, glass sculptures that appear like blocks of ice, proudly displaying fold lines and imperfections created by the making process.

'It is not a decorative effect; it's the result of the piece's manufacture, because with all of this imperfection, you understand a bit about how it has been made,' says Ronan, examining the coiled layers of glass in one of the cylindrical vessels.

'What is interesting here is to find the parameter of imperfection – the point where imperfection is interesting and where it stops,' he continues. 'I am more and more interested in this question of sensuality and vibrations inside a piece. These pieces are full of life because they are not made by a robot or a machine.'

For the Mussatis, the Alcova collection, which they describe as 'a major investment', is a chance to demonstrate that their factory is capable of producing much more than just lighting. 'We understand that, very often, WonderGlass is perceived as a lighting company, and that is not all that we are,' explains Maurizio. 'We want to make clear that we are a glass company and we are ready to say yes to everything.'

As originally featured in the May 2018 issue of Wallpaper* (W*230)
INFORMATION
The Alcova collection by Ronan & Erwan Bouroullec is at WonderGlass' 'Kosmos' exhibition, on show from 17 – 22 April at Salone del Mobile. For more information, visit the Wonderglass website (opens in new tab) and Ronan and Erwan Bouroullec's website (opens in new tab)
ADDRESS
Istituto dei Ciechi
Vivaio 7
Milan