Kvadrat's blind collection plays with transparency and tone
Ronan & Erwan Bouroullec design the Kvadrat Shade range with window covering specialist, Coulisse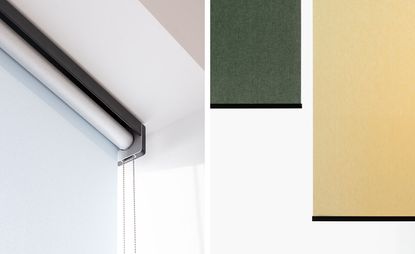 (Image credit: Bouroullec Studio)
Experts in the history of window fittings (yes, they exist) claim that the first appearance of blinds dates back to as early as the Ancient Egyptians, who would use wet swathes of cloth to keep out dirt and sun. Early Chinese civilisations were found to have used thin stalks of bamboo, while the slatted form of a Venetian blind actually originated in Persia around 1100 AD.
These days, we're a lot more sophisticated when it comes to shielding our interiors. Especially now that Kvadrat has joined the game and elevated the ubiquitous household fitting to a 'best in class' solution.
Launching today in Copenhagen, Kvadrat Shade is the latest offering from the Danish company, which has teamed up with window covering specialist, Coulisse to make it possible. The project has seen the Bouroullec brothers create hardware for a range of typically minimal textile blinds, rooted in a design concept that plays on colour, transparency and most of all, flexibility.
'It's always a pleasure to play with windows, light and colours,' says Erwan Bouroullec, who worked alongside his brother, Ronan, on the project. 'Unlike typical alternatives, the Kvadrat Shade solutions opens intriguing possibilities to elevate interiors by playing with tones, transparencies and textures. Most of the time, the blinds are just solving problems. They're technically driven, but they've forgotten the human and they have no taste. We're trying our best to make sure there are enough tones to fit the atmosphere of the room'.
With quality in mind, materials used for the mechanisms are premium while also being PVC-free, in compliance with standards on harmful chemicals. Kvadrat's high-performance textiles evolve to include an option layered with ultra-fine aluminimum, which is engineered to reduce heating and cooling costs in the home or office.
When it came to designing the hardware (the rolling systems, pulleys and cassettes), the Bouroullec duo had modularity at the forefront of their minds, resulting in a range of 'meticulously engineered' components, available in a range of finishes, that offer architects flexibility to the nth degree. Whatsmore, the blinds can be automatically controlled, allowing building management systems to be timed to coincide with the changing daylight.
Christian Baum Blaakær, managing director of Kvadrat Shade adds, 'it meets the longstanding need for an aesthetically outstanding, officient and versatile roller blind solution, which provides the freedom to create compelling interior themes, where all textiles, textures and colours are in perfect harmony,'
INFORMATION
kvadrat.dk (opens in new tab)