Lasvit's little glass monsters win the prestigious Milano Design Award at Salone del Mobile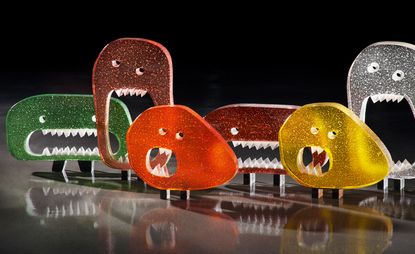 (Image credit: TBC)
Wallpaper* Newsletter
Receive our daily digest of inspiration, escapism and design stories from around the world direct to your inbox
Thank you for signing up to Wallpaper. You will receive a verification email shortly.
There was a problem. Please refresh the page and try again.
One minute: that's how long it takes to create a monster. 'I don't recall ever being fearful of monsters as a child, so my design is childishly simple: I started with a doodle,' says Dutch designer Maarten Baas, one of 16 creatives asked to think monstrous by the Czech glass manufacturer Lasvit. Transforming those dark imaginings into Bohemian glass, however, has taken almost two years. The project is finally unveiled at Salone del Mobile in Milan's Teatro Gerolamo, a neoclassical puppet theatre, where it has been awarded the prestigious Milano Design Award for best installation, interpreting a contemporary design and a future conceptual vision.

Conceived by creative design strategist Stephan Hamel and Lasvit founder Leon Jakimič, the project has delivered a diverse family of monsters, from a mirror encrusted with googly eyes by the Paris-based couturier Maurizio Galante to a menacing stained-glass portrait by octogenarian artist Vladimír Kopecký. Eight of the pieces will be limited editions, Kopecký's will be a one-off, while others will be more widely available. All form the Lasvit Monster collection, which will be updated each year with contributions from new artists.

'Every culture and individual perceives the concept of "monster" differently,' says Jakimič. 'They frighten us, but also open up our minds, reminding us of our own limitations and inner fears. The question of what a monster really is becomes real through these artworks.'
The pieces, made in four of Lasvit's workshops in the Czech Republic, employed both traditional and groundbreaking techniques including hand-blown, cast, fused and cut glass. Some pieces were even made using uranium, which adds a unique gleaming green. 'It's not radioactive,' Jakimič laughs, 'but we asked someone from the atomic agency to literally add one drop to the molten glass to create the effect.'

Daniel Libeskind's offering called for a complex process, adding glass chips into a mould, increasing its temperature by a few degrees every day over a few months before cooling it down at a similarly gradual pace. 'As an architect, I always start to design with a drawing,' says Libeskind. 'But in this case, I sat down at a table with a bucket of clay and a kitchen knife. And I just began to sculpt.' To translate the clay monsters into glass, 'we used a super-sophisticated Bohemian technique invented during socialism', says Jakimič. 'It's the first time we've used it for a product.' It gives the pieces an unusual luminosity and a colour that changes depending on the light.

Glass artist Stanislav Müller also pushed the boundaries, exploring the properties of optical glass with his geometric monster. 'Production must be perfect,' he explains. 'Each piece of glass is cut by hand from one block of optical glass to avoid unwanted refraction.' The artist engraved and ground details onto the faces. 'It looks simple, but was a challenge.'

Baas' whimsical contribution draws inspiration from an imaginary discovery of fossils of small beasts, with sharp teeth but no stomachs, while Italian architect Fabio Novembre looked to Leonardo da Vinci's Vitruvian Man for 'Toyboy', slyly subverting it with body parts vaguely resembling sex toys.
As for Canadian design duo Yabu Pushelberg, they veered away from a literal interpretation to draw on Japanese folklore. Their designs nod to tsukumogami, household objects that are said to transform into spirits after a century of use. 'They are sometimes described as vengeful, but also as simply mischievous. Either way, they are an ancient representation infused with the soul of a material culture,' says Glenn Pushelberg of their three animal head-shaped vessels. 'Maintaining a playfulness, but also a slightly sinister, mischievous undercurrent to each piece was the greatest challenge.'

The project is an important way of showing young, innovative designers the potential of working with glass artisans. But it proved equally enticing for the 96-year-old Czech glass artist René Roubíček, who shaped molten glass by hand at the furnace to create an organic form named 'The Martian'. 'The monster could only be like this; playful and merry, provoking solely by the surprising simplicity of its elements,' he says.

Another venerable talent, Italian designer Alessandro Mendini, believes the time is right to think about monstrosities: 'Designing monsters means being able to vanquish them.' His designs are intended to appear kind and friendly. 'I think all the objects I make are a bit like monsters: it is a kind of creature that arouses special fascination,' he says. 'But in my case, the monster is a good-luck charm.' Equally amiable are the Campanas' 'Outer Space Monsters', named Flix and Flex. 'Our monsters are like aliens with a human shape inside. They are not ugly or terrifying. We see more horrible things in daily life,' says Fernando Campana.

One of the most intriguing pieces in the collection, 'Something Underneath' by Japanese designer Oki Sato of Nendo, is almost invisible. It looks as if a leaf of paper or cloth were draped over a menacing shape, 'playing with the idea of the unknown and the invisible'. Each piece called for a large single sheet of glass, its week-long cooling process meticulously controlled to reduce the risk of breakage. 'It is such a simple idea, yet so sophisticated,' Jakimič observes.

According to Lasvit's art director, Maxim Velčovský, however, the true value of the exploration of monsters is that it offers a unique glimpse into the world of the designer. Velčovský's own creation is a Lenin lookalike with a slightly larger left hand and shoe. Titled 'Leftism', it reflects his experience of growing up behind the Iron Curtain. 'It's a deformation that is not immediately obvious, but that you figure out later on,' he explains. 'We were influenced by the idea of building up the socialist camp, and although the idea may be good, the results can be monstrous. It really affected my life and so it has become my personal monster.'

As originally featured in the May 2018 issue of Wallpaper* (W*230)
INFORMATION
'Lasvit Monster Cabaret' is on view at Teatro Gerolamo from 17 – 22 April during Salone Del Mobile. For more information, visit the Lasvit website
ADDRESS
Teatro Gerolamo
8 Piazza Cesare Beccaria
20122
Milan
Receive our daily digest of inspiration, escapism and design stories from around the world direct to your inbox