Rimowa Design Prize set to celebrate student innovation
The new Rimowa Design Prize is launching in collaboration with 15 universities, celebrating both student innovation and German design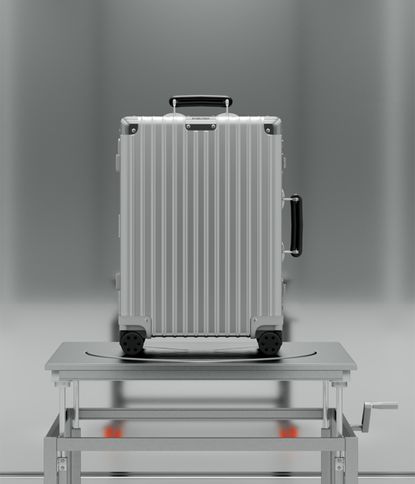 (Image credit: courtesy Rimowa)
The distinctive grooved luggage design adorning Rimowa's 'Cabin Classic' suitcase first appeared on the scene in the 1950s. As the purveyor of such an iconic piece of hardware, the brand is well-equipped to be hosting a celebration of design minds.
The Rimowa Design Prize – launching its first chapter from October 2022 to April 2023 – is a collaboration with 15 top design universities. Each will be offering its students the opportunity to showcase work around their interpretation of the theme 'mobility'. Rimowa is seeking to facilitate conversations around the global impact of mobility, while finding common ground in the resilience, excellence and quality of its suitcases and carry-ons that are the result of its craft and innovation since 1898.
Looking back at the depth of German design's past is a major aspect of the prize, and the luggage connoisseur is acting as a bridge between now and then. CEO of Rimowa Hugues Bonnet-Masimbert highlights the importance of 'supporting and nurturing the next generation who will be shaping the future legacy of German design'.
Through a jury comprising Alexandre Arnault, Hugues Bonnet-Masimbert, Manuel Goller, Gesa Hansen, Mateo Kries, Julia Läufer, Mike Meiré, Julius Wiedemann, the competition will award the winning participants with prizes of €20,000 (top prize), €10,000 (second prize) and three prizes of €5,000 (third prize). Additionally, Rimowa will offer a mentorship programme (any student making it through the first round of selections will gain insight from industry professionals, led by a jury member), facilitating the first steps of a new generation of designers.
INFORMATION
rimowa.com (opens in new tab)
Martha Elliott is the Junior Digital News Editor at Wallpaper*. After graduating from university she worked in arts-based behavioural therapy, then embarked on a career in journalism, joining Wallpaper* at the start of 2022. She reports on art, design and architecture, as well as covering regular news stories across all channels.