Prostoria celebrates its modernist roots and a decade of design
'Prostoria 10' is a project marking the Croatian furniture brand's ten years and its connection with Zagreb's rich modernist architectural legacy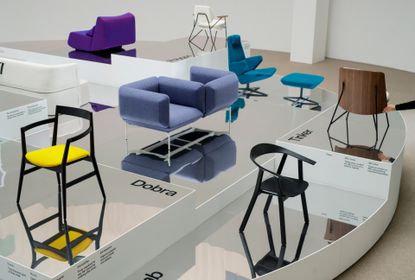 (Image credit: press)
In partnership with Prostoria
Prostoria's ten, transformative years in the furniture manufacturing business are celebrated in a project that offers a diverse review of the Croatian company's culture, aesthetic process and philosophy.
'Prostoria 10' – recently exhibited at Zagreb's Meštrović Pavilion – encompasses new content as well as existing projects, such as the photographic portfolio 'Revisiting Architecture', produced in collaboration with the Zagreb Tourist Board.
Art directed by Biro Architects, 'Revisiting Architecture' sees a series of images drawing a connection between the city's architectural heritage and Prostoria's modernist design language. The images place particular furniture designs in front of modernist and brutalist Zagreb landmarks, each of which continues to play an inspirational role for the company in terms of form, texture and ambition.
A collection of sculptures entitled 'The Essence', meanwhile, created by Zagreb's Boir studio, offers an interpretation of Prostoria's natural materials and master skill.
A section titled 'Art in the Factory' tells the story of Prostoria's furniture production through a series of art installations created by sculptor Anđela Vilić from remnants of manufacturing materials.
The exhibition, designed by Croatian studio Grupa and the visual identity by Swedish agency Kurppa Hosk, was divided into ten rooms in total, and featured classic designs from the company's first decade. The final room, themed 'Makers at the Core', included all 233 of the brand's employees presented in an animation.
The project is accompanied by a short film, also titled Prostoria 10, which shows the path of development of the brand's furniture icons, among them the 'Polygon' armchair and the 'Revolve' transformable sofa. The cinematic narrative explains Prostoria's at once contemporary and traditional approach; the evolution of a brand thriving on local inspiration, talent and methods.
'Prostoria 10', explains company founder Tomislav Knezović, was born of both celebration and reflection. 'Just as we were approaching Prostoria's tenth anniversary, the pandemic threatened both global health and the global economy, forcing all of us back into our homes. We used this period to reflect on our aims, and strip ourselves down to the very essence, to show who we are.'
INFORMATION